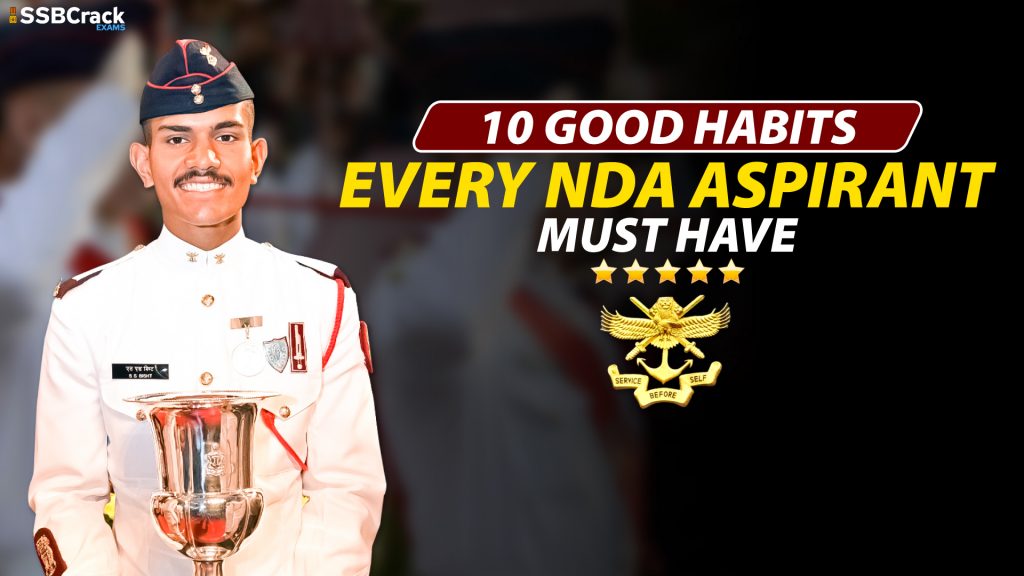 Jai Hind! Future warriors. Someone has rightly said Motivation will get you started, it's the habits that keep you going. As motivation may work for a day at times even a week but if you have a proper routine and consistency you will enjoy what you are doing and thus be more productive. So today we will be looking at some must-have habits an NDA Aspirants should imbibe.
Also Read: 10 Tips To Crack NDA Exam In First Attempt
Hard-Work: The NDA Exam comprises a large number of subjects covering almost everything we have read till class XII. The only way to clear the exam is consistent hard work by devoting time to the subjects. And many candidates also are preparing for their JEE/NEET Exams or some other competitive exam so the hard work multiplies.
Smart-Work: No one has ever scored even 800 marks in the written exam (out of 900 marks). And a score of 400+ will easily sail you through (even though the cut-off is much lower than 400), so go through the Previous Year Question Papers, solve them with the time limits, identify your strong areas and improve them so they get you sure-shot marks, for weaker sections identify your own strategy. Hard work is important but you should know where to work hard. Example: If you had PCM in class XII going through the entire textbooks of History, Geography of class XI/XII will be a waste of time, just go through the PYQ note down topics you can prepare and work accordingly.
Time-Management: This is a must as you will have to devote time not just for the subjects of the NDA exam but also for your competitive exams/boards, so a good timetable comprising of every subject plus time for sports activities is a must. Also, devote time for mock tests (preferably on Sunday).
Consistency: NDA Exam preparation is a long process and to be prepared totally you have to be consistent in your preparation. Rather than completing the whole history section in a week and then not touching it till the exam comes, you should aim for daily hard work.
Fitness: Don't compromise in sports just for sake of NDA as the exam's not that tough and at the SSB you will be judged on basis of your all-round personality. My advice would be to go for a run/sports in the early morning so that you are energized for the rest of the day. More about this later in the article.
Will Power: The syllabus is quite vast no matter you remove your weak sections. At initial mock tests, your scores will be much lower and later too it may happen. In case you are not recommended from SSB you have to start again from ground zero.  This at times even leads to self-doubt and sacrificing our aim. Situations like these require a strong-willed character whose determination is strong enough to cross any obstacle.
These five qualities would help you in any sphere of life. Apart from these, I would like to suggest some more habits/ qualities NDA aspirants should imbibe:
Speaking skills: Devote time daily for loud reading or lecturette practice. Simply loudly read a newspaper article in front of the mirror and notice your body language. Same for lecturette practice. Practicing in front of a mirror gives an advantage as it helps you in realizing your weaknesses and fuels the strength to remove them.
You can refer to our blog on speaking skills to learn more.
·Spend time with family and friends as an officer should be a team player. Play sports and work hard to reach higher levels (from learning to inter-house to inter-school…). Even if you don't reach those levels but play daily it would improve your qualities and take you to a higher level in some other field. Team sports are the best teachers in life as they teach the most valued qualities of comradeship, coordination, respect, etc and improve our mental and physical strength.
Improve your reasoning skills by understanding how things work like how does your fridge work, the same for the fans, TV, Internet, etc. This will help you not just in daily life but in SSB too assessors check your basic knowledge about your surroundings. Also read about the force you want to join like their history, organization, equipment, achievements, latest deals, etc.
·If you have a hobby it's good but if you don't make a new one because the process of NDA selection is very long and hobbies would keep you productive. It can be anything like starting reading novels or blogging or video-editing, etc.
Conclusion
Aspirants should be determined to achieve their aim and be ready to take help from any source (must be reliable) be it a junior or a senior because no one knows everything. The desire for learning should never end
Jai Hind
How to prepare for the NDA Exam?