DAILY CURRENT AFFAIRS 10 November 2021
Padma Awards for the Year 2021
The President of India, Shri Ram Nath Kovind presented Padma Vibhushan, Padma Bhushan and Padma Shri Awards for the year 2021.
The list comprises 7 Padma Vibhushan, 10 Padma Bhushan and 102 Padma Shri Awards. The Padma awardees includes 29 women.
Padma Vibhushan- Awarded for exceptional and distinguished service.
Padma Bhushan- Awarded for distinguished service of a high order.
Padma Shri- Awarded for distinguished service in any field.
More Details: Complete List Of Padma Awardees 2021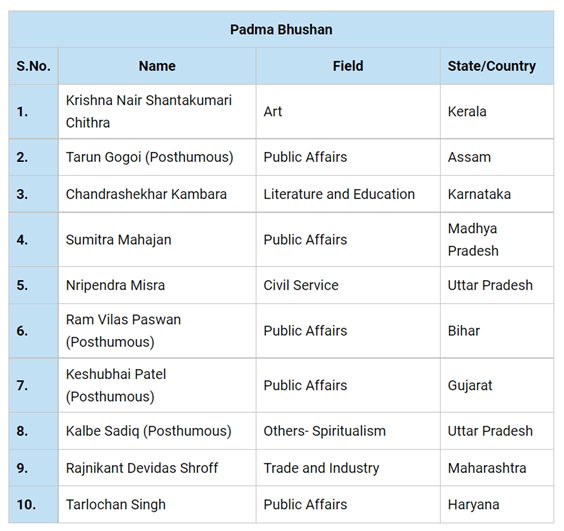 Prof. Koneru Ramakrishna Rao passes away
Former chancellor of GITAM deemed-to-be University and former vice-chancellor of Andhra University (AU), Padma Shri Koneru Ramakrishna Rao, died in Visakhapatnam on November 9 morning, after a brief illness. Born on October 4, 1932, he was 89 years old.
Professor Rao was an internationally recognised psychologist, Gandhian scholar, and educator, who has written over 20 books and 300 research publications.
In the Government of Andhra Pradesh, Professor Rao served as advisor to Higher Education and chairman, A.P. State Council of Higher Education. He was also vice-chairman of Andhra Pradesh State Planning Board.
Uttarakhand Statehood Day
Uttarakhand was formed on the 9th of November 2000 as the 27th State of India when it was carved out of northern Uttar Pradesh. Located at the foothills of the Himalayan Mountain ranges, it is largely a hilly State, having international boundaries with China (Tibet) in the north and Nepal in the east.
On its north-west lies Himachal Pradesh, while on the south is Uttar Pradesh. It is rich in natural resources especially water and forests with many glaciers, rivers, dense forests, and snow-clad mountain peaks.
Char-dams, the four most sacred and revered Hindu temples of Badrinath, Kedarnath, Gangotri and Yamunotri are nestled in the mighty mountains. It's truly God's Land (Dev Bhoomi).
Dehradun is the Capital of Uttarakhand. It is one of the most beautiful resort in the submountain tracts of India, known for its scenic surroundings. The town lies in the Dun Valley, on the watershed of the Ganga and Yamuna rivers.
National Legal Services Day
National Legal Services Day commemorates the enactment of the Indian Legal Services Authorities Act 1987.
Alternate dispute resolution methods such as Lok Adalat, Mediation and free legal aid have been devised; however, no special statutes have been enacted to streamline the process. On 11 October 1987, the Legal Services Authorities Act 1987 was enacted. The act took effect on 9 November 1995.
India's National Legal Services Authority (NALSA) was constituted under its provisions on 5 December 1995.
NALSA undertook activities including free legal aid and advice to the needy, disposal of cases through mediation and amicable settlement.
It was a unique effort to minimize the pendency load (backlog) of Indian courts as well as to afford access to justice for needy litigants. To commemorate the occasion, the day of enactment was first celebrated in 1995 as National Legal Services Day. Each state's Legal Services Authorities organize the day through state, district level and Taluk level institutions.
Clean Green Village Week
As part of Azadi Ka Amrit Mahotsav, a 75-week long celebration, States/UTs have conducted one-week-long Clean Green Village activity under Mahatma Gandhi NREGA between 29th October to 4th November 2021. During the Clean Green Village Week, the focus was on the identification and construction of Soak pits, Vermicompost/NADEP pit and Waste to wealth initiatives such as vermicomposting, reuse of waste materials, recycling of non-biodegradable waste.
The activity has seen enthusiastic involvement of villagers nationwide. Various meetings, workshops and onsite demos were conducted during the week at a large number of gram panchayats. 1,970 events were reported by the States/UTs, in which 2,597 waste to wealth initiatives were completed as well as 8,887 soak pits and 2,262 compost pits reported as completed during the week.
Ministry of Rural Development has taken various steps through Mahatma Gandhi National Rural Employment Guarantee Scheme (MGNREGS) by educating and encouraging Gram Panchayats to look towards the importance of cleanliness in their villages and to take up works, which can improve the livelihood of individuals in the village. Ministry has laid emphasis on taking up permissible works like construction of Soak pits, Solid waste management (Vermi/ NADEP compost pit) and SLWM works (drainage channel, liquid bio manure, recharge pits, School & Anganwadi toilets, soakage channel, village drain and stabilization pond).
India to achieve service export target of one trillion dollars by 2030, says Union Minister Piyush Goyal
Minister of Commerce and Industry Piyush Goyal today said that India is poised to achieve a services export target of one trillion dollars by 2030. He was addressing the Global Services Conclave-2021 in New Delhi. The Minister said that in 2020, India became the 7th largest services exporter in the world, moving up the ladder by two positions.
Emphasizing that India had the potential to become the top services exporter in the world, Mr. Goyal said that the services sector is boosting India's transition from an Assembly economy to a knowledge-based economy.
Mr. Goyal said that today India's services export largely comprises of IT and IT-enabled services. He stressed that we need to focus on other potential growth sectors. The Minister also highlighted the need for assisting states in formulating a comprehensive export strategy with districts as Export Hubs.
REVIEW QUESTIONS
Capital of Arunachal Pradesh
Dispur
Itanagar
Shillong
Guwahati
ANSWER: B
Capital of Assam
Dispur
Itanagar
Shillong
Guwahati
ANSWER: A
Capital of Chhattisgarh
Raipur
Ranchi
Patna
Lucknow
ANSWER: A
Capital of Gujarat
Ahmedabad
Gandhinagar
Surat
Vadodara
ANSWER: B
Capital of Himachal Pradesh
Mussoorie
Shimla
Ooty
Kedarnath
ANSWER: B
Capital of Andhra Pradesh
Amaravati
Vishakhapatnam
Kurnool
All the Above
ANSWER: D
Capital of Manipur
Dispur
Imphal
Shillong
Guwahati
ANSWER: B
Capital of Mizoram
Aizawl
Imphal
Shillong
Guwahati
ANSWER: A
Capital of Nagaland
Aizawl
Imphal
Kohima
Hyderabad
ANSWER: C
Capital of Sikkim
Gangtok
Imphal
Shillong
Guwahati
ANSWER: A
ALSO READ: