Special Forces play a crucial role in neutralizing the terror threats and maintaining internal peace in the nation. As the name signifies, the force is specialized to respond to any terror threat and taking the required actions to avert it. As Indian armed forces have their own special forces like ParaSF, GARUD etc. MARCOS is a special force that is maintained by the Indian navy to handle emergency situations arising from various means.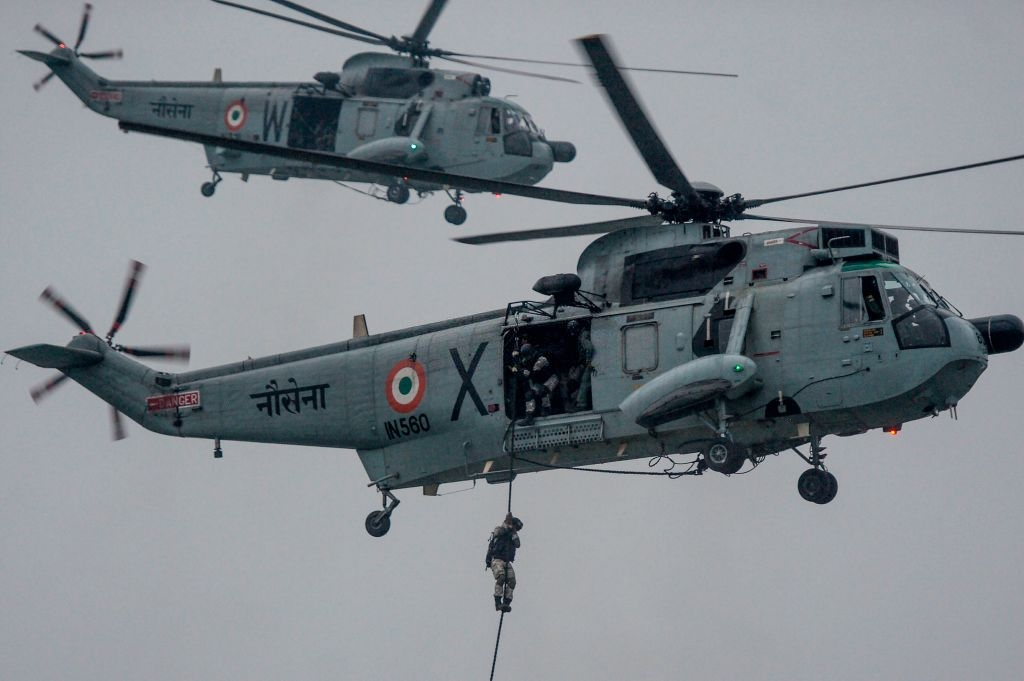 Marine Commando Force (MCF). Being a branch of the Indian navy, the force is specialized in amphibious warfare, counter-terrorism, unconventional warfare, rescue operation, etc. the force is active since 1987 and currently has nearly 2000 soldiers serving in the organization. They are known for their action in 26/11 Mumbai attacks. It is attached with the Indian army in to operate in northern areas like Kashmir. Not only this, they were also engaged in operation Cactus, Leech, Pawan, Cyclone etc. Their remarkable job was appreciated in many operations. The motto of this force is "The few the fearless".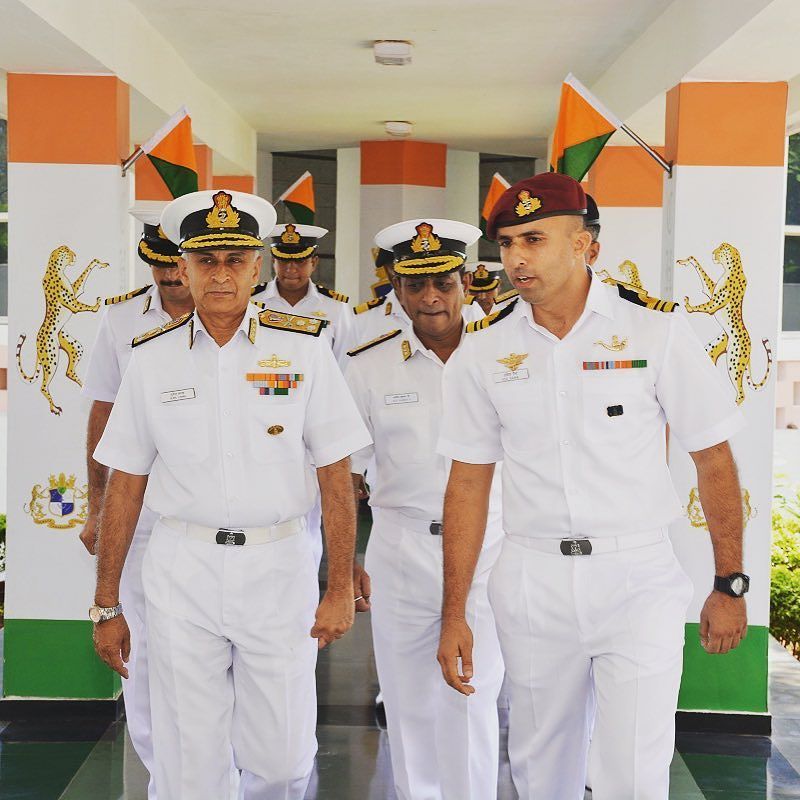 Recruitment – Heading to the recruitment of MARCOS, all commandos are male and being a naval fragment all its personal. The selection is done at the early age of soldiers, i.e. in the 20s of fresh soldiers to maintain the strength and josh in the force. Well, as per the criteria, the aspirants get a chance to get inducted in the Indian Navy through NDA, CDS, SSC etc. and also through direct recruitment for lower posts. The required basic physical strength is high and so is the training process. So, aspirants to get into this organization, you need to first become a part of the Indian navy. The selection process consists of two parts. First one is three days long where a soldier's physical stamina is accessed. The next phase of the screening is tougher and then makes the final selection of soldiers for further training. The screening or selection phase rejects more than half applicants on the basis of their physical stamina required for the force.
Training– As far as training is concerned; it takes 2-3 years to train a MARCOS commando. The majority of training of MARCOS takes place over INS Abhimanyu. The training actually takes place at various agencies of the Indian navy and the Indian army. They also get training with the army's paramilitary force at Indian special force training school.
So all aspirants planning to become MARCOS are required to become naval soldiers first, and then they will get a chance to get a golden chance to join the elite force, MARCOS. Being a part of a special force is a matter of honour for a soldier.
Operations by MARCOS:
Operation Pawan (1987): Accompanied the Indian Peacekeeping Force (IPKF) to Sri Lanka to deal with the secessionist LTTE's (Liberation of Tamil Tigers Eelan) marine elements that were operating in the shallow lagoons around Jaffna. The operation included a mission to blow up the Jaffna jetty, which saw MARCOS swim 12 km to their target, with their combat load in tow. They then slipped in without being detected and blew up the harbour with explosives. They were immediately fired upon by the LTTE. The commandos returned fire and managed to swim back to the ship without any casualties.
Operation Cactus (1988): Thwarted an attempted coup d'état in the Maldives. They captured the boat with 46 mercenaries and their hostages that had escaped after the failed coup attempt.
Operation Tasha (1991): Two Prahars were deployed off the southern Tamil Nadu coast to interdict LTTE infiltration and the smuggling of arms and ammunition.
Operation Zabardust (1992): MV Ahat, an LTTE vessel smuggling arms and ammunition, was intercepted off Madras by MARCOS personnel. They boarded the vessel and captured all the mercenaries before LTTE sank the vessel.
United Nations Operation in Somalia (1993): Four teams of MARCOS were deployed off Mogadishu in support of the Indian contingent in Somalia. The team provided maritime special operations support to the Naval Task Force.
Operation Rakshak (1995): Two to four teams of MARCOS are deployed round the year in Jammu & Kashmir, at Wular Lake. This 250-square km lake, surrounded by mountains, was being used freely by militants to reach Srinagar, saving them from having to travel 100 km through the mountains. In 1995, a team of MARCOS was positioned at the lake and within weeks, militant activity on the lake ceased. In subsequent years, in addition to meeting the requirement of deterring militants from using the Wular Lake, MARCOS started operating on land and Prahars killed several militants and recovered a large quantity of arms and equipment.
Kargil War (1999): Tasked to undertake covert operations behind enemy lines and assist Indian Army operations.
Operation Black Tornado (2008): conducted to flush out the remaining terrorists during the Mumbai attacks.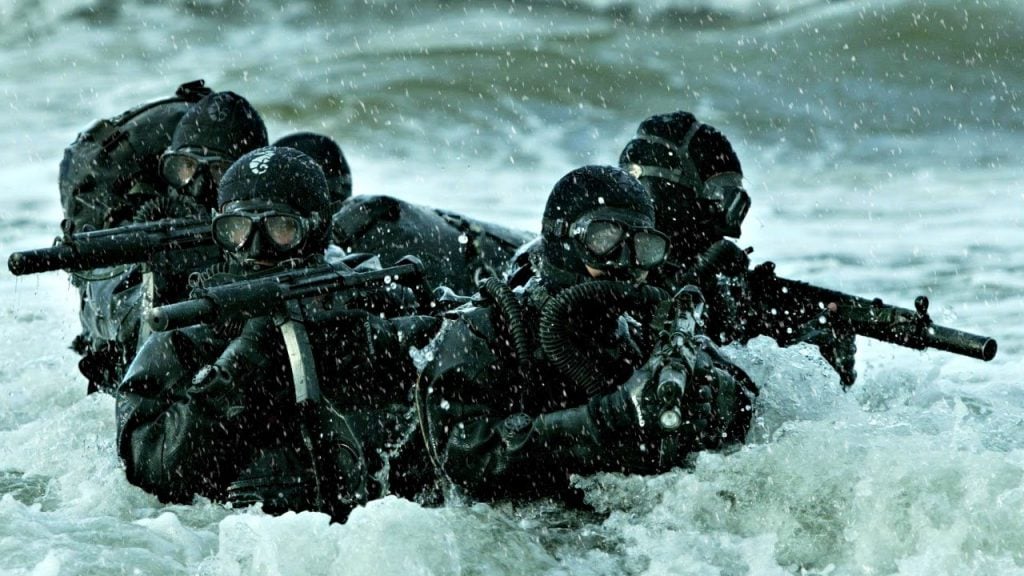 Role and Purpose of MARCOS
The core missions of MARCOS include:
To conduct clandestine attack against enemy ships, offshore installations and other vital assets behind enemy lines;
To support amphibious operations including pre-assault ops;
Conduct of surveillance and recce missions in support of naval operations;
Conduct of clandestine diving operations; and
Combating terrorism in a maritime environment.
Although initially created to conduct special operations in the maritime environment, such as amphibious warfare, the MARCOS have evolved to incorporate other capabilities, which include:
Direct action;
Counter-terrorism;
Special reconnaissance;
Unconventional warfare;
Hostage rescue;
Personnel recovery;
Asymmetric warfare;
Counterproliferation;
Anti-piracy; and
Safeguarding of off-shore energy assets, among others.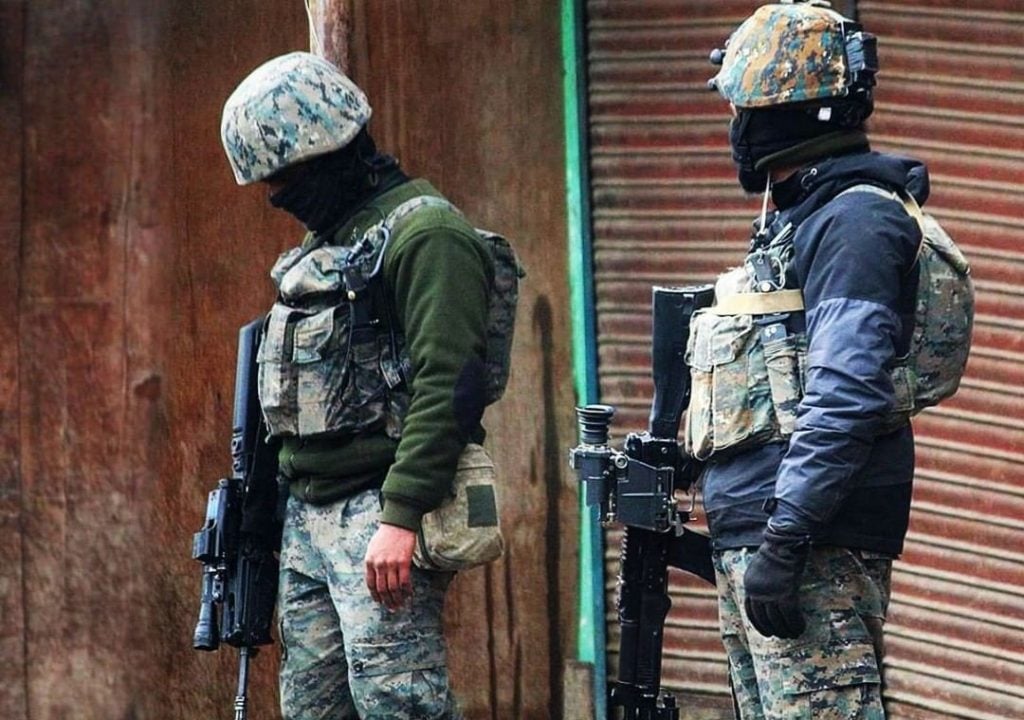 Personnels are trained as combat divers and in the use of mini-submersibles. Although they are experts in the maritime environment (sea domain), they can also operate in the other two domains of air and land.
Personnels are trained to conduct specialised parachute operations, landing into water/on the ground with full equipment, such as:
HAHO (high altitude and high opening).
HALO (high altitude and low opening).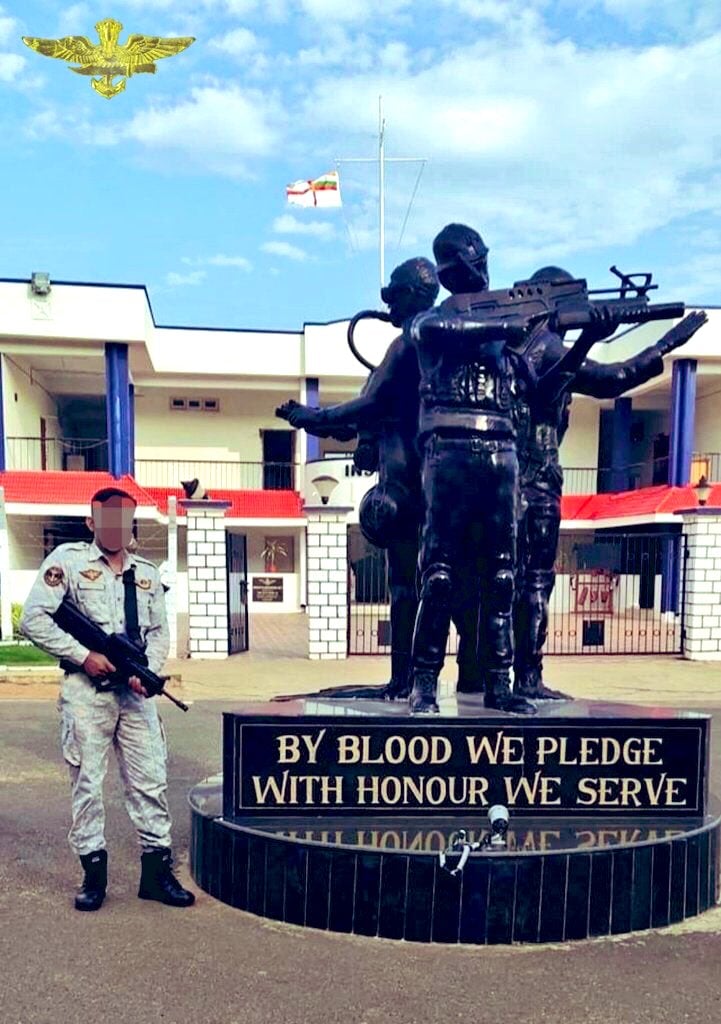 MARCOS Selection and Training
Application for the Marine Commandos is made by male volunteers of the Indian Navy, applications from other branches of military service are not accepted. Volunteers can be either commissioned officers or enlisted sailors.
Candidates will generally go through four phases to become a fully-qualified Marine Commando, which includes:
Phase 1: Pre-Selection.
Phase 2: Selection.
Phase 3: Initial Qualification Training (Basic SF Training).
Phase 4: Probation Period (Advanced SF Training).
There are a variety of commentators, for example, Bennett (2004), who state that MARCOS candidates undertake a two-year course, with the first phase lasting one month and nine months for further training.MARCOS with RR in the Kashmir in CI ops.
MARCOS Pre-Selection
The first phase on the journey to becoming a Marine Commando is pre-selection, also known as enrolment, which takes place over three days.
This three-day long process will witness an attrition rate between 50% and 80%.
For the few who are successful, there is the daunting prospect of attending the 5-week selection process incorporating 'Hell Week'.
MARCOS Selection
Candidates who successfully complete pre-selection must now attend the gruelling selection process which takes place over five weeks of daunting physical tasks, accompanied by large doses of sleep deprivation.
Some of the tasks that candidates may encounter during this phase include:
Morning runs of 20-kilometres (12.4 miles).
Night marches of 20-kilometres (12.4 miles) carrying a 60 kg (132 lb) load.
Conduct training with live ammunition.
Once per week, conduct a march of 120 kilometres carrying a 60 kg (132 lb) load in a specified time limit.
'Hell Week', modelled on the US Navy SEALs Hell Week:

A week of continuous training with, on average, over 20 hours each day containing continuous physical exertion.
Candidates will be lucky to receive more than 4 hours of sleep over the week.
At the end of the week, candidates will be expected to 'run' through an 800 metre, thigh-high thick mud filled, route known as the 'Death Crawl' carrying a 25 kg (55 lb) load.
Then complete a 2.5-kilometre (1.5 mile) obstacle course, before.
Fire at a target, with a fellow candidate standing right beside it, from 25 metres away.
MARCOS Basic SF Training
Candidates who successfully complete the selection process will move on to initial qualification training, which consists of basic SF training and advanced SF training.
Candidates will undergo a variety of training with several different organisations, although all training is overseen by INS Abhimanyu. A significant amount of training that the US Navy SEALS undergo has been replicated in the training of MARCOS (both the US Navy SEALs and British SAS aided in the early stages of training) and includes:
10-week basic SF training, located at INS Abhimanyu, including:

Weapons handling training.
Ammunition and explosives training.
Unarmed combat training.
Close quarter battle (CQB) training.
Kayaking.
Photography.
Ship intervention drills.
Hostage rescue.
Recapture of offshore installations.

3-week Basic Parachute Course at the Indian Army's Parachute Training School, located at Agra.
Basic Combat Divers course at the Indian Navy's Dive School, located at Kochi.
Candidates who successfully complete these courses will move on to advanced SF training.
MARCOS Advanced SF Training
MARCOS advanced SF training includes a probationary period for candidates which must be successfully completed. Candidates will join designated 'Prahars' for 'on-the-job' training.
Training during this phase consists of:
Combat free-fall training (HAHO and HALO), plus water-para jump (with full combat load) capability training;
Counter insurgency, at the Counter Insurgency and Jungle Warfare School (CIJWS) in Mizoram;
Anti-hijacking and anti-piracy;
Clandestine operations;
Surveillance and reconnaissance;
Amphibious operations (beach, coastal and riverine);
Unconventional warfare;
Language training (e.g. Arabic or Mandarin).
The language and culture of likely adversary areas, to enable them to operate and survive behind enemy lines;
Operations from submarines and submersible craft training;
Sniper competence and training on shoulder-launched missiles, MMGs, etc.;
Making Improvised Explosive Devices (IEDs) with readily available items;
4-week High Altitude Commando Course at the Parvat Ghatak School in Tawang, Arunachal Pradesh, along with other Indian SF units; and
Desert Warfare School in Rajasthan.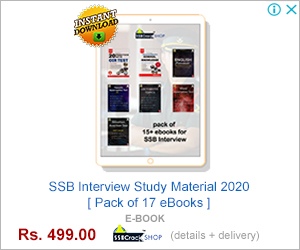 At the end of this long and formidable training, candidates are capable of firing a weapon while standing, lying down, running at a full sprint, backwards or even looking into a mirror – all within a reputed reaction time of 0.27 seconds.
Exams to join MARCOS:
Candidates can join the Indian Navy as a sailor and opt for the Special Forces once they join the Indian Navy. Exams like INET for sailor will be the best option.
Candidates can also join the Indian navy as an officer through NDA Exam, CDS Exam and INET officer exam.