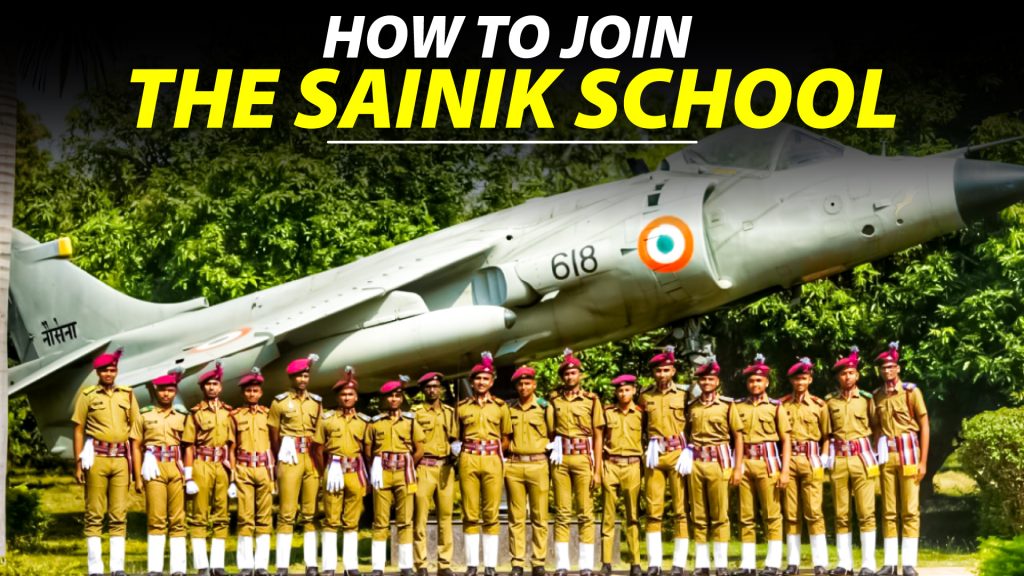 About Sainik Schools
Sainik Schools are English medium residential schools affiliated to Central Board of Secondary Education(CBSE). Sainik Schools prepare Cadets to join the National Defence Academy (NDA), Khadakwasla (Pune), Indian Naval Academy, Ezhimala and other Training Academies for officers. At present there are a total of 33 Sainik Schools under the Sainik School Society . Capt Manoj Pandey Sainik School doesn't fall under the ambit of Sainik Schools Society thus it conducts its own entrance examinations for admissions to classes VI, VII and IX across the country spread across 23 states.
Admission Process
Candidates need to apply through the exam conducting authority NTA's website . After registration that there will be an All India Entrance Exam conducted by NTA
Candidates who qualify the written exam will be called for medicals by respective Sainik Schools they gave their preference for . Then medicals will be conducted at the nearby military hospital where if the candidate is declared fit then his final selection will be done on basis of marks secured in Entrance Exam.
Application Forms
Filling of forms and payments will all be done online.
Candidates are advised to first go through the Admission Bulletin uploaded on AISSEE NTA website
Following are to be ensured before filling forms
An e-mail id for candidate
Scanned Copies of photographs, signature, left hand thumb impression, birth certificate, domicile certificate, caste certificates if applicable, service certificate in case of wards of defence personnel, ID proof, Source of online payments
Candidates will have to first register using their credentials and then they can fill their examination form . Following are some of the points to be kept in mind
Candidates can select only one Sainik School as their preference.
Candidates can select four examination centres out of which one will be allotted to them as per the preference order given and the seats available. There are around 180 exam centres all over India.
As the Question Paper would be bilingual , so candidates need to mention their preferred languages. If the candidate chooses English or Hindi in the application form the paper would be in both the mediums but if he chooses one amongst the following then questions would be in English and the language chosen
Assamese
Bengali
Gujarati
Kannada
Malayalam
Marathi
Odiya
Punjabi
Tamil
Telugu
Urdu
Reservations :
67% of the seats are reserved for candidates domiciled in the State/ UT where the Sainik School is located.
33% of the seats are reserved for candidates from Other States and Union Territories(UT).
Within each Category of Home State/ UT and Other States/ UT quota, seats will be reserved on the following lines:
a) 15% of the seats are reserved for the category Scheduled Caste (SC)
b) 7.5% for the category Scheduled Tribe (ST)
c) 27% for the category Other Backward Classes belonging to the Non Creamy layer (OBC-NCL) as per the central list.
Thus, 49.50% of the seats in Sainik School are reserved on the above mentioned lines.
Out of the balance 50.50% of the seats in the Home State/ UT and Other States/ UT quota, 25% of the seats are reserved for the wards of defence personnel and ex-servicemen.
In "Other States/ UT" quota, seats will be allotted in each category as per merit, subject to a maximum limit of 25% of vacancies in the category for any State or Union Territory.
Detailed information will be available in the Admission Bulletin.
Written Exam
Candidates need to report at least 45 minutes prior for the exam and need to carry their Admit Card, an identity proof(Aadhar card) and any other document as per the admit card .
The examination will be conducted offline and candidates have to mark their responses on OMR Sheet .
Sections Number of Questions Marks
Maths 50 125
Intelligence 25 50
Language 25 50
General knowledge 25 50
Total 125 300
Total Time Allotted : 150 minutes (two and a half hours)
No negative marking meaning candidates will not lose marks if they give wrong answers
Syllabus :
Mathematics
There will be 50 questions of 3 marks each . Totalling to 150 marks or half of the total marks signifies the huge importance of the subject .
Natural Numbers
Conversion of Units
LCM and HCF
Roman Numerals
Unitary Method
Types of Angles
Fractions
Circle
Ratio and Proportion
Volume of Cube and Cuboids
Profit and Loss
Prime and Composite Numbers
Simplification
Plane
Figures
Average
Decimal Numbers
Percentage
Speed and Time
Area and Perimeter
Operation on Numbers
Simple Interest
Complementary and Supplementary Angles
Lines and Angles
Arranging of Fractions
Temperature
There will be 25 questions of 2 marks each thus totalling the section to 50 marks
Analogies (mathematical & verbal)
Pattern (spatial and mathematical)
Classification
Visual Reasoning
Logical Reasoning
There will be 25 questions of 2 marks each thus totalling the section to 50 marks
Different Types of Scientific Devices Used in Daily Life.
Concepts on Mountain Terrain and Lifestyle
Icons and Symbols of India: National Insignia, National Emblem, Sports, Animal etc. (Elementary awareness of such symbols)
Historical Monuments
Major Religions of India (Elementary awareness about founder, place of origin, religious books and important ideas)
Shape of Earth and Gravitation (Basic concepts)
Art and Culture (Music, Classical and Folk Dance); Renowned Personalities, Instrumental and Vocal Music, Major Dance Forms
Non-Renewable Energy Sources (Fossil Fuels)
Defence (Equivalent Ranks in three services, Weapons, Aircraft, Missiles &Warships (Elementary awareness)
Food, Culture, Habitat, Languages etc of various regions (Basic concepts)
Sports personalities, major competitions and trophies associated with various games
Names of young ones of different animals
Super Senses
Functions of Body Parts of Plants and Animals 8 Relationship between Animals and Human Beings
International Organizations: Basic knowledge about structure, functioning and objectives of United Nations, World Bank etc.
Taste and Digestion
Indian Literary and Cultural Personalities: Names and fields of achievements
Cooking and Preserving Techniques
Names of notable awards and recent recipients
Germination and Seed Dispersal
Natural Calamities (Flood and Earthquake)
Traditional Water Harvesting Techniques
Evaporation, Condensation and Water Cycle (Basic concepts)
Experiment with Water on Everyday Life
Farming techniques
Water Pollution and Microbial Diseases
Tribal Communities and Forest Produce
This may seem gigantic to the candidates but almost all of these topics except thee current affairs part, are in the NCERT Books till classes VI
There will be 25 questions of two marks each. For the syllabus candidates need to refer to NCERT books of that language till class V. Syllabus of one of the available languages is given below
English
There will be 25 questions of 2 marks each thus totalling the section to 50 marks
Comprehension Passage
Sentence Formation
Preposition
Antonyms
Article
Synonyms
Vocabulary
Adjectives
Verbs and Type
Interjection
Confusing Words
Idiom and Phrases
Question Tags
Collective Nouns
Types of sentence
Numbering Sentences
Tense forms
Gender
Kinds of Nouns
Adverbs
Kinds of Pronouns
Rhyming Words
Correct Spelling
Singular/Plural
Ordering of words in sentence
Tips for Written Examination
First focus on studying NCERT books of class V of Maths, English/Hindi/Language you have opted for, and Environmental Studies
For maths make a list of all formulas and glue them to your study table .
After (a) is completed you should buy a SS Entrance Exam book which suits you as there are many available in the market
Focus on increasing your speed. As the paper is objective one your methods don't matter what matters is the result so make a notebook of all tricks and shortcuts.
For GK part you should buy a current affairs magazine's student edition and read the static part through authentic sources only.
As the paper pattern is now totally new, candidates can refer to RMS Entrance Exam Question Papers as it matches the new exam pattern
For maths you can refer to previous year papers.
Results
School-wise and Category-wise Merit lists will be prepared by NTA and uploaded on the website .
Qualified candidates will then be called for medicals
Respective Sainik School will intimate the candidates for medical and document verification through their websites and e-mails.
Case of Tie in marks
Minimum of 25% marks in each section in each section and 40% aggregate is required to qualify the written examination.
In case of a tie in written scores following priority will be followed to determine the rank
Mathematics
Intelligence
English
Language
Lower Age
Medicals and Document Verification
While medicals are conducted , candidates need to find their own shelter , which will easily be available, as no accommodation will be provided by either school or hospital.
The medical tests will be done as per the required standards.
Candidates can get the list of tests and the desirable results on website of Sainik School
Document Verification of the candidates declared medically 'fit' will take place.
Only those candidates who are declared medically fit and also get through the document verification will be considered for the Final-Merit Lists.
Note: It is advised for the candidates to go through the list and get themselves checked prior to filling application form because in case they do not meet he criteria then all efforts will be wasted
Final Merit Lists
The respective Sainik Schools will release their respective merit lists and selected candidates will be issued joining letters .
There will also be candidates under reserved status in each category meaning if the selected candidate does not join the school he will get a chance.
Also Read: How To Join The RIMC In 2022