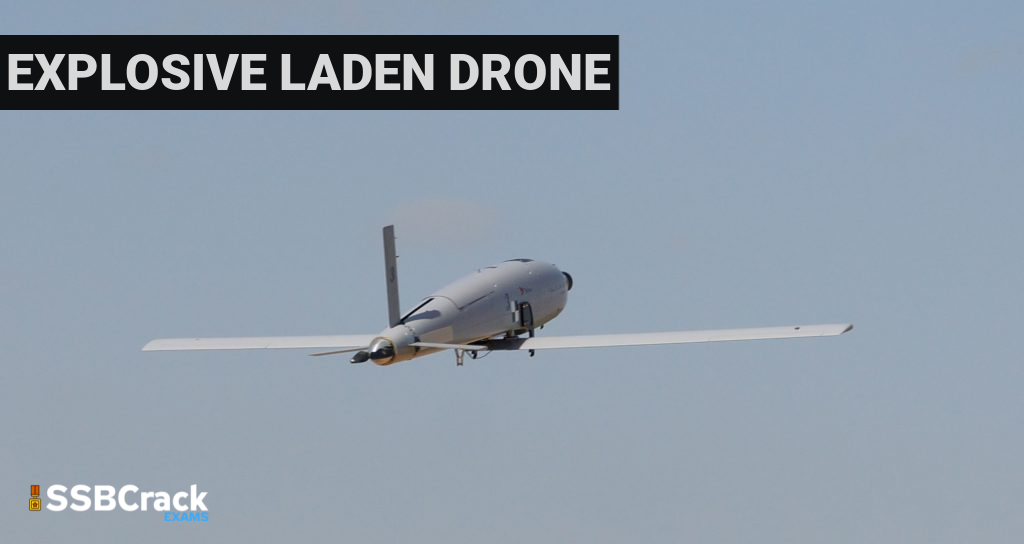 The Indian army, under the emergency procurement powers, has inked a pact of over 100 'Explosive-Laden Drones', which will be manufactured by Bengaluru-based firm Alpha Design-led joint venture (JV) along with Israel's Elbit Security Systems (ELSEC). The contract is estimated to be around Rs 100 crore.
The emergency powers pertain to the acquisition of weapons, ammunition, procurement of critical spares, and other operationally critical equipment which aims to permanent enhancement of operational capabilities of the Indian Armed forces.
The 'SkyStriker' drones will have a range of about 100km and they will be used as force multipliers in Balakot type of missions. The armed drones will fulfill the requirement of the Army's "loitering munition" – a type of Unmanned Aerial Vehicles (UAVs) built to engage beyond the line-of-sight ground targets with an explosive warhead.
Must Read: All About India's First Indigenously Developed Naval Anti Drone System (NADS)
Decoding Sky Striker drones
As per Elbit Security Systems, Sky Striker is a cost-effective 'loitering munition' capable of carrying long-range penetration strikes.
The military drones have direct-fire aerial-precision capabilities to maneuverable troops and special forces. The UAV works as a 'suicide drone', which crashes into the target with the explosives. Further, the drone can locate, acquire and strike designated targets with a 5kg warhead installed inside the fuselage. Its electric propulsion provides a much-needed minimal acoustic signature, which allows covert operations at low altitude – making it a silent, invisible, and surprise attacker.
Notably, Global Positioning System (GPS) will be loaded onto the strike drone before launch and upon launching, it will fly around the location, pick up the target, relay the information back to ground control equipment, and strike only after getting clearance. It is noteworthy that ground control can also change targets after the launch, and even call it back in case a mission has to be aborted.
Bengaluru-Headquartered Alpha Design-led (JV) has already exported more than 100 such drones — manufactured based on Elbit's technology and it will export another set of 100 drones shortly.
Elbit Systems' SkyStriker is a cost-effective loitering munition that is capable of long-range precise tactical strikes. The technology-enabled SkyStriker improves performance, situational awareness and survivability by providing direct-fire aerial-precision capabilities to maneuverable troops and Special Forces.
SkyStriker is a fully autonomous UAS that can locate, acquire and strike operator-designated targets with a 5kg warhead installed inside the fuselage, enabling high-precision performance. The UAS' electric propulsion offers a minimal acoustic signature, allowing covert operations at low altitude operations. As a silent, invisible and surprise attacker, SkyStriker delivers the utmost in precision and reliability, providing a critical advantage in the modern battlefield.
Defence contracts with IAF
Apart from the Indian Army's contract, Alpha Design's JV has independently got two more defence contracts from the Indian Air Force recently. The first contract includes 6 Very High-Frequency Radars. The Indian Air Force is operating long-distance surveillance radars — P18 radars — that have a range of up to 200km. The new radars will enhance the IAF's surveillance strength.
The second contract includes 60 Identification of Friend-or-Foe (IFF) systems that will be integrated with ground radars. Developed by the Centre for Airborne Systems (CABS) under Defence Research Development Organization (DRDO), the technology has been transferred to three firms: Alpha, BEL and Data Patterns.
ALSO READ:
BREAKING NEWS: The Indian army, under the emergency procurement powers, has inked a pact of over 100 'Explosive-Laden Drones', which will be manufactured by Bengaluru-based firm Alpha Design-led joint venture (JV) along with Israel's Elbit Security Systems (ELSEC). pic.twitter.com/pSYbin4iwF

— SSBCrackExams (@SSBCrackExams) September 3, 2021