After clearing the entrance examination, the candidates who qualify are called for the SSB Interview. The SSB Interview judges one on their personality and psychology.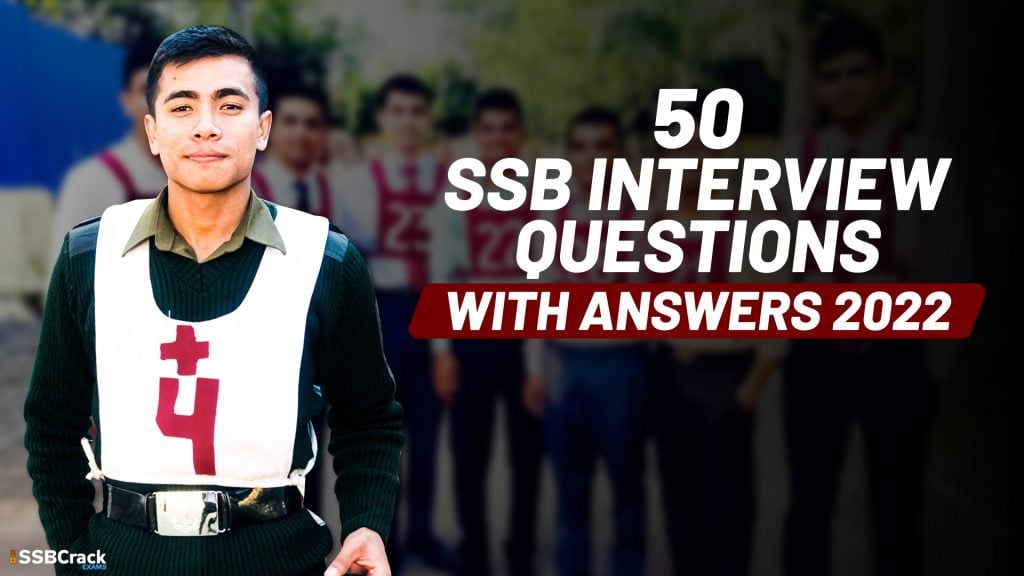 Amongst other tasks, a personal interview is carried out. Questions range from current affairs, defence related, general knowledge and even personal questions can be asked.
In this article we have gathered 50 SSB Interview Questions along with their answers.
How did you prepare for the SSB Interview?
Be honest about your preparation. Mention your timetable, time management and dedication.
What are the highest ranks in the Indian Navy, Indian Army and Indian Air Force?
The highest rank in the Indian Navy is Admiral, in the Indian Army it is that of a Field Marshal and in the Indian Air Force it is Marshal of the Air Force.
What was the reason of the Indo-Pak war of 1971?
The Indo-Pak war of 1971 was a military confrontation that took place to liberate East Pakistan, now Bangladesh, from the oppressive rule of West Pakistan.
Who are the current Chiefs of the Army, Navy and Air Force?
The current Chief of Army is General Manoj Pande, current Chief of Navy is Admiral R. Hari Kumar and the Chief of Air Force is Air Chief Marshal Vivek Ram Chaudhari.
Name India's neighbouring countries from west to east.
Afghanistan and Pakistan to the North-West, China, Bhutan and Nepal to the North, Myanmar to the far East and Bangladesh to the East.
Name five regiments of the Indian Army.
Bihar Regiment, Rajputana Rifles, Sikh Regiment, Gorkha Rifles and Kumaon Regiment.
Apart from the armed forces, what else are you passionate about?
Be truthful about you your answer. Tell the officer whatever else you are passionate about.
When is Navy Day celebrated?
4th December of every year.
What is the full form of AFSPA?
The full form is Armed Forces Special Powers Act.
Tell us about your family.
Start your answer by mentioning how many members there are in your family. Then proceed to give a little brief about everyone.
Name any three tanks of the Indian Armed Forces.
T-72, T-90 and Arjun MK1 are three of the tanks in the armed forces.
What is the full form of SSB?
The full form of SSB is Services Selection Board.
Will you re-attempt the SSB Interview if you do not clear it this time?
Your answer could be yes/no depending on eligibility, other plans, demotivation, etc.
What is your opinion of the Russia-Ukraine war?
Your answer could be – In my opinion, fighting a war in the 21st century does not make sense. We, as humans, are smarter than that. Both nations should mutually come to a solution without the world interfering in their matters and put an end to the war before more lives are lost.
Where is the headquarter of the Indian Army?
New Delhi.
How did you prepare for the entrance exam?
Mention your timetable, time management and strict study routine. Include that you began by covering the basics, practiced question papers and did a lot of revision.
Name the seven north-eastern states.
Arunachal Pradesh, Assam, Meghalaya, Manipur, Mizoram, Nagaland and Tripura. Sikkim is also considered a part of north-east India.
Could be anyone. Also state a reason why they are your role model.
What is the achievement you are most proud of?
Can range from academics, sports, extra-curricular to anything.
How do you overcome demotivation?
You can mention how you only dwell on the negative aspects for a while and then clear your head and fill it with positive thoughts.
What are your hobbies and interests?
Can range from reading, sports, dance, singing, painting, etc.
What was your favourite subject in school?
Be honest about your answer even if your favourite subject was physical education.
What is the equivalent of a Brigadier in the Navy and Air Force?
A Brigadier in the Army is equivalent to a Commodore in the Navy and Air Commodore in the Air Force.
Who is the current Secretary General of the UN?
António Guterres
Where is the Eastern Command of the Indian Army located?
The Eastern Command is headquartered in Fort William, in the city of Kolkata, West Bengal.
Which aircraft has been recently purchased from the United States of America?
The most recent aircraft purchased is the F-15EX fighter jet for the Indian Air Force.
How many aircraft carriers does the Navy have?
Currently, the Indian Navy only has one aircraft carrier.
Name any two west flowing rivers in India.
The Indus and the Tapi.
Name any three Gallantry Awards.
Param Vir Chakra, the Maha Vir Chakra and the Vir Chakra.
Name the different atmospheric levels.
From lowest to highest, the major layers are the troposphere, stratosphere, mesosphere, thermosphere and exosphere.
How would you define voltage?
According to Ohm's law, V=IR. Voltage is the pressure from an electrical circuit's power source that pushes charged electrons (current) through a conducting loop, enabling them to do work such as illuminating a light.
The first law is a body remains at rest, or in motion at a constant speed in a straight line, unless acted upon by a force. The second law is when a body is acted upon by a force, the time rate of change of its momentum equals the force. The third law is if two bodies exert forces on each other, these forces have the same magnitude but opposite directions.
What do you think about the Hijab ban?
Your answer could be – I believe that it is a baseless ban. India is a democratic and secular country and one should be able to wear whatever they want.
Name the ranks in the Air Force in order.
Starting from top to bottom – Marshal of the Indian Air Force, Air Chief Marshal, Air Marshal, Air Vice Marshal, Air Commodore, Group Captain, Wing Commander, Squadron Leader, Flight Lieutenant, Flying Officer and Flight Cadet.
What is the motto of the Indian Navy?
The invocation to Lord Varuna, The Sea God, in the Vedas was adopted by Indian Navy for its emblem, with the Motto: "Sam no Varunah", meaning: "Be auspicious unto us Oh Varuna".
Who received the first Param Veer Chakra?
Major Somnath Sharma received the award posthumously in 1950.
Who was the first Navy Chief?
Rear Admiral John Talbot Savignac Hall
What is the difference between cruise and ballistic missiles?
Cruise missiles are jet-propelled at subsonic speeds throughout their flights, while ballistic missiles are rocket-powered only in the initial (boost) phase of flight. A ballistic missile is unguided for most of its path whereas as cruise missile hits its target with high precision.
What do you know about the Agni missile?
The Agni missile is medium to intercontinental range ballistic missiles developed by India, named after one of the five elements of nature. Agni missiles are long range, nuclear weapons capable of surface-to-surface ballistic missiles.
Who is the current Chief of Defence Staff?
The position is currently not filled.
Answer truthfully. Can be honesty, time management, disciplined, etc.
Why was your 10th class percentage lower than 12th?
You answer can be – My 12th class percentage was higher as I was studying the subjects I genuinely liked and could focus my attention on the selected subjects.
Favourite sport in school.
Could be any sport you played in school, district level, state level or even national level.
Tell me about your best friend.
Mention their name, how you two became friends, qualities you like and dislike about them, etc.
What do you think about women being allowed to join the NDA?
You answer can be – I think it is a wonderful thing that women get the opportunity to join the NDA. It opens up a vast spectrum and is new step in the right direction for the armed forces. Women are as capable as men are, and women being a part of the NDA will improve the quality of officers that are produced in both, men and women.
Name any five squadrons of the Indian Navy.
INAS 300, INAS 303, INAS 310, INAS 311 and INAS 312.
A nautical mile is a unit used in measuring distances at sea and is equal to 1,852 metres.
What is a vertical take-off?
A vertical take-off and landing (VTOL) aircraft is one that can hover, take off and land vertically without relying on a runway.
How many states and union territories does India have?
There are 28 sates and 8 union territories in India.
How do you spend your spare time?
Your answer can be – You go work out, reading, sleeping, spending time with friends and family, go out or you split your time equally amongst various things.
To crack the SSB interview, You can join our SSB interview live classes batch and we recommend you to Enroll SSB INTERVIEW ONLINE COURSE. Trusted by thousands of defence aspirants.
As seen above, in this article we have discussed 50 SSB Interview questions and their answers that can be asked in the next SSB.
There is no hard and fast rule about what can be asked. Interviewing Officers can sometimes skip certain topics all together. There are also no right or wrong answers in subjective questions.
Just take a minute to gather your thoughts and answer confidently. Prepare for the SSB Interview well in advance and try not to be nervous.
All the best to everyone appearing for their SSB Interview.
Keep reading SSBCrackExams blog posts for more such information!
Also Read: