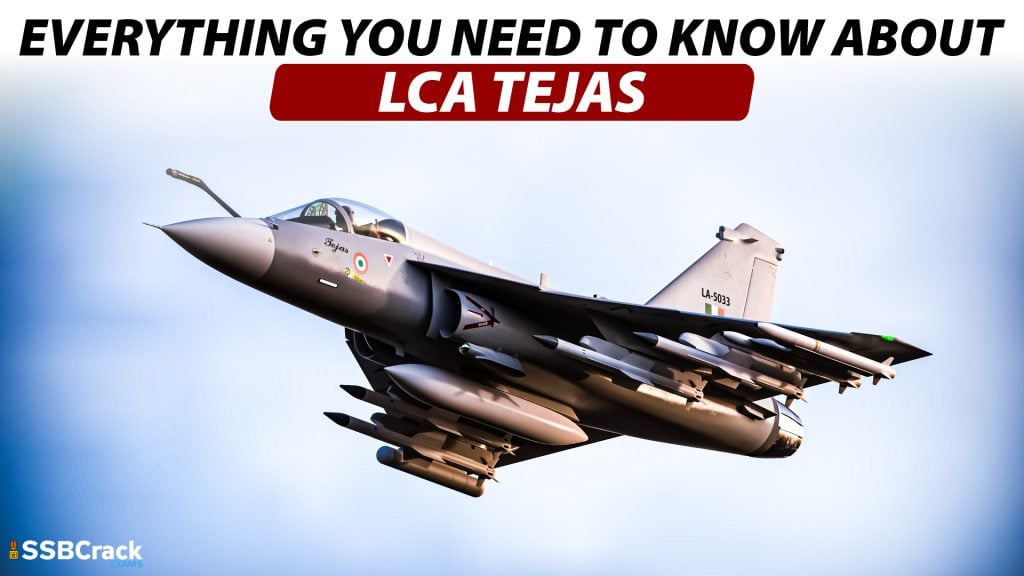 Everything You Need To Know About LCA Tejas
We know that India has been devoting a considerable amount of resources to the development of indigenous aircrafts. They are a key step to achieving self-reliance in the defence sector. In this article we present to you all the info on Hindustan Aeronautics Limited's Tejas.
Tejas
India developed the HAL Tejas, a multirole light fighter. It has a single engine and is a tailless compound delta-wing design. It was developed as part of India's Light Combat Aircraft (LCA) program, which began in the 1980s with the goal of replacing the country's aging MiG-21 fighters. The LCA was later given the name "Tejas," which means "Radiance," by then-Prime Minister Atal Bihari Vajpayee.
The Tejas features a single dorsal fin and a delta wing shape with no tailplanes or foreplanes. Relaxed static stability, a fly-by-wire flight control system, multi-mode radar, an integrated digital avionics system, composite material constructions, and a flat-rated engine are among the features.
After the HAL Marut, the Tejas is the second supersonic fighter produced by Hindustan Aeronautics Limited (HAL). The Indian Air Force (IAF) is said to be in need of 200 single-seat and 20 two-seat conversion trainers, while the Indian Navy might acquire up to 40 single-seaters to replace its Sea Harrier FRS.51 and Harrier T.60 aircraft. The Tejas was approved for use by Indian Air Force pilots in January 2011.
Development
In 1990, the LCA was finalized as a tiny tailless delta winged machine with relaxed static stability (RSS) to improve agility. The advanced composite construction and sophisticated avionics required raised some eyebrows right away, and the IAF expressed doubts that India had the technological infrastructure to sustain such a large-scale project. In May 1989, a government study group was constituted, with the overall conclusion that India's infrastructure, facilities, and technology had evolved sufficiently in most areas to carry out the project. However, out of caution, the full-scale engineering development (FSED) portion of the program was determined to be split into two halves.
The IAF placed an order for 20 aircraft in March 2005, with a second order for another 20 aircraft to follow. The F404-GE-IN20 engine will be installed in each of the 40 aircraft. At Bangalore, a 14-member "LCA Induction Team" was created to prepare the Tejas for service and help with its induction.
Design
The Tejas is a single-engined multirole fighter with a tailless compound delta planform and "relaxed static stability" for improved maneuverability. The flexibility of this design approach has allowed a variety of guided air-to-surface and anti-shipping weapons to be integrated for more well-rounded multirole and multimission capabilities. Originally intended to serve as an air superiority aircraft with a secondary "dumb bomb" ground-attack role, the flexibility of this design approach has allowed a variety of guided air-to-surface and anti-shipping weapons to be integrated for more well-rounded multirole and multimission capabilities.
The Tejas is meant to be tiny and light thanks to its tailless compound-delta planform. This platform also reduces the number of control surfaces required (no tailplanes or foreplanes, just a single vertical tailfin), allows for more external storage to be carried, and provides greater close-combat, high-speed, and high-alpha performance than comparable cruciform-wing designs.
All armaments are carried on one or more of seven hardpoints with a total capacity of almost 4,000 kg: three under each wing and one on the fuselage centerline. The centreline under-fuselage station and inboard pairs of wing stations, as well as an eighth offset station beneath the port-side intake trunk, may carry a variety of pods for reconnaissance or training, such as FLIR, IRST, and laser rangefinder/designator.
Operational History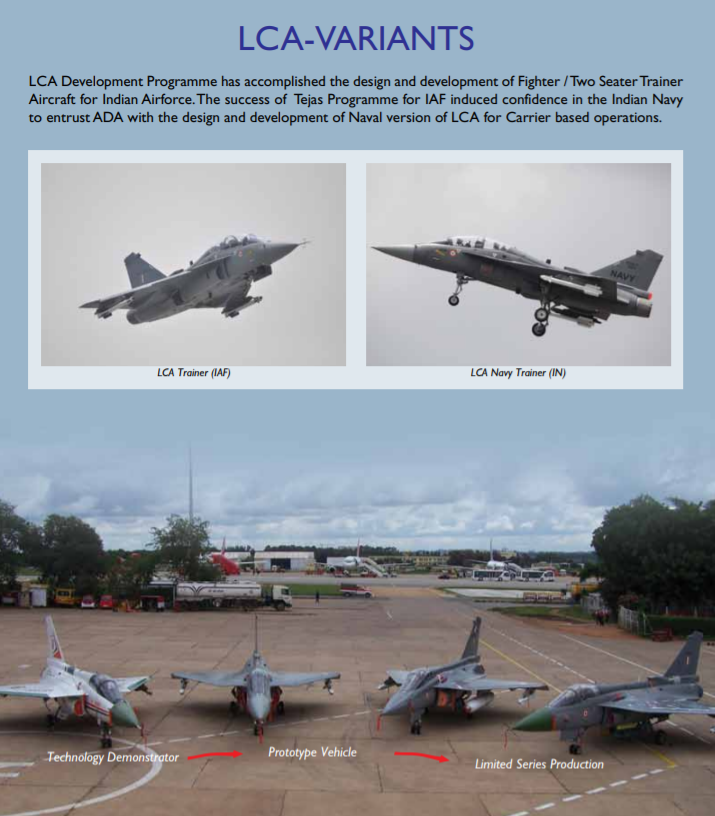 In July of 2011, the first Tejas-equipped squadron was formed. In July 2016, the first Tejas squadron, No. 45 Squadron IAF (Flying Daggers), was activated at Sulur Air Force Station in Coimbatore. Squadron 18, the second Tejas Mark 1 squadron, was created at Sulur on May 27, 2020. The Tejas Mark 1 made its worldwide debut at the fourth Bahrain International Airshow on January 21, 2016.
The IAF's full fleet of Tejas Mark 1 aircraft took part in the Gagan Shakti 2018 exercise in April 2018. With 1,100 aircraft and 15,000 military personnel, it was the IAF's largest air exercise. The Tejas were deployed to forward bases throughout the exercise and displayed their dependability and precise strike capabilities. Six Tejas fighter planes took part in the Vayu Shakti air exercise in 2019, demonstrating their capacity to "swing duty."
According to Group Captain Samrath Dhankhar, the commanding commander of No. 45 Squadron, DASH IV HMDS allows Tejas pilots to take full advantage of high off-boresight close combat missiles like the Python-5 and R-73. The IAF deployed the No. 45 Squadron "Flying Dagger" to the western front along the Pakistani border on August 18, 2020. (line of control). It was Tejas's first operational deployment.
Tejas Mark 1 successfully test shot the Python-5 high off-boresight (HOBS) close combat missile on April 27, 2021, confirming the I-Derby ER (extended range) BVR missile's upgraded capabilities. During the experiment, both missiles made direct strikes on targets.
Also Read: No. 18 Squadron IAF (Flying Bullets) – Sulur AFS
Specifications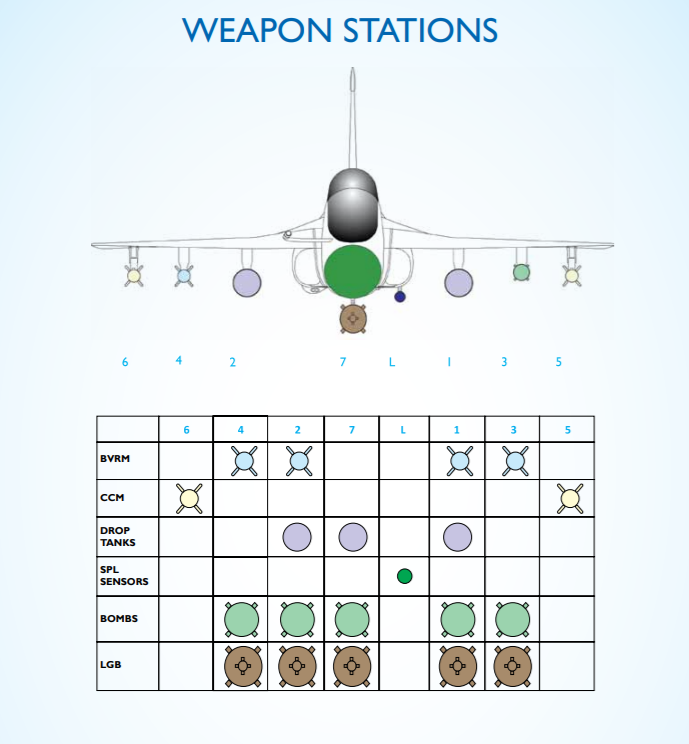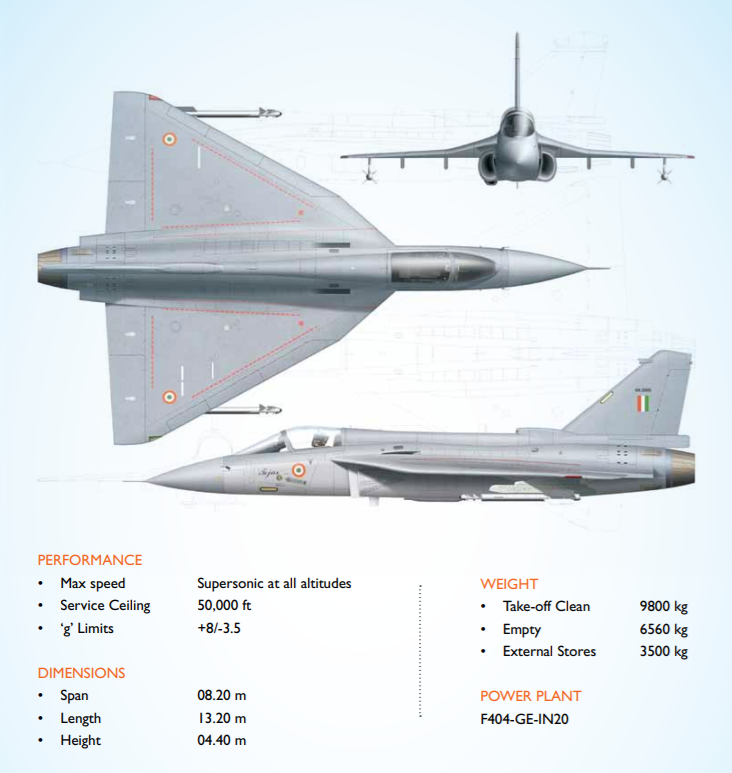 General characteristics
Crew: 1
Length: 13.20 m (43 ft 4 in)
Wingspan: 8.20 m (26 ft 11 in)
Height: 4.40 m (14 ft 9 in)
Wing area: 38.4 m² (413 ft²)
Empty weight: 6,500 kg (14,300 lb)
Loaded weight: 9,500 kg (20,944 lb)
Max. takeoff weight: 13,300 kg (29,100 lb)
Powerplant: 1 × F404-GE-IN20 turbofan

Dry thrust: 53.9 kN (12,100 lbf)

Thrust with afterburner: 85 kN (19,000 lbf)

Internal fuel capacity: 2,458 kg
External fuel capacity: 2 x 1,200 litre drop tank at inboard, 1 x 725-litre drop tank under fuselage
Performance
Maximum speed: Mach 1.8 (1,920 km/h) ; (CAS) at high altitude
Range: 850 km (459 nmi, 528 mi)
Combat radius: 300 km (162 nmi, 186 mi)
Ferry range: 3,000 km(1,840 mi)
Service ceiling: 15,250 m (50,000 ft)
Wing loading: 247 kg/m² (50.7 lb/ft²)
Thrust/weight: 1.07
g-limits: +8/−3.5 g
Conclusion
Tejas is one of the most important steps in the direction of self-sufficiency in Light Combat Aircraft. Once it is fully inducted into our forces, we would be able to retire the jaded Russian aircrafts. It is quite clear that India has the technological capabilities to fully develop the Tejas project and to equip it with state-of-the-art systems, especially with regards to radar and combat capabilities.
The readers can subscribe to SSBCrackExams to get more informative articles in their feed. All the best.
Also Read: