Hemanth Swamy has cleared the NDA 2 2021 SSB interview with flying colors and now looking forward to joining the prestigious National Defence Academy. He scored 399 marks in his written exam and 382 marks in his NDA SSB interview from 3 AFSB Gandhinagar. In an interview with SSBCrackExams, he shared his experiences during the preparation and also shared valuable tips for the NDA Aspirants.
SSB Interview Experience Of Hemanth Swamy
Hello everyone this is me Hemant Swamy the reason you are reading this today is because I recently got recommended for NDA 148 from 3 AFSB Gandhinagar. So the catch with my case is I have cleared all the stages of NDA in my first attempt 12th appearing, which is written in November, SSB in February, CPSS, and flying medical in March.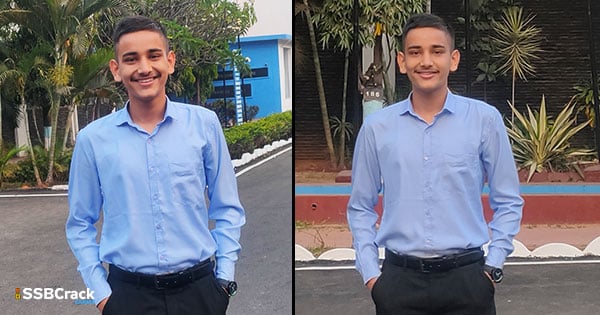 When I was in 11th I was crystal clear is that I am only up for NDA as that was my interest and my dream to be a pilot in IAF. So now the goal was set now the question was how to get started, at that time I was in 11th and I preferred not to give 11th appearing NDA written attempt as it made no sense to me. Later the same year when I just entered 12th I was fully set but the issue was I was not sure whether could I complete the maths portion before the exam.
And then I got the great news that the exams had been postponed from Sep to Nov and also there was lockdown-2. At its peak, this was a golden opportunity that I considered, and there came SSBCrackExam to my rescue. I took their NDA written exam plan and for one month straight, I just dived into their content and surprisingly I was able to complete the maths portion of maths in a single freaking month.
Then approached the exam I had at my center in Bangalore I went there and witnessed the maths portion was a standard one but I didn't give up I gave it and I was able to make it. Later I prepared for SSB Interview on my own and was able to make it on my first attempt.
This was I was able to successfully able to make my dream come true and I would like to say each and every aspirant out there to believe in themselves and yes hard work is the key.
I hope everyone succeeds in their plans and all the BEST!!!
To crack the SSB Interview, You can join our SSB interview live classes batch and we recommend you to Enroll SSB INTERVIEW ONLINE COURSE. Trusted by thousands of defence aspirants.