Personal Interview is one of the observational techniques used in the selection procedure at the SSB's. Briefly, the interview technique consists of establishing an effective two way communication process between the interviewer and interviewee for transfer of information. In this situation, the two people interact freely and establish contact or 'rapport' with one another. The interviewee is encouraged to take progressively larger part and has to do the maximum of the talking process.
The Interviewing Officer tries to estimate the individual's planning and organizing ability, his ability to communicate ideas clearly, his ability to work with others in a group, his level of emotional stability to tolerate stressful situations and  finally, his potential growth mainly through careful probing into his past development history.
Personal Interview Officer
IO [Interviewing Officer], is the only person in whole SSB who talks with you for more than 40- 50 mins continuously, related to your personal life, goals, attachments, success, failures and what not. In other words, he has more information about you compare to any other accessor  in the board.
He will come to know, what you are, from what you speak in front of him.
He knows your failures and hardships you have faced in your life, in short he can decide whether you have potential to become an officer in Indian armed forces or no.
He can convince GTO if your GTO marks are less, only if he finds you mentally stronger.
Must Follow Tips For Personal Interview In SSB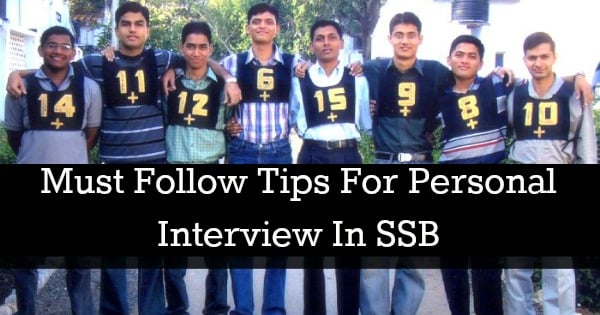 Look smart, cheerful and enthusiastic.
Be audible but not too loud and appear a keen to speak and respond to the questions.
Sit straight and comfortable, do not fidget, do not keep moving your hands and legs as it may distract the interviewer from your responses.
If you have not understand anything politely ask for a clarification or to repeat the question.
Be clear about facts and figures regarding your bio data, marks obtained. ranking in competitive exams, dates, name of school/institute, teachers, friends etc.
" I do not remember" on aspects pertaining to your life, shows you in poor light.
You are expected to be aware so as to touch upon current events if asked.