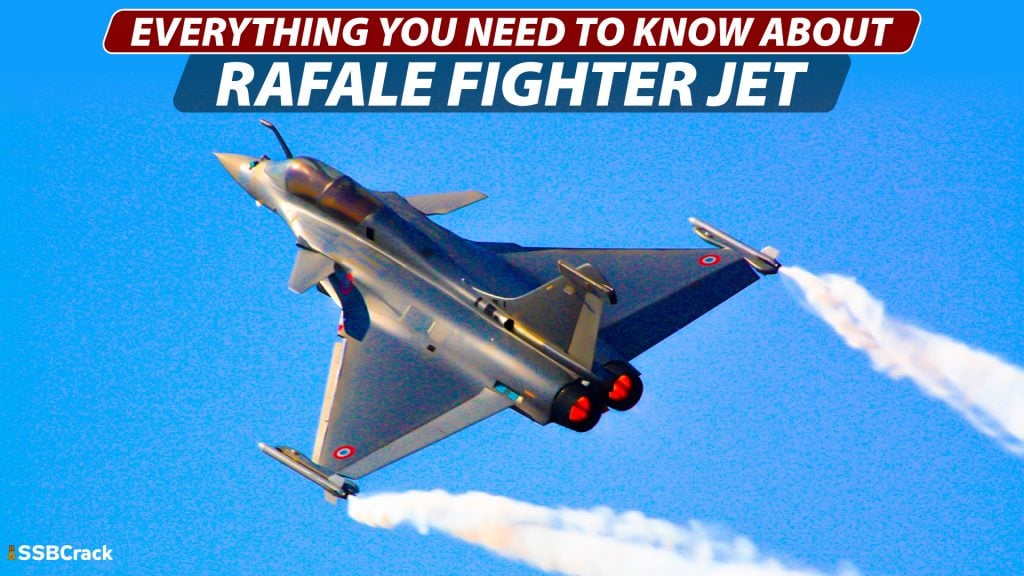 Jai Hind future warriors today we are going to discuss about Rafale Fighter Jet. This is an important topic not just for AFSB but every SSB Interview. We will not be covering the political aspects of the rafale deal, rather our main focus would be on the specifications of the aircraft.
About Rafale Fighter Jet
Introduced in 2001, the Rafale is a French twin-engine and multirole fighter aircraft designed and built by Dassault Aviation being produced for both the French Air Force and for carrier-based operations in the French Navy.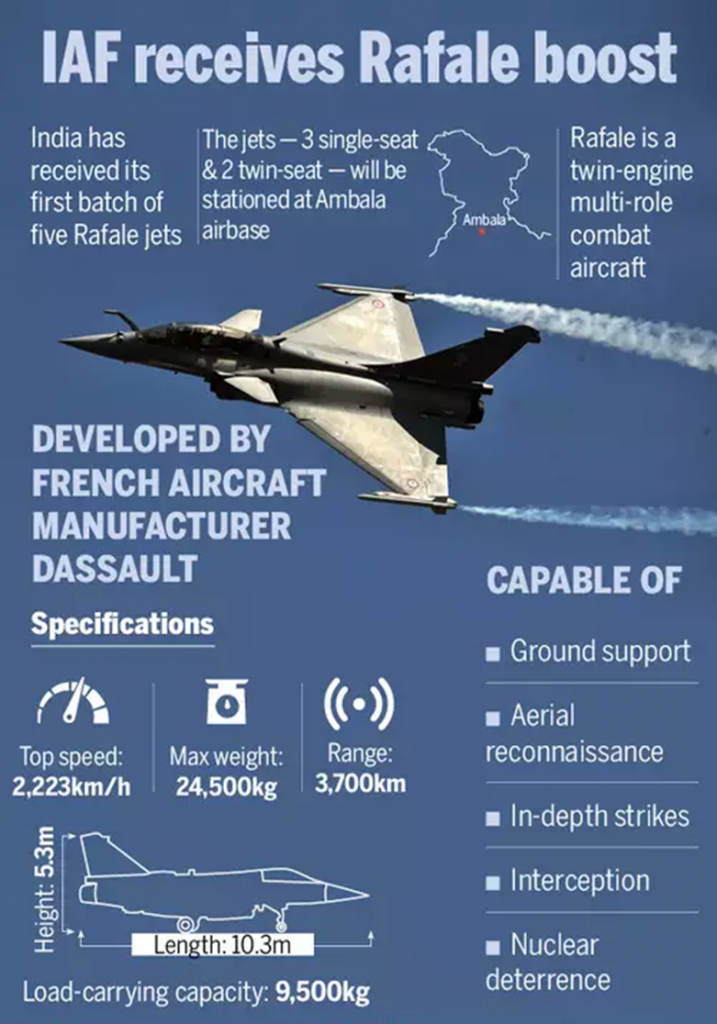 The state-of-the-art 4.5 Generation Rafale jet can reach almost double the speed of sound, with a top speed of 1.8 Mach. With its multi-role capabilities, including electronic warfare, air defence, ground support and in-depth strikes, the Rafale lends air superiority to the Indian Air Force.
The aircraft is capable of carrying a range of potent weapons. European missile maker MBDA's Meteor beyond visual range air-to-air missile and Scalp cruise missile will be the mainstay of the weapons package of the Rafale jets. Meteor is the next generation of BVR air-to-air missile (BVRAAM) designed to revolutionise air-to-air combat. The weapon has been developed by MBDA to combat common threats facing the UK, Germany, Italy, France, Spain and Sweden. Besides the missile systems, the Rafale jets will come with various India-specific modifications, including Israeli helmet-mounted displays, radar warning receivers, low-band jammers, 10-hour flight data recording, infra-red search and tracking systems among others.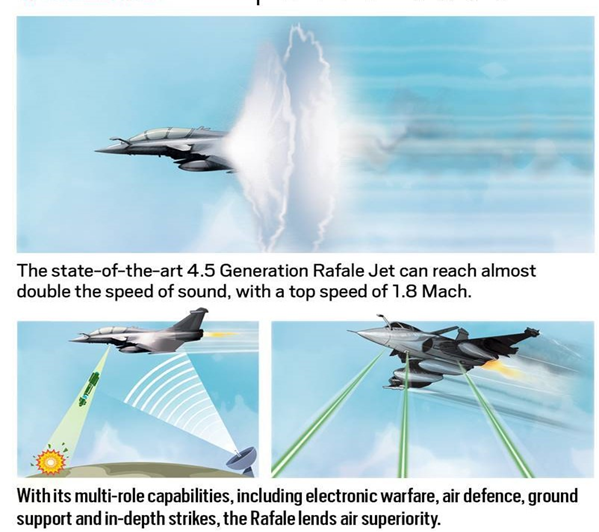 The Rafale jets, which have been tailor-made for the IAF, will join the resurrected 'Golden Arrow' squadron of the Air Force and will be stationed in Ambala. The No. 17 'Golden Arrow' squadron was disbanded in 2016 after Mig-21 fighter jets were phase
Significance of Rafale for India:
The Rafale would be an aid to the Joint Strategic Vision of India-France Cooperation in the Indian Ocean Region to curb over-flights and the threat of weapons of mass destruction in the area.
The aircraft proved its unmatched capabilities in air combat missions in Afghanistan, Libya, Mali, Iraq and Syria in the last few years.
India is the fourth country to have the strategic platform with Rafale after France, Egypt and Qatar.
The Rafale jet is often compared with the USA stealth F-35 aircraft and F-22.
Border Clash with China: It is much more advanced and lethal than the current fighter aircraft available with China i.e.jet J-20. Therefore, it is definitely a boost to India's defence preparedness especially at the times of border clash with China.
The jets come with one of the most advanced Meteor air-to-air missiles. The 190-kg missile has a Beyond Visual Range (BVR) of over 100 km, traveling at a top speed of Mach 4. The F16 jets, used by Pakistan, carry the AMRAAM missile, which has a BVR of 75 km. Rafale can also outperform F16 in dogfights.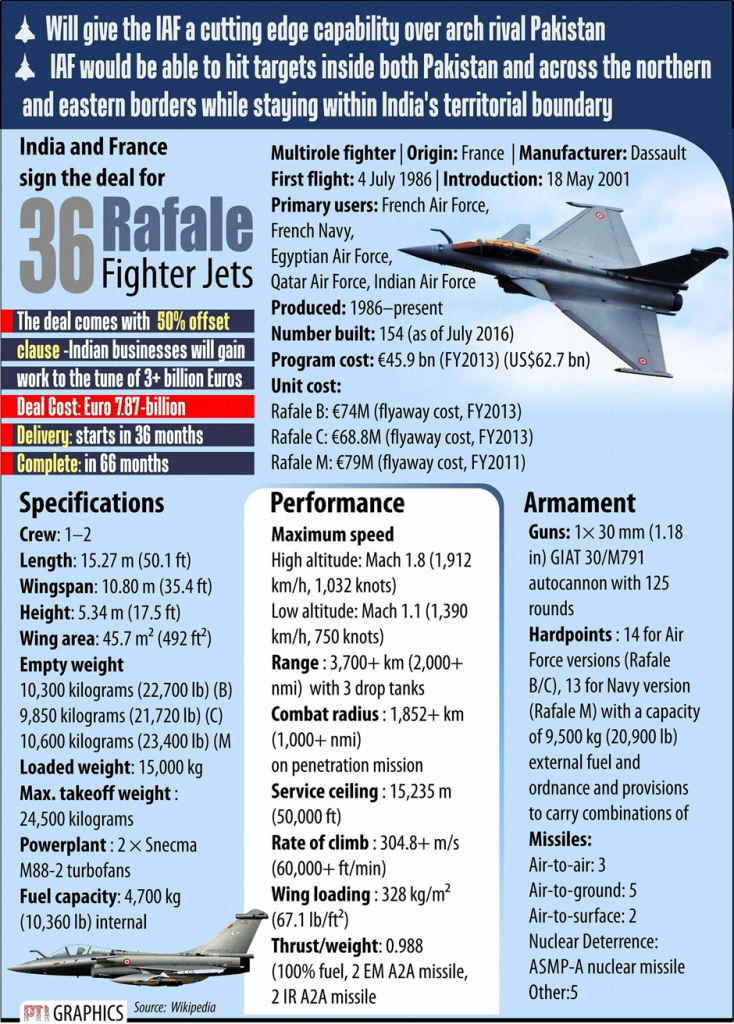 Basic Rafale Specifications:
Wing span: 10.90 m
Length: 15.30 m
Height: 5.30 m
Overall empty weight: 10 tonnes
External load: 9.5 tonnes
Max. take-off weight: 24.5 tonnes
Fuel (internal): 4.7 tonnes
Fuel (external): up to 6.7 tonnes
Ferry Range: 3,700 km
Top Speed: 1.8 Mach at high altitude
Landing ground run: 450 m (1,500 ft)
Service ceiling: 50,000 ft
Special Features
Delta Wings Enhance The Rafale's Stability
The Rafale is both an aeronautical and technological masterpiece! It's ultra-modern combat features give a new definition to the phrase 'death from above.' The Dassault Rafale Multi-Role fighter comes designed with delta wings; this uniquely aerodynamic feature keeps the french fighter aircraft uniquely stable while cruising at supersonic speeds.
Unique Engine Design:
The Rafale's unique engine design aids the throttle, seamlessly transitioning from combat to idle to combat power in a span of fewer than three seconds!
Can Covertly Detect Targets:
The Rafale fighter jet is immune to Radar jamming furthermore the Dassault Aviation designed aircraft has the capability to clandestinely detect multiple targets at sea, air and land.
Real-Time 3D Mapping of The Topography:
The Rafale Fighter jet possesses state of the art early detection and tracking capabilities, as aforementioned. This allows the pilot to monitor multiple targets and generate real-time three-dimensional maps of the terrain the aircraft is soaring over.
Speed and Altitude
The Dassault Rafale has a top speed of 1.8 mach, meaning the fighter jet can cover an average distance of 2,222.6 kilometres per hour. The deadly aircraft can climb up to altitudes of 50,000 feet with relative ease. The Rafale can fly for approximately 3,700 kilometres before having to refuel. The aerial longevity of the aircraft can be increased through mid-air refuelling.
Unparalleled Payload Capacity:
The Rafale is absolutely beyond any comparison when it comes to its munitions/ordnance and overall payload capacity. The fighter jet has the capability of carrying over 9,500 kilograms of explosives and other munitions. That is significantly more than any of the IAF's other aircraft, with the Sukhoi 30 MKI coming at a distant second with a capacity of 8,000 kilograms.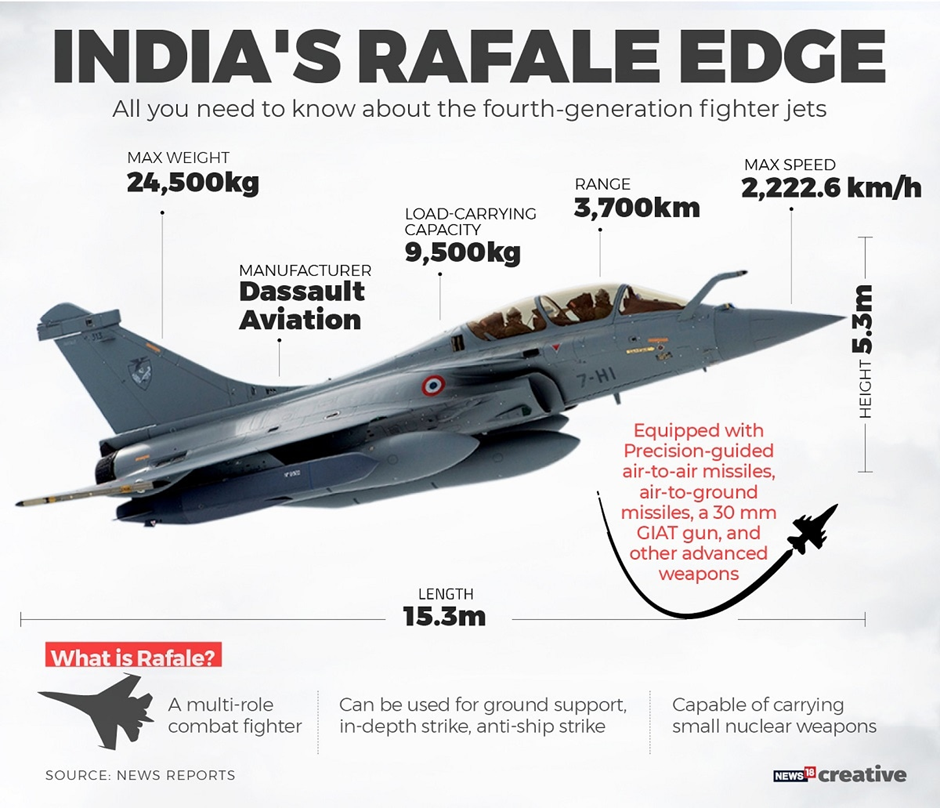 Missiles of Rafale Jet:
The Rafale jets come with SCALP, the air-to-ground cruise missile with a range over 300 km. It is a long-range deep strike missile.
The Scalp missile, manufactured by European defence giant MBDA, is designed to hit high value, strongly protected targets deep inside enemy territory. The Scalp is a stealth missile and is designed to escape radar detection and fly at a very low level.
The MICA air-to-air missile on Rafale is for both, close-quarter dogfights, and for BVR(Beyond Visual Range).
The Mica missiles are known to have a high level of tactical flexibility with multi-mission, multi-target Beyond Visual Range (BVR) capability. It is also known to perform well in Enhanced Short Range (SR). Mica missiles are known to have an operational range of 50 km and measure 3.1 meters in length.
At the last-minute, India has also asked for HAMMER (Highly Agile and Manoeuvrable Munition Extended Range), which is an air-to-ground precision guided missile produced by French conglomerate Safran, and can be used against bunker-type hardened targets within the range of 70 km.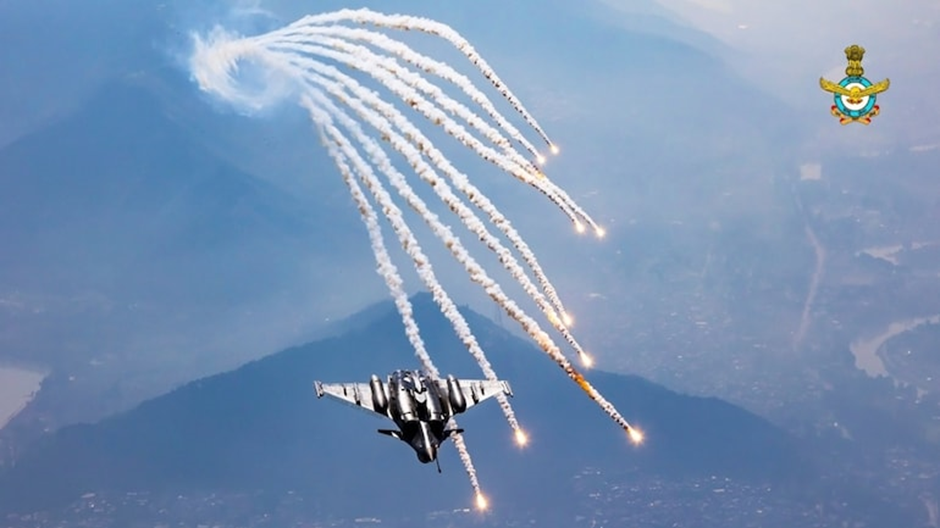 Conclusion
Hope this post was informative for you, stay tuned for more such posts related to defence exams and SSB Interview.
Also Read: