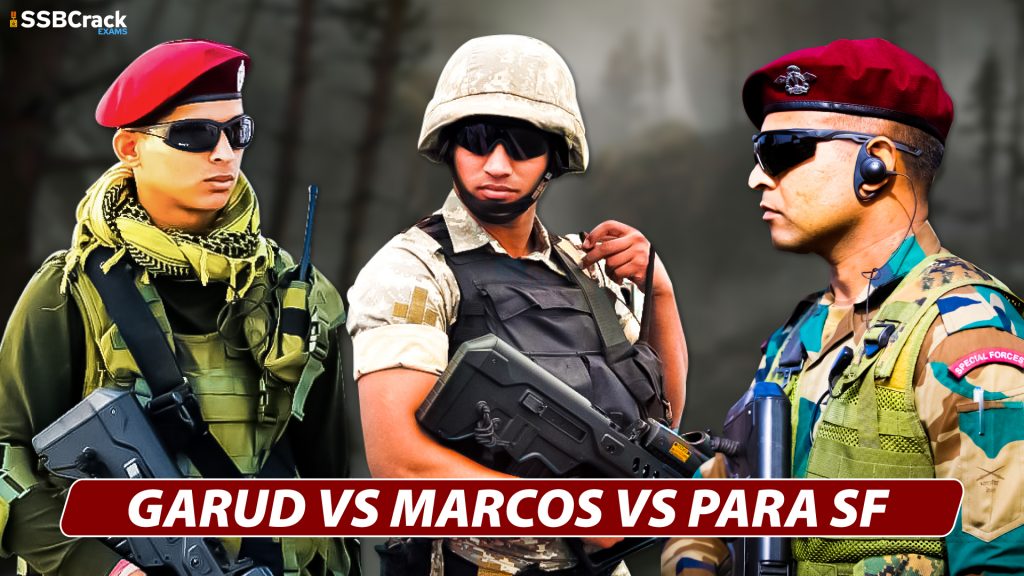 Jai Hind future warriors today we are going to look in brief about the special forces of three armed forces. We will be looking in more detail at MARCOS and GARUD because we have already covered in detail basic information about the PARA SF in our earlier blogs.
About Para SF:
During war of 1965 , a commando unit, named Meghdoot Force was formed comprising of officers and soldiers from infantry units under Maj Megh Singh of the Brigade of the Guards . The unit was highly successful in cross border operations during the war which forced the Indian Army and the government to create specialized forces to conduct operations which are bit complex for normal forces . Meghdoot Force was then transformed into parachute force because paratrooping is one of the most important commando tactics. Thus in July, 1966 under the 9th Battalion of the Parachute Regiment , creation of 9 Para SF took place which was the first special ops unit of the Indian Armed Forces. On 1 July, 1967, 10 Para SF was raised as a sister unit of 9 Para SF . Since then other regiments creation also took place and Para SF regiments proved their mettle in 1971 War, Operation Blue Star, Operation Cactus, Operation Pawan , Kargil War and many more including recent surgical strikes where terror camps in PoK were demolished. More Details check: How To Become A PARA SF Commando In Indian Army
Currently, there are various regiments of Para SF each specializing in different forms of warfare.
Here's a brief on them:
| | | |
| --- | --- | --- |
| Name of Para SF Battalion | Specialization in | Nickname of the Battalion |
| 1 Para SF | Tactical Needs and Urban Warfare | Red Devils |
| 2 Para SF | Mountain Warfare and Counter- Terrorism Operations | Predators |
| 3 Para SF | Desert Warfare | Russel's Viper |
| 4 Para SF | Mountain Warfare, Counter Insurgency and Counter Terrorism Operations | Daggers |
| 9 Para SF | Mountain Warfare, Counter Insurgency and Counter Terrorism Operations | The Mountain Rats |
| 10 Para SF | Desert Warfare, Counter Insurgency and Counter Terrorism Operations | Desert Scorpions |
| 11 Para SF | Jungle Warfare, Counter Insurgency and Counter Terrorism Operations | Vipers |
| 12 Para SF | Jungle Warfare, Counter Insurgency and Counter Terrorism Operations | Dirty Dozens |
| 21 Para SF | Jungle Warfare, Mountain Warfare, Counter Insurgency and Counter Terrorism Operations | Waghnaks |
Parachute Regiment has two territorial army battalions
Following units of SF are trained in Airborne Assault:
5 Para
6 Para
7 Para
23 Para
29 Para
MARCOS
The Marine Commandos, abbreviated to MARCOS and officially called the Marine Commando Force (MCF), are the special forces unit of the Indian Navy and is responsible for conducting special operations.
The MARCOS were founded in February 1987. MARCOS are capable of operating in all types of environments; at sea, in air and on land. The force has gradually acquired more experience and an international reputation for professionalism. The MARCOS regularly undertake specialised maritime operations in Jammu and Kashmir through the Jhelum River and Wular Lake, a 65 square kilometres (16,000 acres) freshwater lake, and conduct counter-insurgency operations in the region. More Details Check: How To Become A MARCOS – Marine Commando Of Indian Navy
As a specialised force, the MARCOS is responsible for conducting operations at the strategic and the tactical level. MARCOS operations are usually conducted in support of naval forces, although MARCOS are also deployed in other domains. The responsibilities of MARCOS has evolved with time. Some of the duties of MARCOS include:-
Providing support to amphibious operations.
Special surveillance and amphibious reconnaissance operations.
Clandestine operations inside hostile territory, including diving operations and special raids.
Direct action
Hostage rescue operations.
Counter-terrorism operations.
Asymmetric warfare.
Foreign internal defence.
Additionally, MARCOS can also assist the Indian Air Force in Suppression of Enemy Air Defences (SEAD) missions.
The total duration of training of MARCOS is between two-and-a-half years and three years. The basic training lasts six months. The first two months is the selection phase, during the first month of which he first phase of which recruits undergo rigorous physical tests, of which only 50% pass. For the next nine months, they are taught to use different weapons, conduct special warfare techniques and gather intelligence from the enemy. The cadets start with basic diving and commando tactics and skills. Those who pass this phase are trained in every aspect of modern warfare and in every situation. This is followed by a year of training in specialised skills such as close combat including Krav Maga.
The MARCOS are trained in every kind of weapon and instruments, including knives, crossbows, sniper rifles, handguns, assault rifles, submachine guns and bare hands. Being divers, they can reach hostile shores swimming underwater
GARUD
The GARUD Commando Force is the special forces unit of the Indian Air Force. It was formed in September 2004 and has a current strength of over 1500 personnel. The unit derives its name from GARUDA, a divine bird-like creature in Hindu mythology.
GARUD is tasked with the protection of critical Air Force bases and installations; search and rescue during peace and hostilities and disaster relief during calamities.
After attempts by terrorists to attack two major air bases in Jammu and Kashmir in 2001, Indian Air Force commanders felt the need for a specialized force to protect these critical elements and to have a dedicated Commando Force trained in Special Forces techniques, Combat Search and Rescue, Reconnaissance, Counter Insurgency (COIN) Operations and Emergency in response to terror-threats to airfields
The initial plans mooted in October 2001 called for a specialized force with 2000 commandos. The group was originally called "Tiger Force", but was later renamed as "GARUD Force".
GARUD trainees undergo a 72-week training. The Basic Training course, which is the longest among all the Indian special forces but it also includes basic training. The total duration of training before a trainee can qualify as a fully operational GARUD is around 3 years.
The initial phase is a three-month probationary training which filters in the promising candidates for the next phases of training. This phase, which usually has a high attrition (Drop-out) rate is conducted at the GARUD Regimental Training Centre located at Hindon, Ghaziabad near New Delhi.
The subsequent phase of special operations training is imparted by the Special Frontier Force, the army special forces and NSG. Those who qualify, proceed to the Parachute Training School (PTS) at Agra to complete the basic airborne phase. Trainees are trained along with paratroopers of the Indian Army.
The remainder of the phases concentrates on niche fields like jungle and snow survival, demolition, etc. GARUDs also train at the diving school of the Indian Navy and the Army's Counter Insurgency and Jungle Warfare School (CIJWS).
The final phase of training is active operations on being attached to Special Force Units of the Indian Army, which helps the GARUDs in gaining operational experience.
After induction, the commandos also undergo advanced training including anti-hijack counter-insurgency training, jungle and snow survival techniques, specialized weapon handling and advanced diving skills
GARUD personnel are enlisted as airmen in the Indian Air Force. The GARUD commandos are organised into fifteen 'flights'. These flights are deployed at air force stations. Each flight is led by an officer who holds the rank of a Squadron Leader or a Flight Lieutenant and is composed of around 60 to 70 men who usually operate in squads of 14 soldiers. A Wing Commander rank officer commands the force.
The mandated tasks of the GARUDs include direct action, special reconnaissance, rescuing downed pilots in hostile territory, establishing airbases in hostile territory and providing air-traffic control to these airbases. The GARUDs also undertake suppression of enemy air defences and the destruction of other enemy assets such as radars, evaluation of the outcomes of Indian airstrikes and use laser designators to guide Indian airstrikes. The security of IAF installations and assets are usually performed by the Air Force Police and the Defence Security Corps even though some critical assets are protected by the GARUDs.
Their airbase protection task also includes, when necessary, rendering inaccessible weapons systems and other assets by sealing them off. The tasks they perform also includes counter-terrorism, airborne assault, anti-hijacking, hostage rescue and assist civilian relief operations during calamities. More Details Check: How To Become A Garud Commando
Conclusion: When we talk about the size of the three special forces PARA SF(more than 5000) trumps both the MARCOS(around 2000+) and GARUD(around 1500+). If we are talking about the weapons PARA SF and MARCOS are quite ahead of GARUD. For More Details Checkout: 5 Weapons Used By Garud Commandos, 5 Weapons Used By PARA-SF Commandos, and 5 Top Weapons Used By MARCOS
PARA SF again trumps both of them in the number of operations. In case you need proof, just switch on your TV while gallantry awards of this year are announced on Republic Day or Independence Day and you will see the difference.
PARA SF is a complete force in the sense they have a battalion specialized in each form of warfare from Desert to Jungle to Urban Warfare.
AFOSOD
Rather than wasting our time in a trivial discussion of who is the best amongst our special forces, we should know that they are actually working together under AFOSOD. More Details Check: What Is AFSOD – Armed Forces Special Operations Division
AFOSOD stands for Armed Forces Special Operations Division, and is a tri-service command of the Indian Armed Forces.
It functions under the Integrated Defence Staff and comprises of :
They are the main organization responsible for carrying out special operations within and outside India, which may include targeting high-value installations and degrading the war fighting capabilities of the hostile nation.
The rationale behind the creation of this division is to pool the special abilities of each of the special forces units of the Armed Forces and enable each them to operate together.
The division will also help in reducing operational costs, since it will enable each of the special warfare units to utilise common equipment.
Conclusion
As defence aspirants we need to understand there is no regiment/unit/special force better than the other regiment/unit/special force because had it been so they would have been already not created in a nation where defence budget is already very constrained. There is a particular role every part of the forces play and if you don't have proper knowledge about it, its better not to debate.
Hope this post was informative for you, for more such posts related to defence exams and SSB interviews stay tuned.
To crack the SSB Interview, You can join our SSB interview live classes batch and we recommend you to Enroll SSB INTERVIEW ONLINE COURSE. Trusted by thousands of defence aspirants.
Also Read: