The  MARCOS, also known as the marine commandos, officially designated as the Marine Commando Force (MCF), are the special forces unit of the Indian Navy. I am responsible for conducting special operations in the maritime unit of India. They are specialized forces trained to deal with the situation concerning counter-terrorism to underwater operations and destruction of anti-piracy operations. MARCOS can operate in any kind of environments like sea, air and land. 
Indian Marine Special Forces (IMSF) in 1985 established MARCOS. It was renamed after two years as the Marine Commando Force (MCF). Their motto is – The Few, The Fearless.
Also Read: How To Become A MARCOS – Marine Commando Of Indian Navy
MARCOS are known for their hard-gained experience and professionalism in the international arena. MARCOS regularly undertakes specialized maritime operations in Jammu and Kashmir through the Jhelum River and Wular Lake which is a freshwater lake and conduct counter-insurgency operations in the region. Some MARCOS units are deployed in the tri-services Armed Forces Special Operations Division. As per data, MARCOS had a strength of 2,000 personnel till 2012.
Some major operations done by MARCOS are Operation Zabardust, Operation Tasha, Operation Pawan, Operation Cactus, Operation Black Tornado and many more.
MARCOS being a specialized force is given responsibilities of many operations to be fought with strategical and tactical solutions. Despite being a part of the Indian naval forces, it undertakes the operation of other domains as well. They get a lot of responsibilities with time. However, some of their basic duties are as follows:-
Clandestine operations inside hostile territory, including diving operations and special raids.
Providing support to amphibious operations.
Special surveillance and amphibious reconnaissance operations.
Hostage rescue operations.
Counter-terrorism operations
Asymmetric warfare
Foreign internal defence
Direct action
So, this was a piece of basic information about the MARCOS or Marine commandos and their duties. As we all know, apart from courage, valour and strength, good weapons play a huge role in the army's operations, war and defence. Weapons can be said as ornaments for a soldier. Here, we will discuss such 5 lethal weapons used by the MARCOS which make them winners of all.
APS (Avatomat Podvodny Spetsialny) – Assault Rifle


The APS (Avatomat Podvodny Spetsialny) underwater assault rifle is an underwater firearm designed and developed by the then Soviet Union in 1975. This weapon was basically developed to counter the threats posed by underwater enemies. The 1970s was a high time in the Cold War which was happening between USSR and United States. To deal with US Navy SEALs, this weapon came into use. There was a rising threat of attacks from frogmen in the USSR naval bases. The AK-47, which was one of the most lethal weapons, could not be used underwater. The only weapon that could be used as a knife. To tackle this problem, an effective underwater weapon was needed, and this problem was solved to a major extent by the development of the APS (Avtomat Podvodny Spetsialny) underwater assault rifle. It was then a major weapon for the Soviet frogmen.
Carl-Gustav M3 (M1948) – Multirole, Shoulder-Fired Recoilless Rifle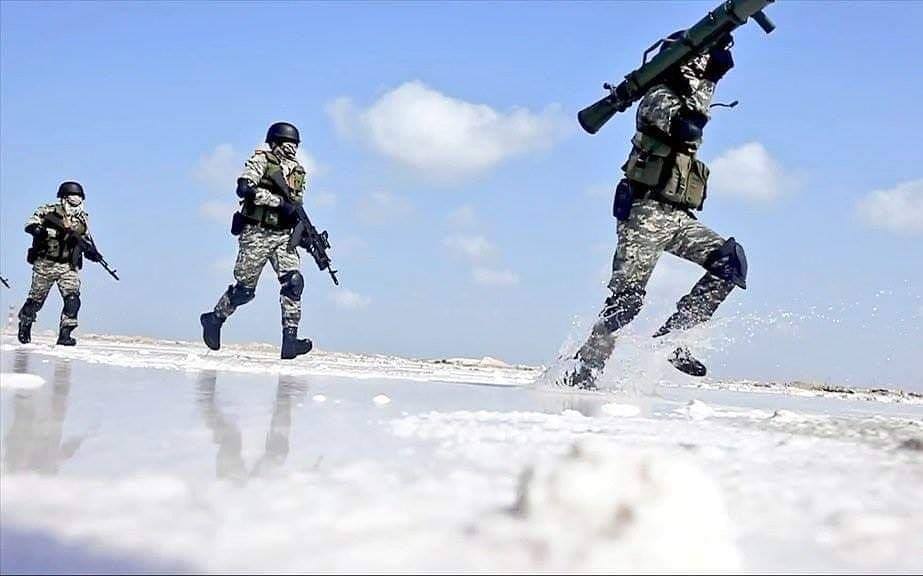 The Carl-Gustaf recoilless rifle designated in Swedish service as the Granatgevär m/48 is an 84-mm man-portable reusable anti-tank weapon. The credit to develop it goes to Swedish armaments firm Carl Gustaf Stads Gevärsfaktori. Many weapons with recoilless rifle designs disappeared, but the Carl-Gustaf recoilless rifle is still widespread and used by many armies around the world, including MARCOS commandos. Carl-Gustaf is a lightweight, low-cost weapon that is suitable for a wide range of ammunition, making it notably flexible and proper for a wide variety of roles. The use of this weapon requires a two-man crew. One who carries and fires the weapon and the other one as a loader who loads the weapon.
IWI Tavor TAR-21 – Bullpup (assault rifle, carbine, designated marksman rifle, submachine gun)
The IWI Tavor TAR-21 is an Israeli bullpup assault rifle chambered in 5.56×45mm NATO caliber with a selective fire system, selecting between semi-automatic mode and full automatic fire mode. The Tavor is designed and produced by Israel Weapon Industries (IWI). It is produced in two main variants: the TAR-21 and the CTAR-21.Built around a long-stroke piston system (as found in the M1 Garand and AK-47), the Tavor is designed to maximize reliability, durability, simplicity of design, and ease of maintenance, particularly under adverse or battlefield conditions. A consignment of over 500 Tavor bullpup assault rifles and another 30 Galil sniper rifles respectively was delivered to the MARCOS (Marine Commandos) in December 2010
Heckler & Koch MP5 – Submachine gun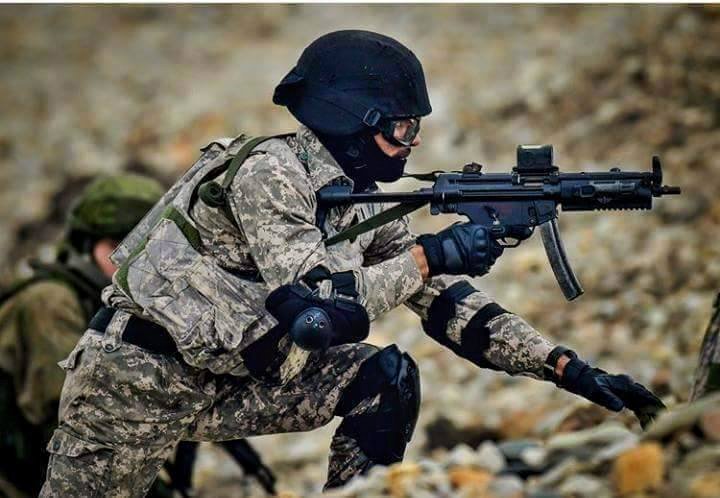 The MP5 (German: Maschinenpistole 5) is a 9x19mm Parabellum submachine gun, developed in the 1960s by a team of engineers from the German small arms manufacturer Heckler & Koch GmbH (H&K) of Oberndorf am Neckar. There are over 100 variants and clones of the MP5, including some semi-automatic versions. The MP5 is one of the most widely used submachine guns in the world, having been adopted by 40 nations and numerous military, law enforcement, intelligence, and security organizations. It is a 9x19mm Submachine Gun which is the proprietary weapon for by MARCOS and various SWAT/HRT Teams across India for CQB and Security Purposes. Various variants like A3, A5, Compact (MP-5K), SD & SD6 are in service. Used with Zeiss and EOTech Sights.
AK-103 Assault Rifle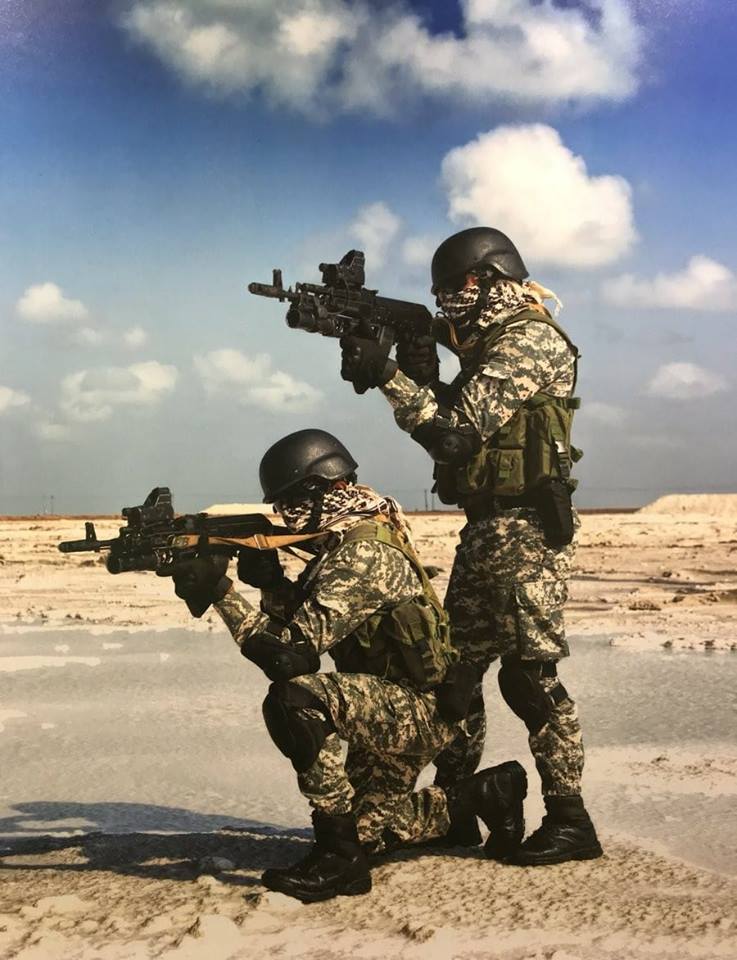 Russian small arms designer Mikhail Kalashnikov in 1994 designed AK-103. The AK-103 is special because it is compatible with a variety of sights, including night vision and telescopic sights. It is also fitted with a knife-bayonet or a grenade launcher, like the GP-34. This weapon weighs 7.5 lbs with a magazine loaded.
The firing action is gas-operated, and it consists of a rotating bolt of 30 round curved detachable magazines. Its overall length is 37.8 inches, in which the barrel is 16.3 inches. It covers a range of 500 meters. AK-103 helps the MARCOS to get over the enemy easily as it provides compatible sights.
Conclusion
Here we have discussed some deadly weapons used by our courageous MARCOS aka Marine commandos. With their valour, determination and patriotism, they always protect India from internal as well as external threats.
Weapons play a huge role in war, operations and self-defence. Good weapons make any war easy to win. Considering the above article, we can say that the MARCOS have got some of the best weapons in the world, and it contributes to their strength to a certain level.
With the upcoming times, there would be more inclusive of advanced weapons and technologies. We will update our readers with other upcoming weapons as well. Until then, keep preparing for your defence exams with SSBCrackExams and for further guidance regarding any defensive competitive exams, drop us an email at support@ssbcrackexams.com. All the best!
Also Read: