Union Public Service Commission (UPSC) is going to conduct National Defence Entrance Exam for the 2nd Sem of year 2017 in Sep 2017, the test is also called NDA 2 2017. Applicants of this test have been preparing for this test for past few months and now they are looking in to ways to measure their preparation through various means so in that context here we are sharing Top 5 Strategies To Crack NDA 2 2017 Entry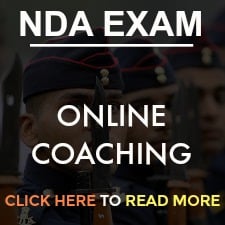 Top 5 Strategies To Crack NDA 2 2017 Entry
Determine what topics needs to be covered: Cover specific subjects and material, and it's important to know which topics you need to study. Otherwise, you may be using your precious remaining study time incorrectly. Ask your self about the weak topics of the syllabus, Ask your teacher if you're unclear, as they want you to succeed.
Study the most important topics first. Exams usually cover a few core ideas, concepts, or skills. When pinched for time, focus your energies on the very important bits you'll be tested on, rather than scattering your studies everywhere.
Make a study plan: When making a study plan, build in the amount of time you have left before the exam date. Depending on the time frame, make your study plan long or short. Determine what subjects you don't know as much about and include more study sessions on these topics. The aspects you know more about still need reviewing, but they will come easier, so try to focus on the more challenging topics. Plan your time. It's tempting to put everything off until the night before the test. Instead, figure out how much time you will put aside each day for study. Remember to account for breaks.
Figure out your study methods: Some people learn and remember things better if they're in certain colors whereas other people may remember diagrams and pictures more easily. Use the method that works for you; as long as it's effective, it doesn't matter what it is. Tools like flash cards may be boring, but really help memorize important things. If flash cards don't seem to help, typing out an outline of your notes may work. Recording your voice may also be helpful. Read and record the points and listen to your self in free time.
Ask for help: Form a study group. Not only do you have additional help, you also have the advantage of studying with people you know well. However, avoid accepting those that will be of no help, and only distract your whole group from studying. Don't be rude and reject everyone whom you don't like, but do be cautious about who you add to your study group!
Memorize as much as possible: The key to top performance is the ability to memorize all relevant materials. There are tricks for helping to memorize, otherwise called mnemonics. These can include, for instance, poetic or rhyming mnemonics for the auditory learner, visual imagery and fantasy for the visual learner, dance or movement for the kinesthetic learner (as muscles have memory), or some combination. Repetition is another form of memorization that is most commonly used. It allows for high recall if practiced in regular intervals. Practice it even beyond the point at which your memory recall is instantaneous, because this serves as a form of reinforcement.