AFCAT 2 2022 Entry admits 283 candidates to join Air Force Academy, Dundigal. Interestingly this time IAF has published the AFCAT 2 2022 official notification in which the vacancies for male cadets and female cadets have been mentioned separately. Out of 283 Vacancies, female cadets have been allotted 35 seats, and male cadets have been allotted 248 seats respectively for Permanent and Short Service Commission.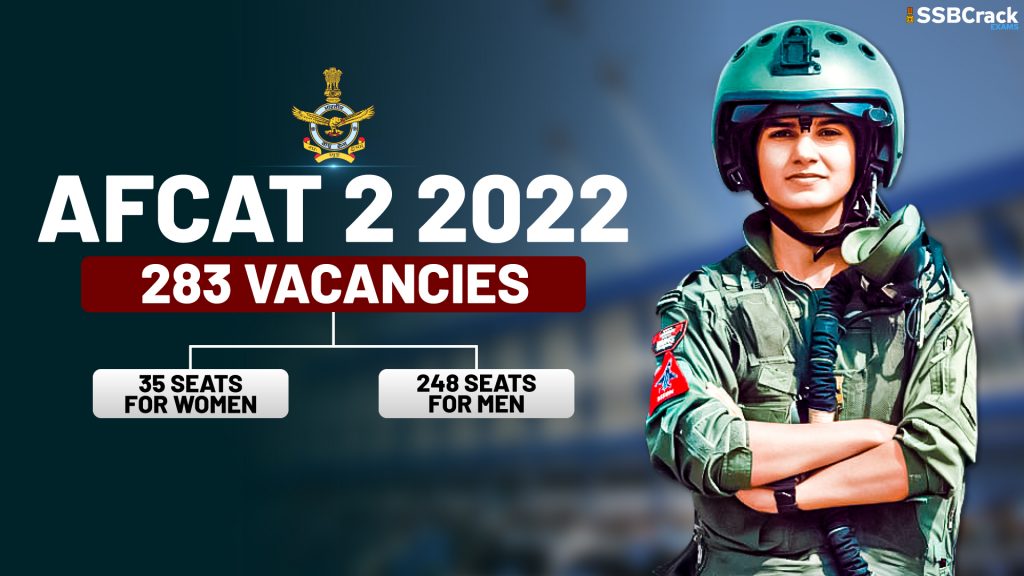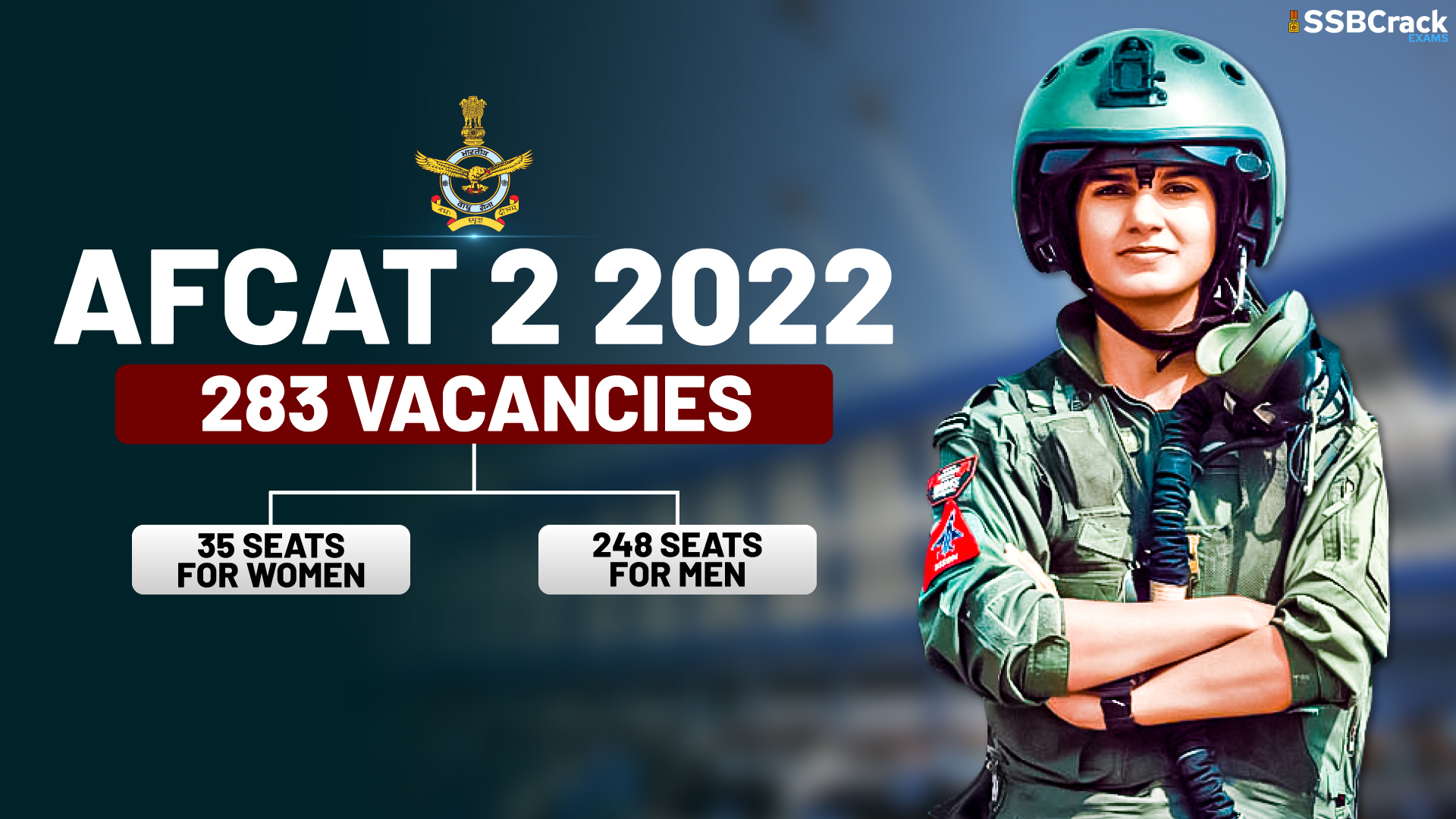 There is a piece of good news for the female defence aspirants, especially those who want to join the flying branch of the Indian Air Force as they have been allotted 10 seats for the AFCAT 2 2022 Exam.
For AFCAT 2 2022, IAF has notified around 283 vacancies.
For Flying Men and Women – Men 2 and Female 10 – Total 12
For Ground Duty Tech (Aeronautical Engineer Electronics) – Men 103 and Female 11 – Total 114
For Ground Duty Tech (Aeronautical Engineer Mechanical) – Men 33 and Female 04 – Total 37
For Ground Duty Non-Tech PC (Admin) – Men 54 and Female 2 – Total 56
For Ground Duty Non-Tech PC (LGS) – Men 21 and Female 2 – Total 23
For Ground Duty Non-Tech PC (Accts) – Men 14 and Female 2 – Total 15
For Ground Duty Non-Tech PC (Edn) – Men 10 and Female 2 – Total 12
For Meteorology – Men 11 and Female 2 – Total 13
For NCC Special Entry Flying PC Men and SSC for Men and Women – 10% seats out of CDSE vacancies for PC and 10% seats out of AFCAT vacancies for SSC
Indian Air Force is going to open the AFCAT 2 2022 registration from 01 June 2022 (11:00 AM) and will close on 30 June 2022 (05:00 PM). Another good news is this time metrology branch has also been allocated 13 vacancies, to join the Indian Air Force AFCAT has a lot of vacancies, in fact, more than any other defence exam be it NDA, CDS, or other entries.
All candidates recommended by the AFSBs and found medically fit by appropriate medical establishments are detailed for training strictly on the basis of merit and availability of vacancies in various branches/ sub-branches. Training is scheduled to commence in the first week of Jul 2023 for all courses. The approximate duration of training for Flying and Ground Duty (Technical) Branches is 74 weeks and that of Ground Duty (Non-technical) Branches is 52 weeks at Air Force Training Establishments.
AFCAT 2 2022 Branches, Course Number, and Vacancies.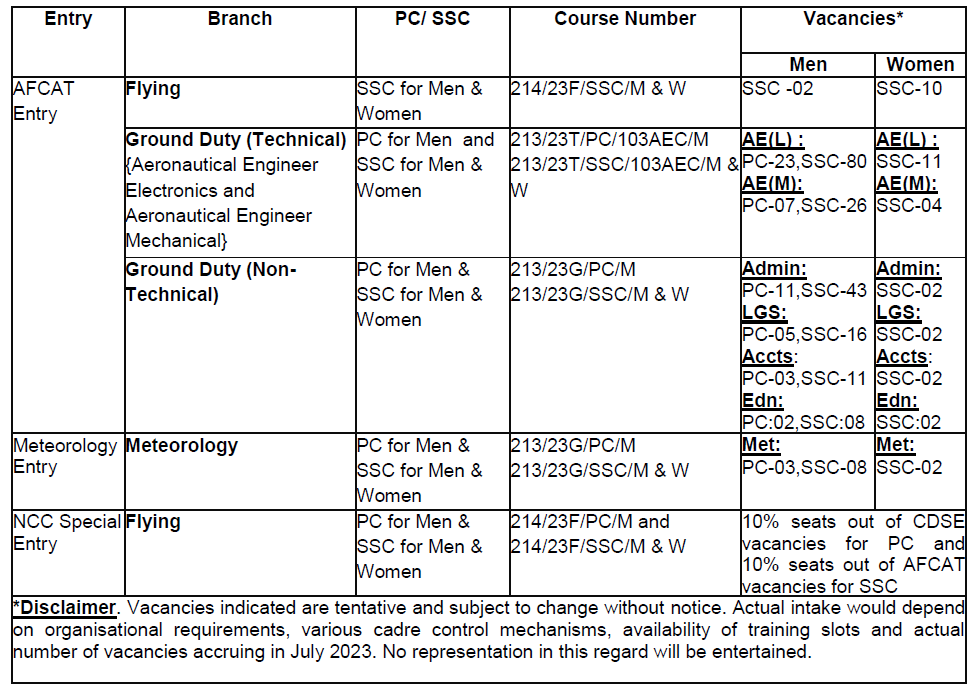 *Disclaimer. Vacancies indicated are tentative and subject to change without notice. The actual intake would depend on organisational requirements, various cadre control mechanisms, availability of training slots, and the actual number of vacancies accruing in July 2023. No representation in this regard will be entertained.
Also Read: AFCAT 2 Notification 2022 Published, Online Application Starts From 1 June 2022
Want To Join Airforce Academy and Prepare For The AFCAT Exam?