We all may have seen in movies and especially in foreign that many people carry their own personal firearms. In India, we have seen cases where there is open fire on people by some gangsters or goons. Does one question arise is it legal to carry our own personal gun in India? Can any carry a gun of his/her choice? Before answering that let us look what are the laws that tell us about carrying a gun.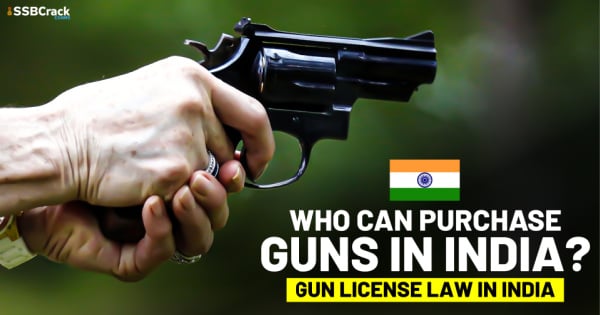 What is the Indian Arms Act?
In order to regulate activities such as the procurement, ownership, sale, purchase, manufacture, transportation, import, and export of arms and ammunition, the Indian Arms Act was passed back in 1959. A 2016 census found that 5 out of every 100 residents in the nation are gun owners, ranking India as the 120th most militarised nation in the world. Additionally, according to the report, Uttar Pradesh is home to more than 12 lakh licenced gun owners. In addition, according to IMHE data from 2016, India was third in the world for the highest number of firearm-related fatalities, just behind the United States and Brazil, with 26,500 deaths.
The Arms Act makes carrying a weapon a crime that carries a jail sentence and a fine. Possession of firearms or other weapons is only permitted after obtaining a permit from the relevant district authority. The Arms Act was further revised in 2016, stating that those applying for an arms licence must complete training in the safe handling and use of firearms and ammunition, which includes having a basic understanding of these items. The licence can then be issued by the relevant authorities within 60 days.
A subsequent 2019 amendment aimed to limit the amount of licenced firearms that a person might own. Additionally, it called for harsh punishments for individuals caught with illicit firearms and those who engage in careless gunplay that could threaten the lives of others. Such offences will result in a two-year prison sentence, a Rs. 1 lakh fine, or possibly both.
Who can acquire a gun in India?
The 1959 Act divides weapons into two categories: Prohibited Bore (PB) and Non-Prohibited Bore (NPB). The diameter of the bullet is referred to as the bore.
All citizens are eligible to apply for ownership of NPBs, which include firearms with calibres of.35,.32,.22, and.380, in accordance with Chapters II and III of the Act. Weapons with a prohibited bore include automatic and semi-automatic firearms, as well as pistols (9 mm), handguns, and rifles with prohibited bores of.38,.455, and.303. Unlike NPBs, which can be owned by any citizen, PBs are typically given to members of the armed forces. People who are under immediate threat or who reside in locations where terrorism is a concern are also given Prohibited Bores.
How can I get a licence to carry a gun in India?
In India, firearms are only permitted for three uses: sports, crop protection, and self-defence, the latter of which requires adequate documentation. One must be older than 21 in order to obtain a gun licence. Filling out an application form, which contains questions about a person's prior criminal history, is the first step. It is also necessary to submit documents proving your identification, where you live, your age, your education, your residence, four photos, and your latest three years' worth of tax returns.
The applicant and his family are questioned by the police as part of the next phase, which is the applicant's background check. After the application is accepted, the applicant must complete an arms course before receiving their licence. Additionally, the licence needs to be renewed every three years.
Even though India prides itself on having incredibly strict gun prohibitions, some communities have received exceptions. As it is considered to be a part of their culture, Kodavas, an ethnolinguistic community from Coorg in Karnataka, are permitted to carry weapons without a permit; similar laws apply to Sikhs' carrying of kirpans.
If you liked the article, do like and share. If you are preparing for defence exams and SSB interviews, SSBCrackExams is providing a number of courses and study material. Join today and boost up your preparation.
To join Indian Armed Forces as an Officer and crack the SSB interview, You can join our SSB interview live classes batch and we recommend you to Enroll SSB INTERVIEW ONLINE COURSE. Trusted by thousands of defence aspirants.
Also Read: