Women in the Armed Forces have a combat employment philosophy that is constantly evolving and is reviewed on a regular basis. In addition to the Armed Forces Medical Services, women are currently commissioned in the Indian Army's Corps of Engineers, Corps of Signals, Army Air Defence, Army Service Corps, Army Ordnance Corps, Corps of Electronics and Mechanical Engineers, Army Aviation Corps, Intelligence Corps, Judge Advocate General Branch, and Army Education Corps. Apart from the Commissioned Ranks, women are actively participating in the recruitment of non-commissioned ranks as well. In 2019, Indian Army opened the doors of recruitment for women in the Military Police.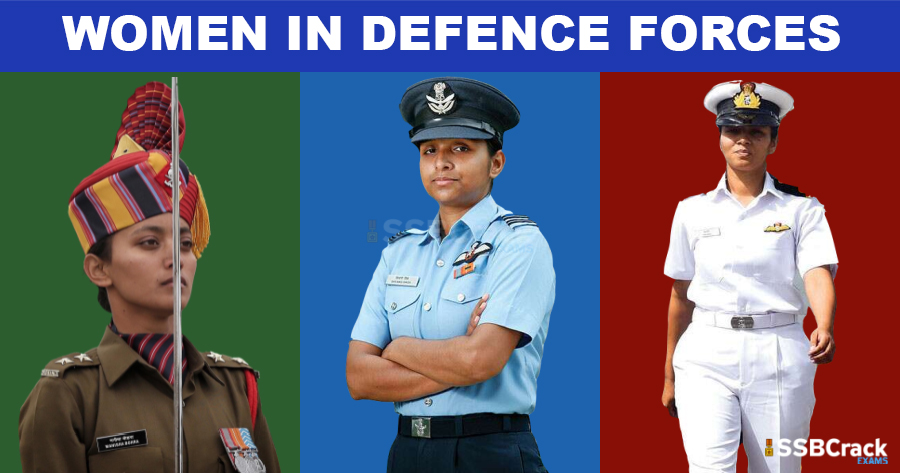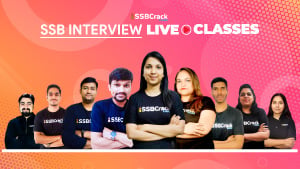 Recently the government of India released a list of working women personnel of all categories in the defence forces. Let us learn and see how many women personnel are serving in the defence forces.
The total number of women serving in the Indian Army, category-wise is as under:
| | | |
| --- | --- | --- |
| Sl No. | Category | Held Strength of Women |
| (a) | Officers (including Army Medical Corps (AMC)/ Army Dental Corps (ADC) and Military Nursing Service (MNS) officers) | 6993 |
| (b) | Junior Commissioned Officers (JCOs) | – |
| (c) | Other Ranks (OR) | 100 |
| (d) | TOTAL | 7,093 |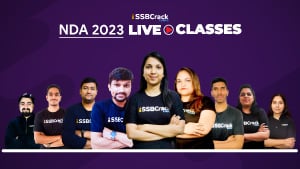 Section-Wise Date of Women in the Indian Armed Forces
Women currently serve in the Indian Air Force only as officers (IAF). As of March 1, 2023, the IAF had 1,636 female officers (excluding Medical and Dental branches). Women are currently serving in the Indian Navy as officers. The Indian Navy has 748 women officers, including medical and dental officers, as of March 9, 2023.
Gender-neutral employment is available in the Indian Armed Forces. Male and female soldiers are deployed and work under the same conditions in the arms and services in which they serve. The postings are based on organizational needs, and employment is based on qualifications and service quality requirements.
Women officers in the Indian Air Force are empowered to hold key positions such as Commanding Officers in Combat Units of various field units. In this regard, the rules are gender-neutral and provide them with equal opportunities. Prior to their effective use, their medical fitness and medical conditions are also considered. Officers in the Indian Navy are given gender-neutral opportunities for spouse co-location, re-settlement posting, and compassionate grounds posting. Women are entitled to Maternity Leave, Child Care Leave, and other benefits that men are entitled to.
Also read: Meet Colonel Geeta Rana: First Woman To Lead Army Unit Near China Border In Ladakh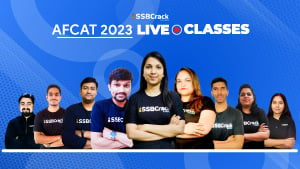 Various Reforms in the Indian Armed Forces for Women
Indian Army
Officers: The Indian Army is encouraging women to join the force by enacting policies that facilitate their inclusion. The following are some recent major initiatives that are currently underway:
Women Serving Personnel Receive Permanent Commission (PC). Women Officers (WOs) are being granted PC in 11 Arms & Services (in addition to the Army Medical Corps, Army Dental Corps, and Military Nursing Service), namely the Army Service Corps (ASC), Army Ordnance Corps (AOC), Army Education Corps (AEC), Judge Advocate General Branch (JAG Br), Corps of Engineers (ENGRS), Corps of Signals (SIGS), Corps of Electronics and Mechanical Engineers (EME), Intelligence Corps (Int Corps), Army Air Defence (RVC).
Women in the National Defense Academy (NDA). Armed Forces have opened entry for female candidates in NDA, with 19 cadets joining the academy every six months, including 10 from the Indian Army. The first batch of female cadets began training in the NDA in July 2022, and the second batch began training in January 2023. The organization is implementing all necessary administrative, training, and policy changes to enable the same.
Women in the Army Aviation Corps. Since 2021, the Indian Army has also opened doors for female officers to serve as pilots in the Corps of Army Aviation.
Colonel (Select Grade). Women officers are being considered for Colonel (Select Grade) ranks and command appointments. Certain waivers have also been granted to WOs in order to remove any impediment to career advancement for those who were unable to attend mandatory career courses during the transition period.
Junior Commissioned Officers (JCOs)/Other Ranks (OR): In 2019, the Indian Army made it possible for women to join the Corps of Military Police as Other Ranks. 1700 women are expected to be inducted in stages under the scheme (approximately 100 per year). Women will be admitted starting in 2020. After 61 weeks of training, the first batch of 100 women in Other Ranks graduated in the first week of May 2021. The Agnipath Scheme has inducted another 100 women soldiers. Agnipath Scheme has 100 vacancies for each of the Recruiting Years 2022-23 and 2023-24.
Also read: Meet Group Captain Shaliza Dhami 1st Woman Commanding Officer In IAF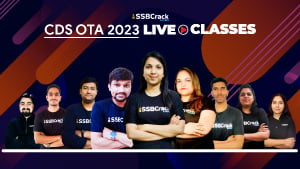 Indian Air Force
Opportunities for employment in the IAF are widely publicized through print and electronic media, as well as special publicity drives. From July 2017 onwards, an opening has also been made available through NCC Special Entry for flying SSC (Women)
The 'DISHA' cell at Air Headquarters organizes various Induction Publicity programs across the country to promote officer cadet induction and career opportunities in the IAF. Women candidates are encouraged to join the IAF as a preferred career option during such publicity campaigns.
Female students have the opportunity to interact with female officers and clear their apprehensions when they give motivational talks. During these sessions, the scope of choosing IAF as a career is covered in terms of prospects, facilities, work profile, benefits, and so on.
Indian Navy
In almost every aspect, the Indian Navy (IN) ensures gender neutrality. IN has taken the following steps to provide women with equal opportunities as men and to accommodate more women in the Indian Navy:
Permanent Commission for Women Officers: SSC women officers in the Indian Navy are eligible to be considered for a Permanent Commission. As of today, 59 female officers (excluding medical and dental officers) have received PC.
Women Officers on Ships: Women officers are being appointed to positions on warships. Currently, 33 female officers are assigned to afloat billets.
Naval Air Operations (NAO) Officers on Helicopters: Women NAO officers have been assigned to ship-borne helicopters as specialist NAO officers.
RPA Stream: Women officers can join the Remotely Piloted Aircraft (RPA) stream, and the first female officer joined an RPA squadron in March 2021. Since January 2020, a female officer has served as ADA in Moscow. Women NAO officers have been deputed overseas to the Maldives as part of the Dornier aircrew for a year beginning September 2020. In addition, women officers are also deputed abroad for shorter durations as part of Mobile Training Teams and other foreign cooperation engagements.
Women's Entry into the NDA: Women's entry into the NDA has been permitted beginning in 2022, with women officers inducted as PC officers. NDA has set aside three vacancies per batch for female Navy candidates.
Women from all branches/cadres/specializations: Women are expected to be admitted to all branches/cadres/specializations (except the submarine specialization) beginning in June 2023.
Agniveers as Women: Women have been enrolled as Agniveers as part of the Agnipath Scheme since the first batch. When compared to their male counterparts, they are subjected to the same training curriculum, professional courses, and retention criteria.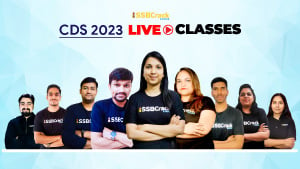 To crack the SSB Interview and join the Indian Army as an Officer, You can join our SSB interview live classes batch and we recommend you to Enroll SSB INTERVIEW ONLINE COURSE. Trusted by thousands of defence aspirants.
Also Read: