Most Expected English Questions For CDS 2 2017 Exam
Candidates getting prepared for CDS 2 2017 Entrance exams are in their final stages of preparation, the first and foremost paper that applicants are going to face is English and in order to prepare for the exam applicants are searching for Most Expected English Questions For CDS 2 2017 Exam on Ordering of Sentences.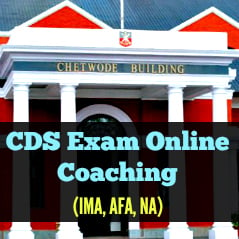 Most Expected English Questions For CDS 2 2017 Exam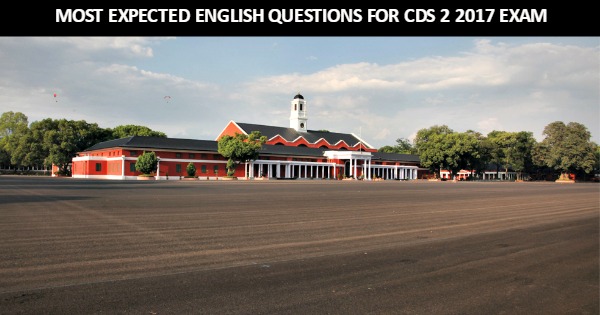 ORDERING OF SENTENCES :
In the following passage consists of six sentences. The first and the sixth sentences are given in the beginning. The middle four sentences in each item have been removed and jumbled up. These are labelled P, Q, R and S. You are required to find out the proper sequence of these four sentences from the given alter-natives (a), (b), (c) and (d).
Q. SI : Once upon a time there was a king who had a wonderfully nice garden.
S6: In the trees lived a nightingale that sang so sweetly that all who passed by stood still and listened.
P : In the middle of the garden there was a lovely forest with tall trees and deep lakes.
Q : In this garden were to be seen the most wonderful flowers with silver bells tied to them.
R: The garden was so large that even the gardener himself did not know where it began and where it ended.
S : These bells always sounded so that nobody should pass by without noticing the flowers. The proper sequence should be
a. QPRS
b. SPQR
c. QSRP
d. QPSR
Answer. c
Q. SI : One of the first things the learning of a new language teaches you is that language comes from the region of the unconscious.
S6: The test of how much you know is : how much can you say without having to think how you are going to say it ?
P : What is often meant by "thinking in a language" is really the ability to use it without thinking about it.
Q : We grown-up people have to filter it through our minds — a much more laborious process.
R : That is why children learn a new language so effortlessly : it comes straight from their instincts.
S : But we cannot say that we know a language, or know what we have studied of it, until we can use it instinctively.
The proper sequence should be
a. S Q R P
b. RPSQ
c. PQSR
d. RQSP
Answer. b
Q. SI : For seventeen years she led a sheltered life in the convent.
S6: Two years later she left the Loreto Convent where she had spent many happy and useful years.
P : Her heart went out to the people living there.
Q : In 1946 she asked for permission to work in the slums.
R : Then one day, while she was returning from an errand, she saw the slums of Calcutta.
S : She felt she had found her second vocation, her real calling.
The proper sequence should be
a. PRSQ
b. RPSQ
c. RPQS
d. QRPS
Answer. b
Q. SI : Good memory is so common that we regard a man who does not possess it as eccentric.
S6: She wheeled away the perambu-lator, picturing to herself his terror when he would come out and find the baby gone.
P : I have heard of a father who, having offered to take the baby out in a perambulator, was tempted by the sunny morning to pause on his journey and slip into a
public house for a glass of beer.
Q : A little later, his wife had to do some shopping which took her past the public house where to her horror, she discovered her sleeping baby.
R : Leaving the perambulator outside, he disappeared into the drink shop.
S : Indignant at her husband's behaviour, she decided to teach him a lesson.
The proper sequence should be
a. PQRS
b. PRQS
c. PSQR
d. PQSR
Answer. b
Q. SI : Human ways of life have steadily changed.
S6: Even if we try to do nothing, we cannot prevent change.
P : Ancient Egypt — Greece — the Roman Empire — the Dark Ages and the Middle Ages — the Renaissance — the age of modem science and of modern nations one has succeeded the other; the history has never stood still.
Q : About ten thousand years ago, man lived entirely by hunting.
R : A settled civilized life only began when agriculture was discovered.
S : From that time to this, civilization has always been changing.
The proper sequence should be
a. QRSP
b. QPSR
c. QSRP
d. PRSQ
Answer. a
Q. SI : In our youth we are apt to think that applause and publicity consti-tute success.
S6: So let us be initiated into the mysteries of maturity and be taught how to resist and spurn the lure of hollow shows.
P : The man who values the applause more than his own effort has not outgrown his youth.
Q : It is our achievement or work which wins lasting rewards.
R : But these are only the trappings, the ephemeral illusions.
S : One should concentrate on one's work knowing that applause will come unsought.
The proper sequence should be
a. SRQP
b. PSRQ
c. QPSR
d. RQPS
Answer. d
Q. SI : My office sent an urgent email asking me to return.
S6: It was evening before I could sit and write to my parents that I would be joining them soon.
P : I immediately replied requesting a few days of grace as I had to book the return passage, pack and attend sundry matters before winding up my establishment here.
Q : On the way, I went to the laundry and made sure I would get my clothes in time.
R : Then I rushed to the bank, collected all my money and made reserva-tions for my return journey.
S : From the shop next to it, I bought a couple of trunks to dump my books and other odd articles so that I could send them away in advance.
The proper sequence should be
a. PQRS
b. PRQS
c. PRSQ
d. PSRQ
Answer. b