AFCAT 2 2020 is being conducted by Indian Air Force online across the country. Many Indian Air force aspirants are attempting the AFCAT exam online on 3rd, 4th and 5th Oct 2020 in two different shifts. Candidates are to report to the exam centre in batches from 07:30 AM onwards (for 1st Shift) and 12:30 PM onwards (for 2nd Shift) as per the time slot mentioned in the admit card. In this article, we will publish the AFCAT 2 2020 answer keys for all sets based on the memory-based question-answer discussion.

They are to strictly adhere to the time of reporting in order to complete the entry formalities (including frisking) and verification process (biometrics, identification and inspection of admit card, ID proof, photograph, signature etc) before proceeding to the exam hall. The candidates are requested to locate the exam centre on the previous day so as to reach the venue in time on the day of their exam. Request for change of venue (exam centre) or date will not be entertained.
AFCAT 2 2020 3rd October 2020 Answer Keys
Note: Memory-based questions are shared by SSBCrack's followers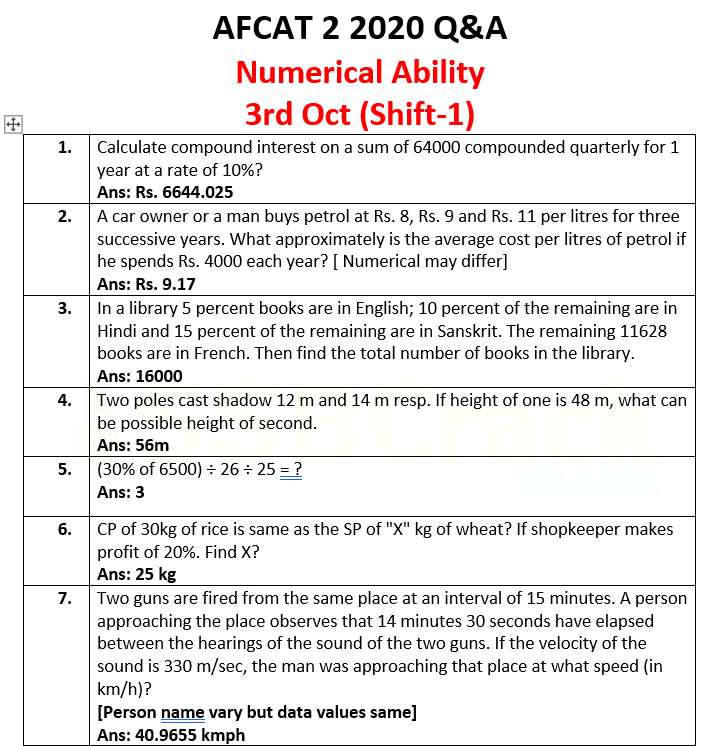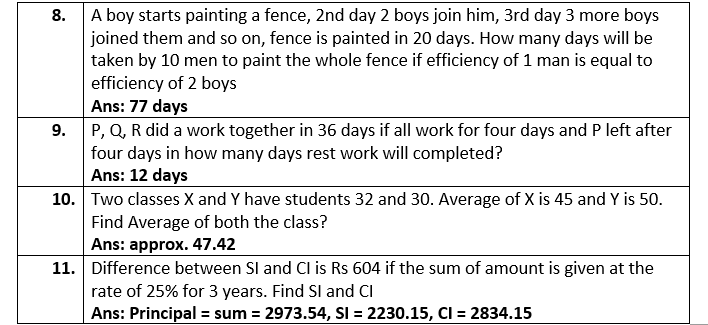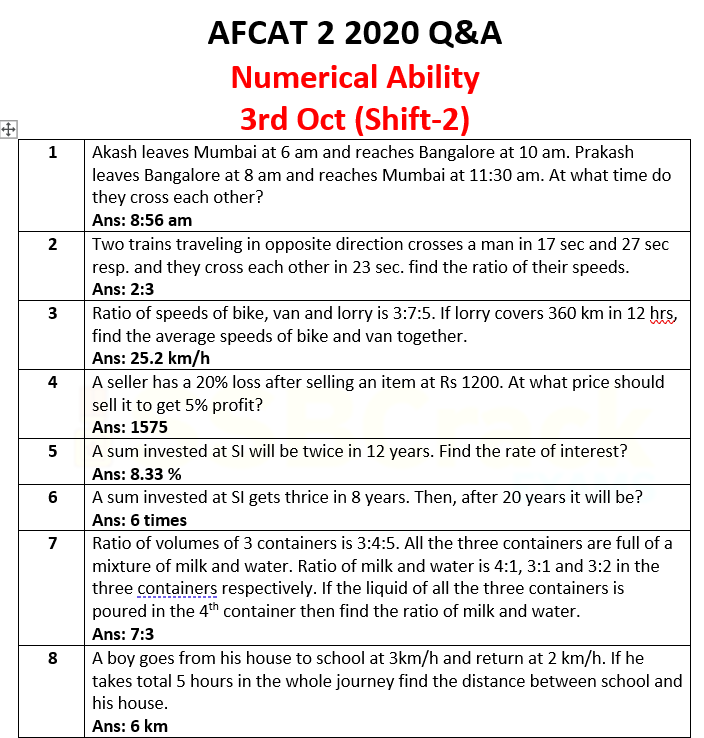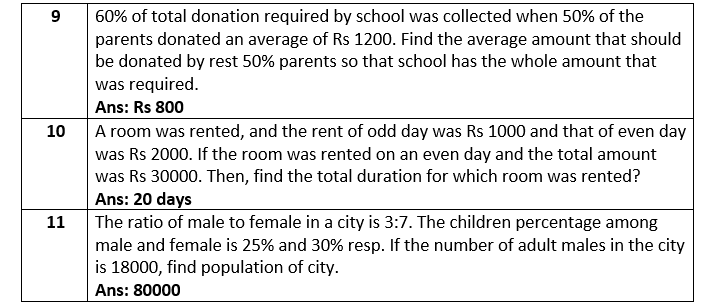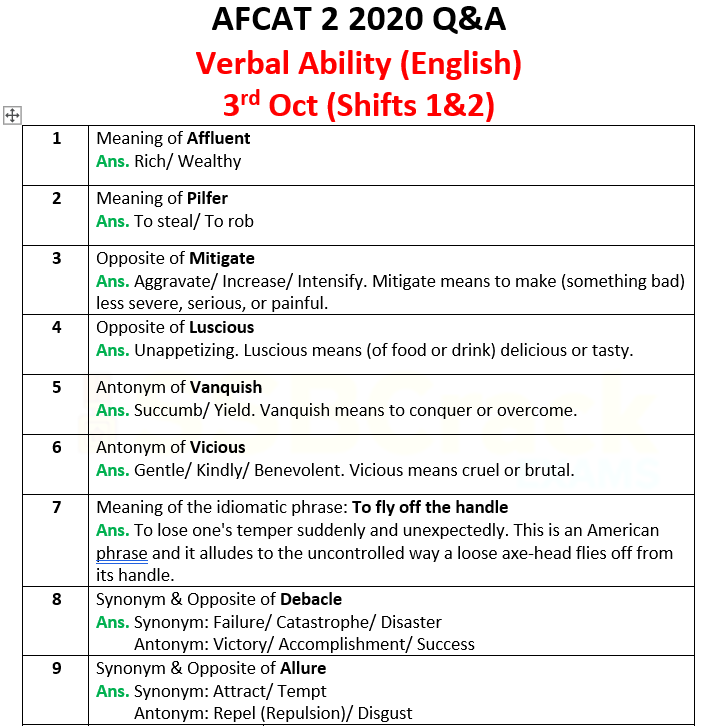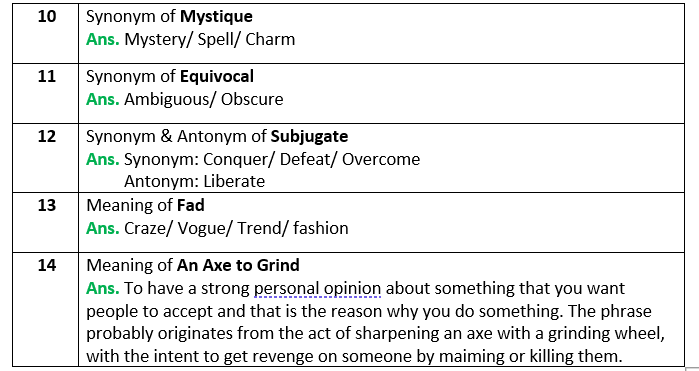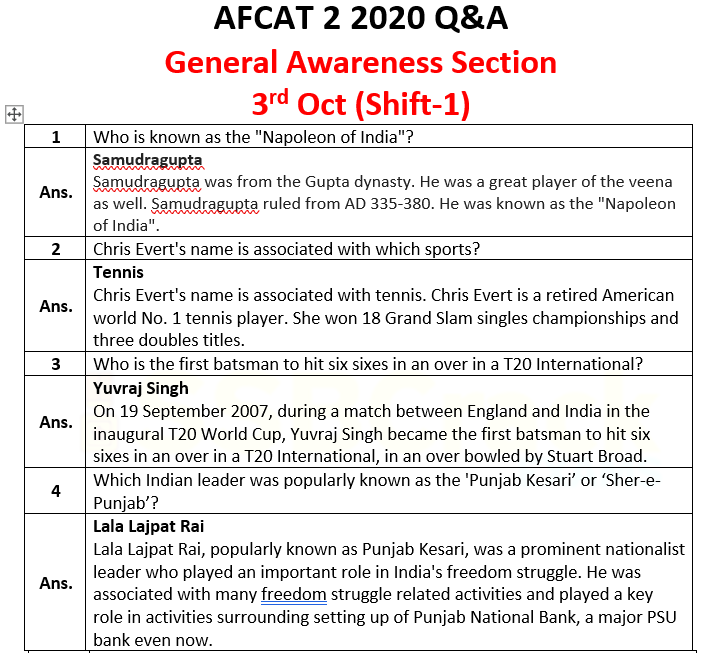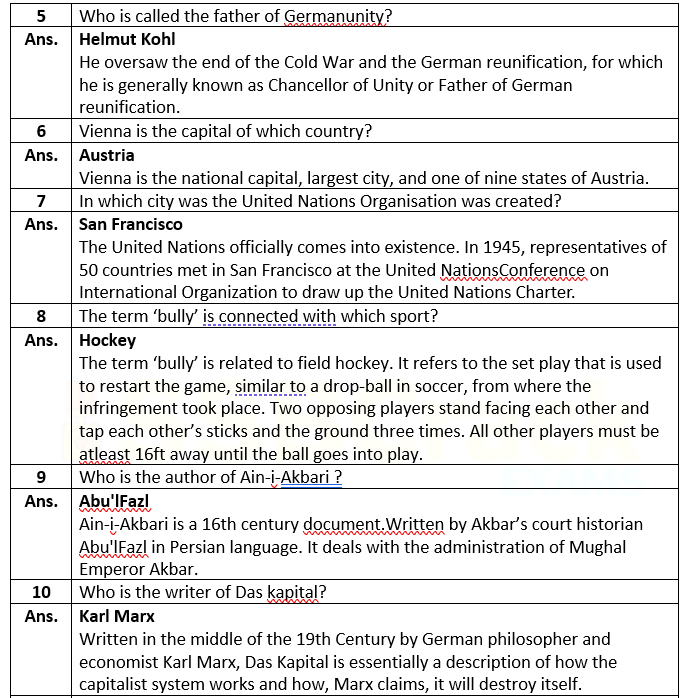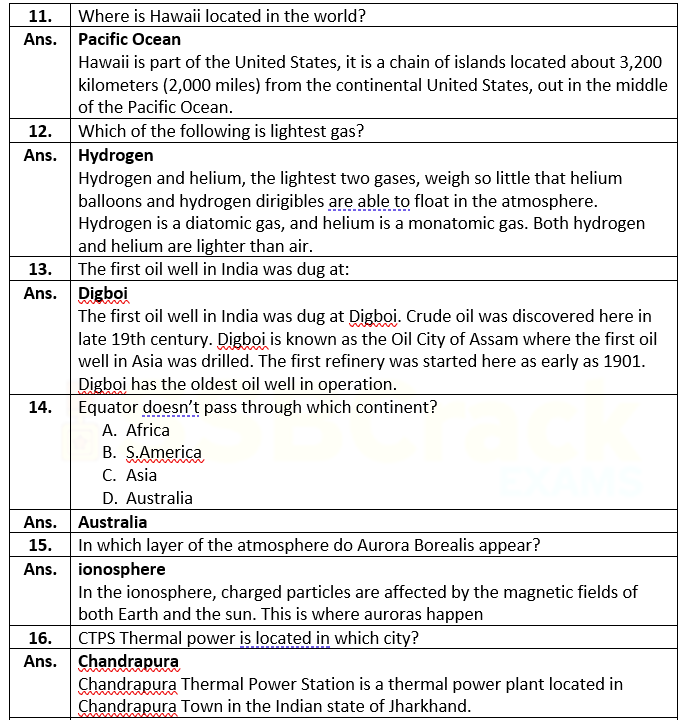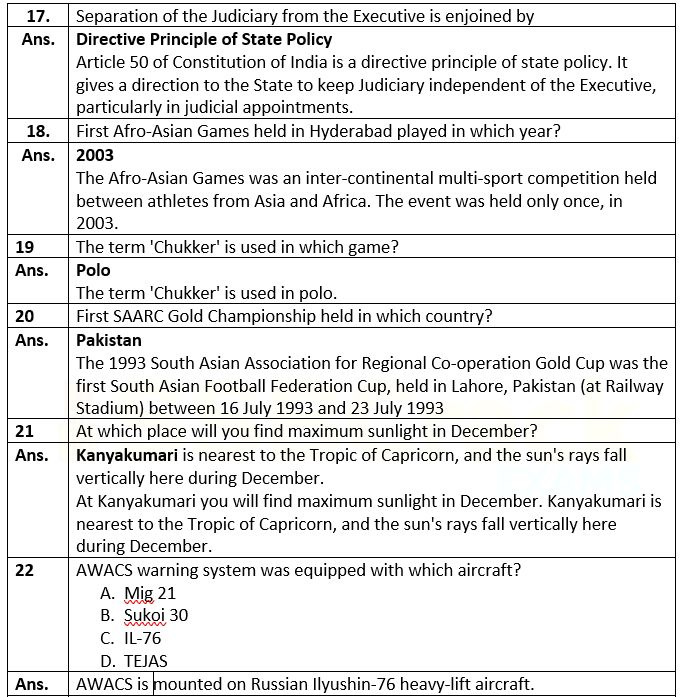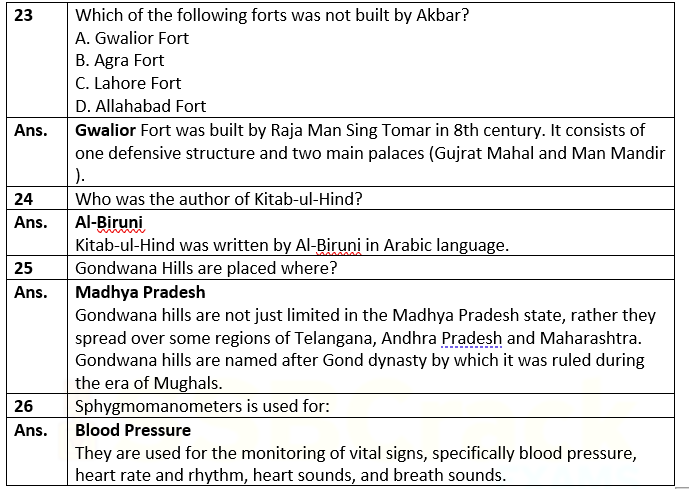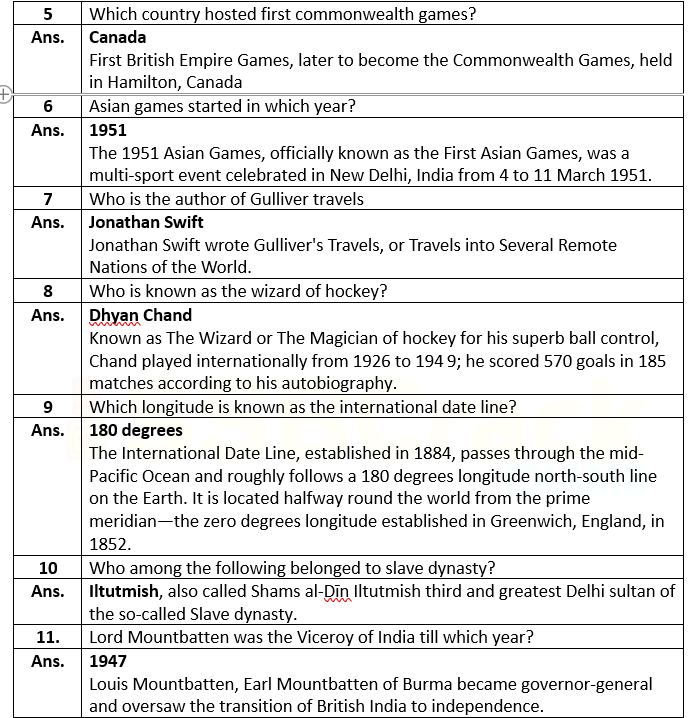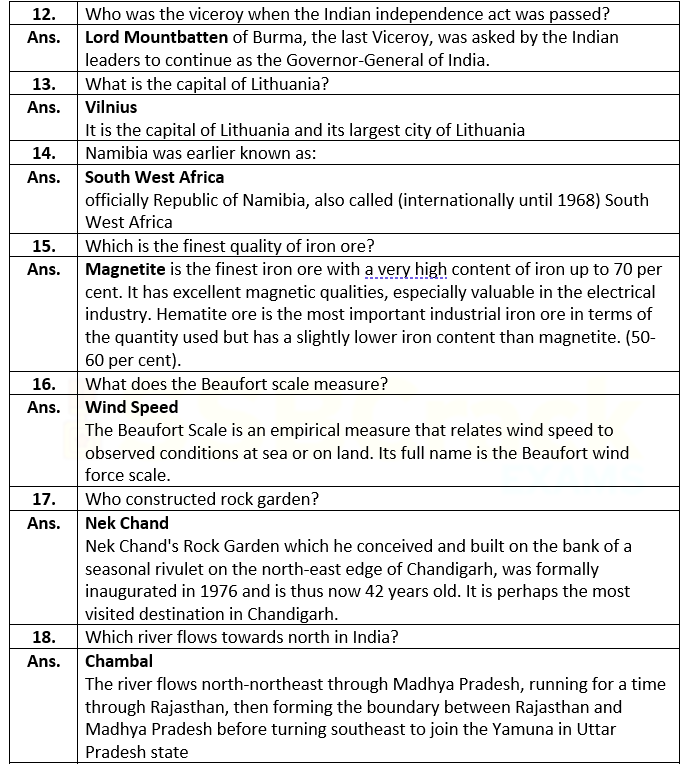 AFCAT 2 2020 4th October 2020 Answer Keys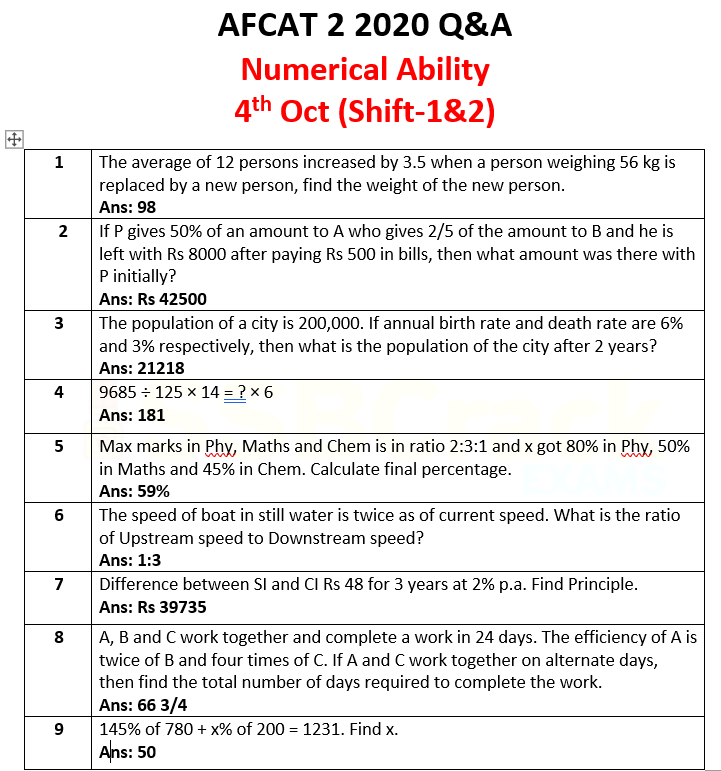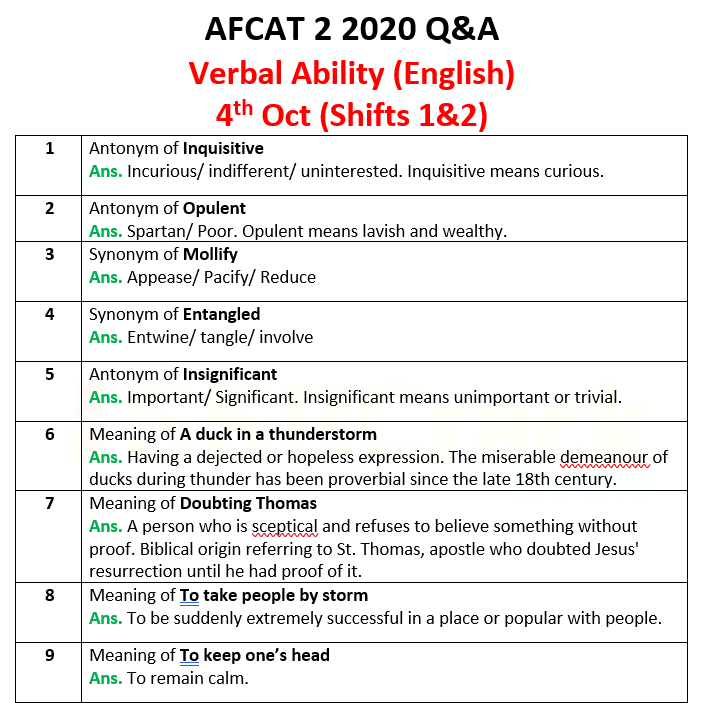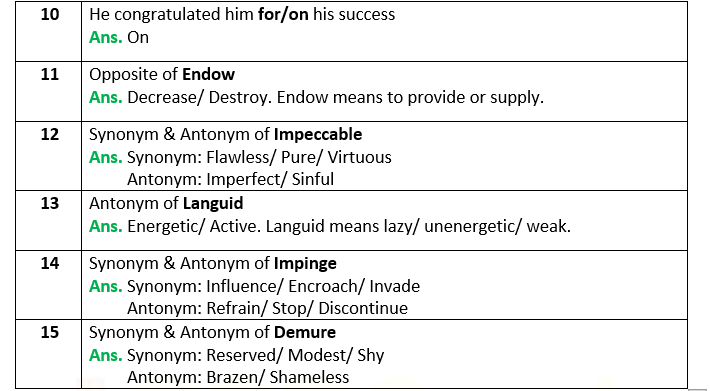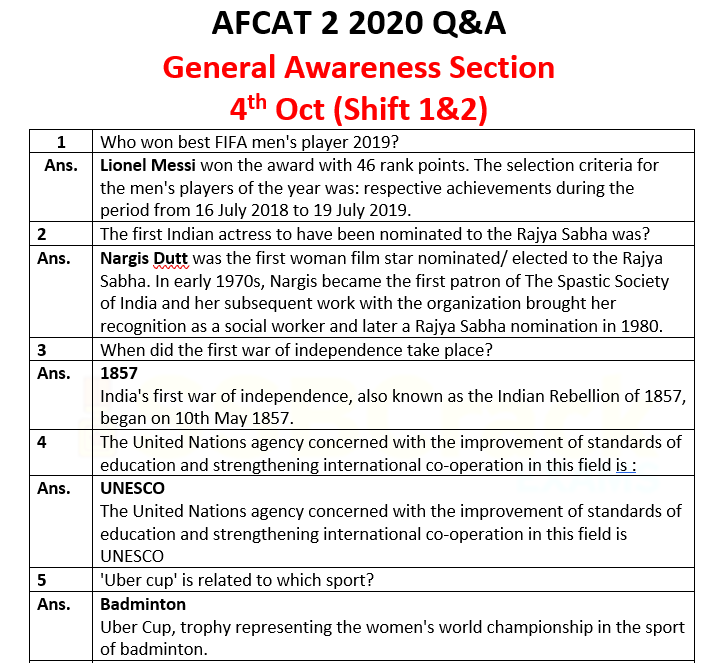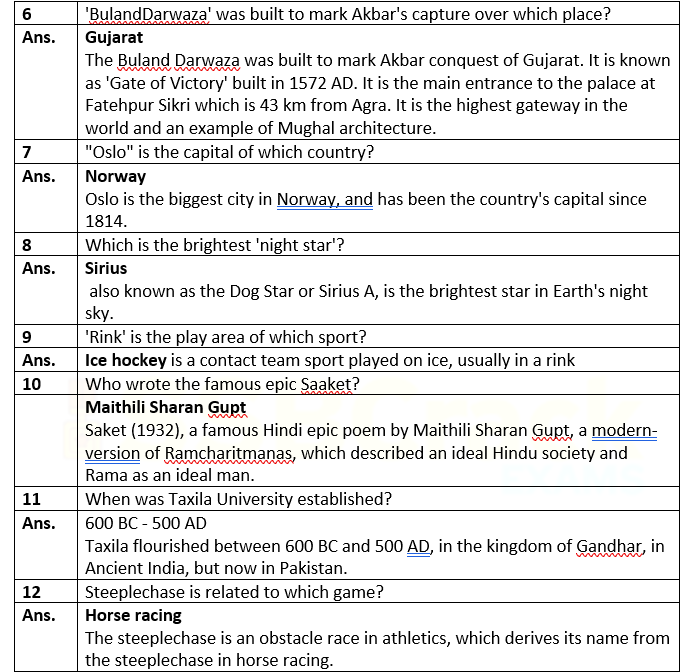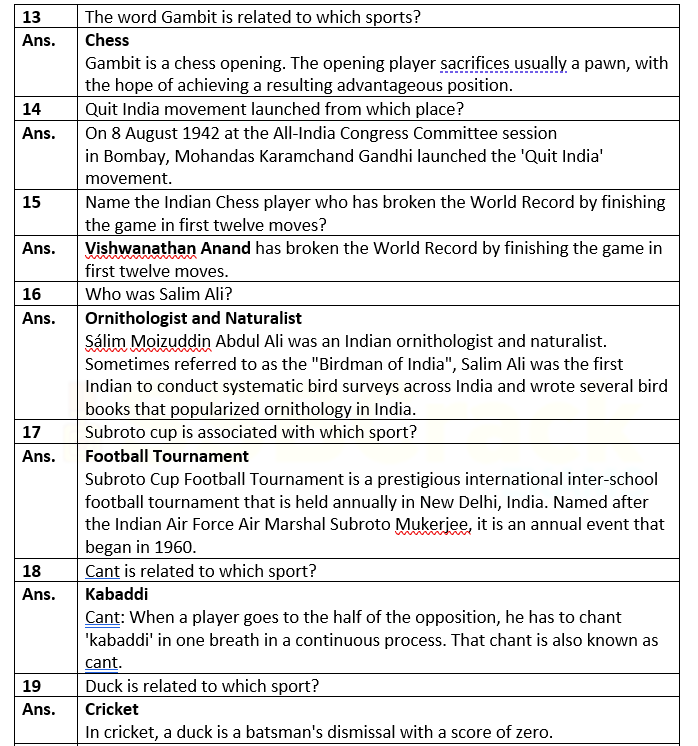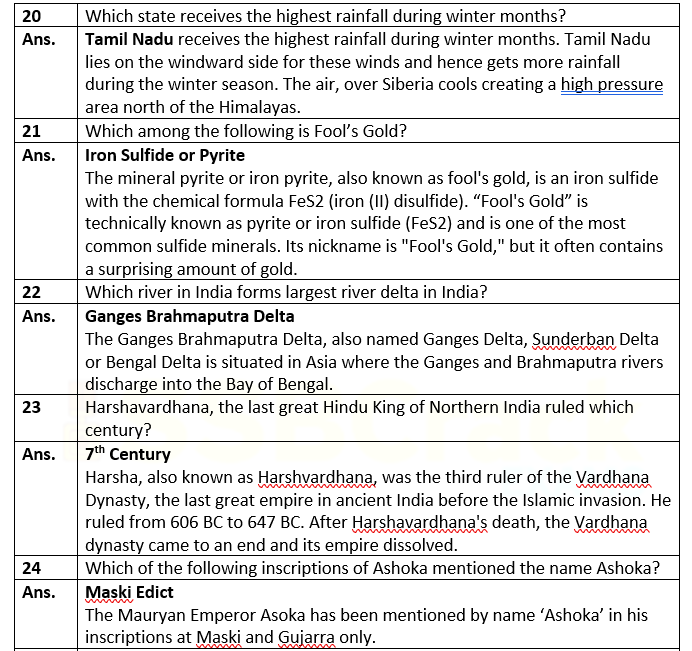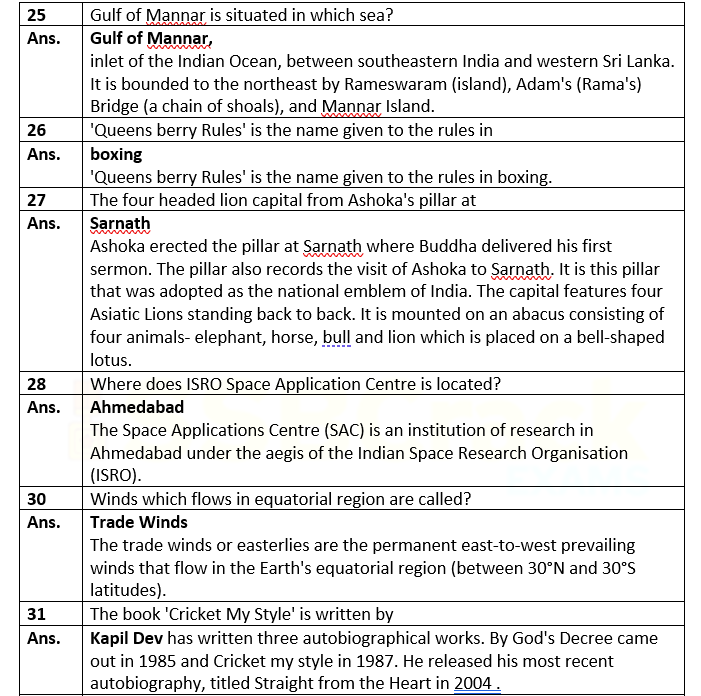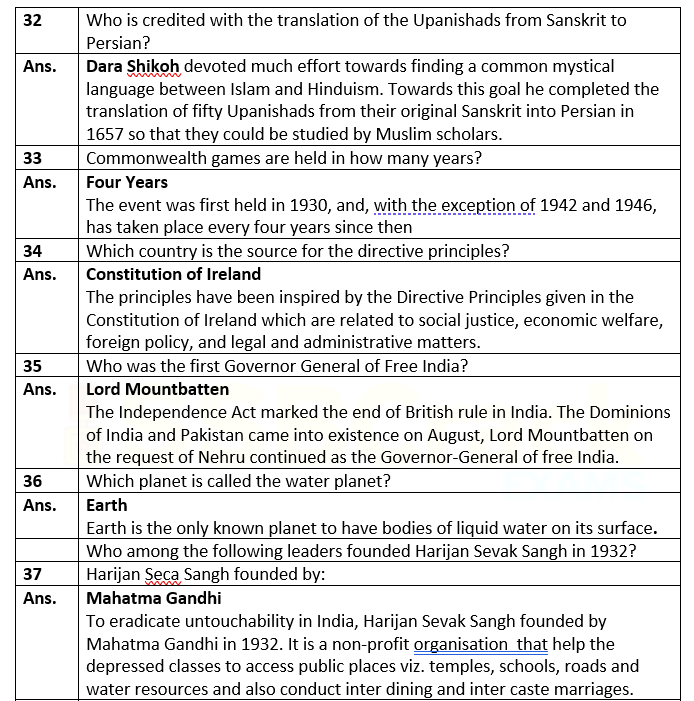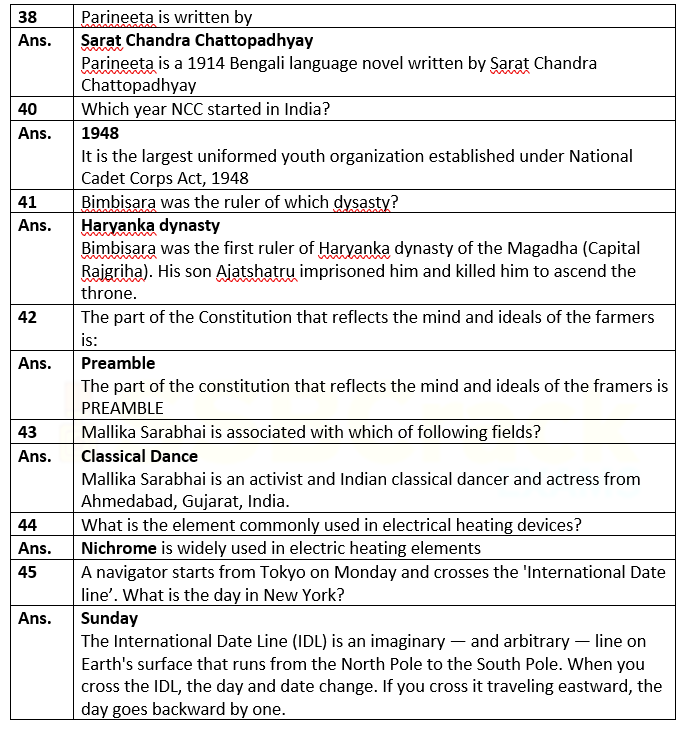 AFCAT 2 2020 5th October 2020 Answer Keys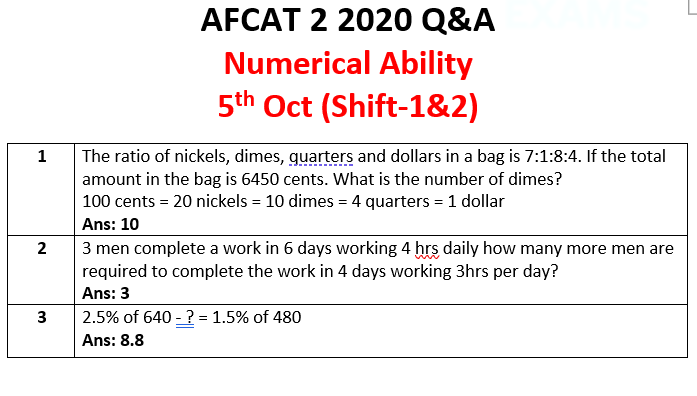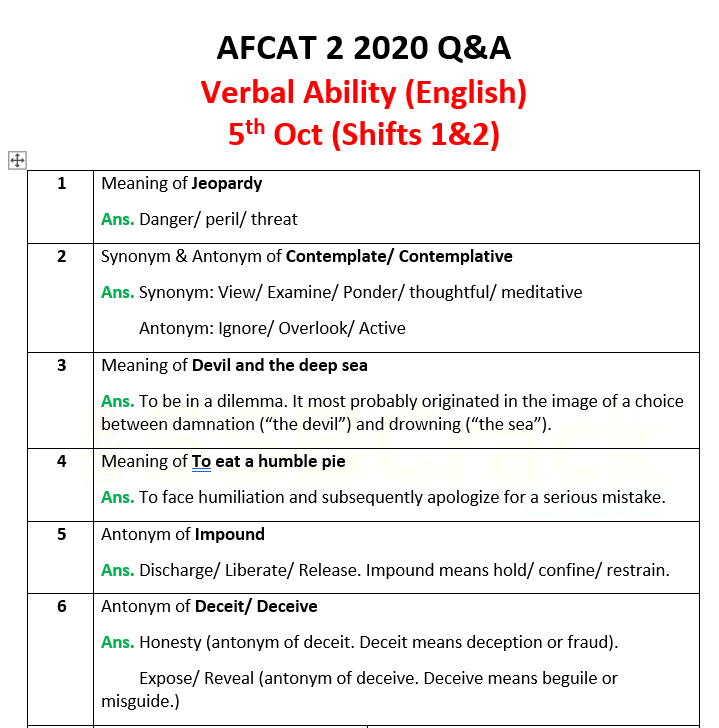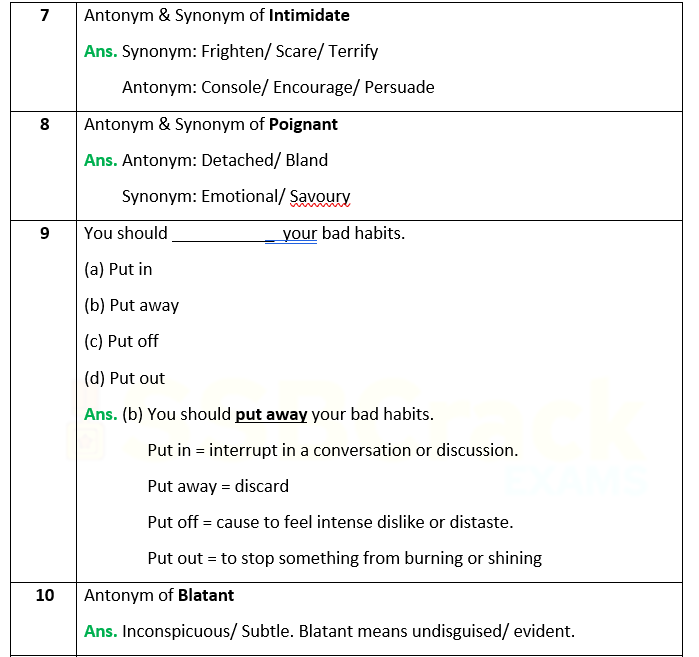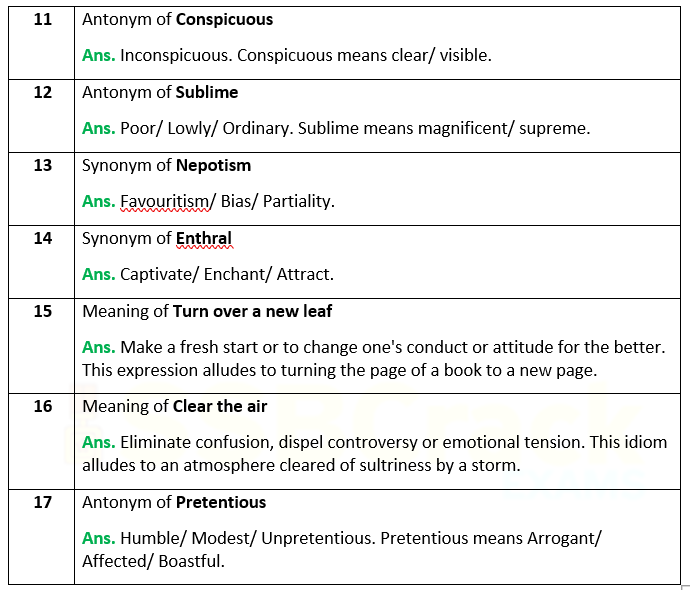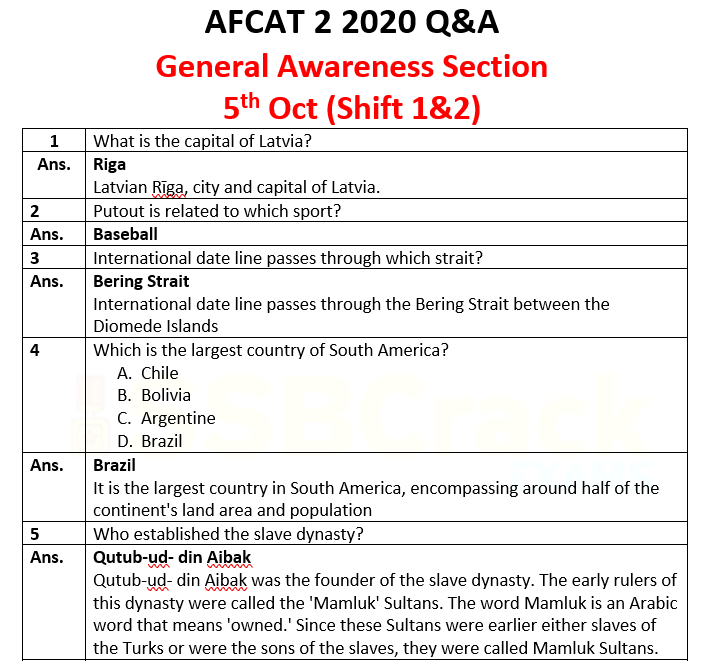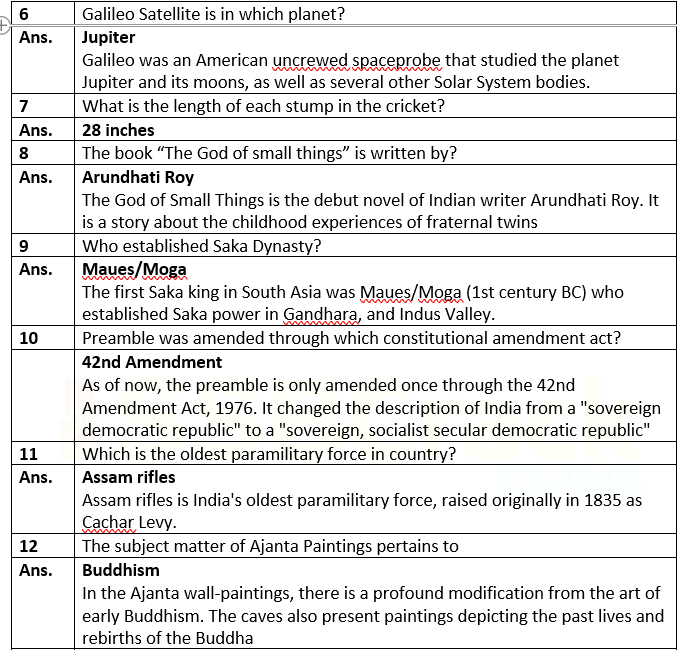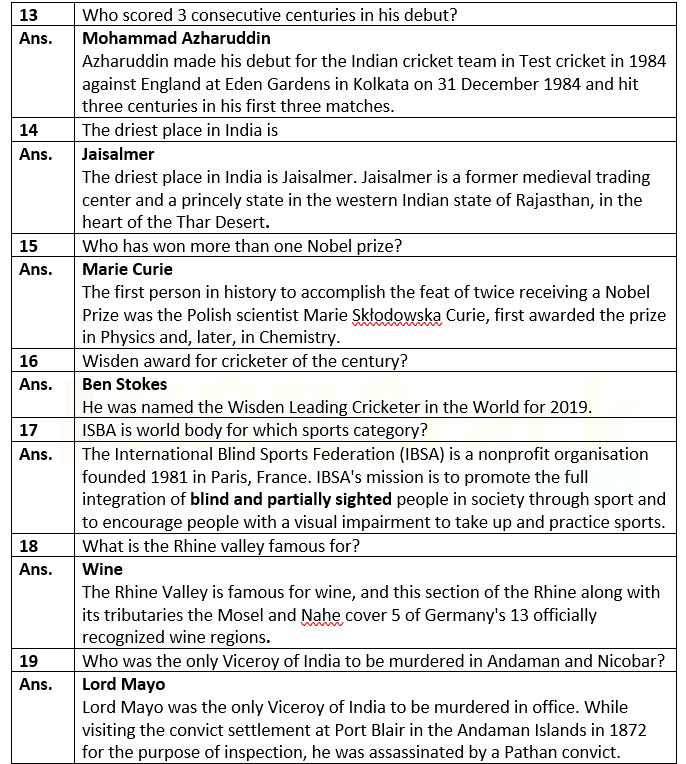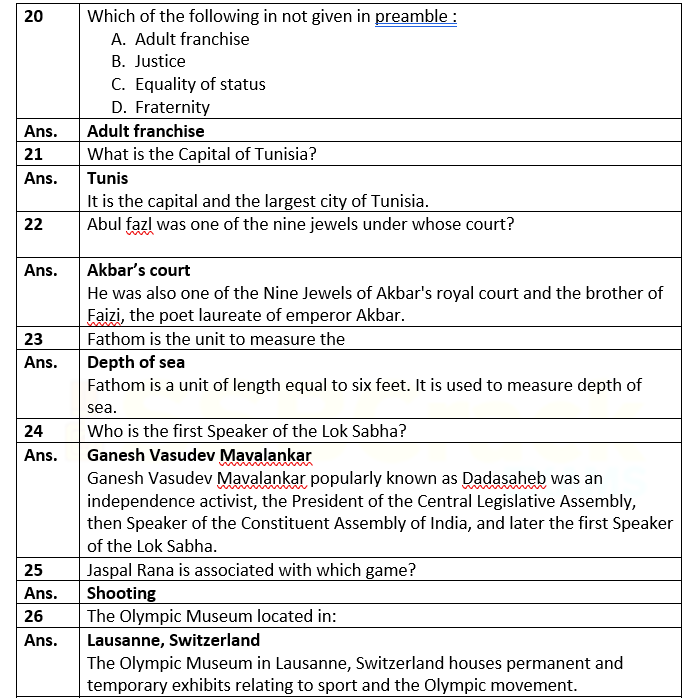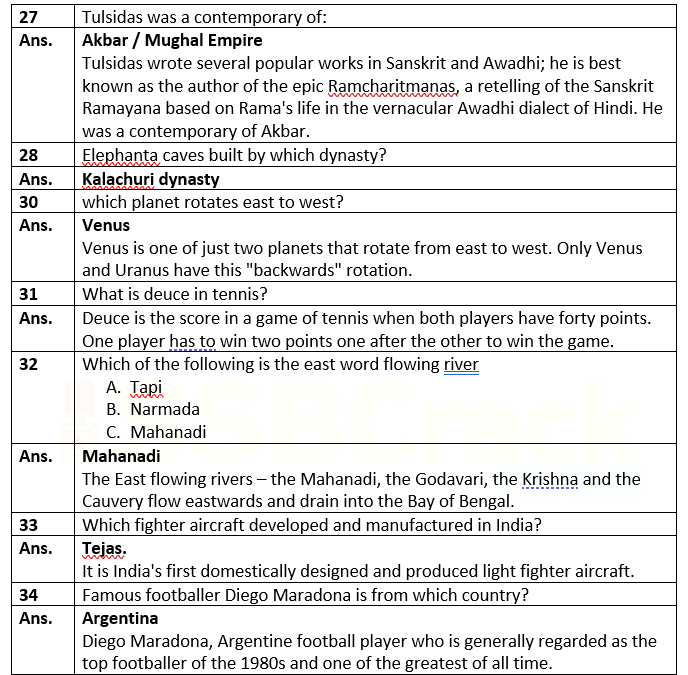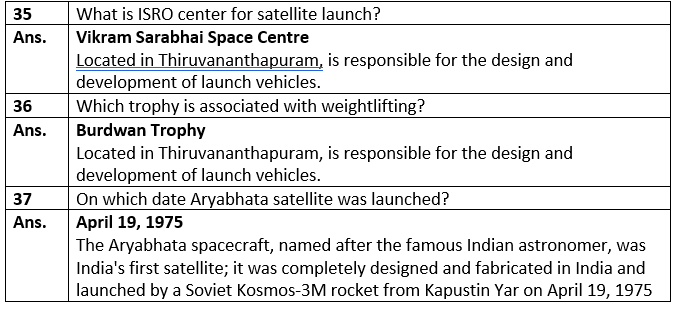 | | | | | |
| --- | --- | --- | --- | --- |
| Exam | Subject | Duration | No. of Questions | Max Marks |
| AFCAT | General Awareness, Verbal Ability in English, Numerical Ability and Reasoning and Military Aptitude Test | 02 Hours | 100 | 300 |
| EKT(For Ground Duty Technical Branch only) | Mechanical, Computer Science and Electrical and Electronics | 45 Minutes | 50 | 150 |
Syllabus of the AFCAT 2020
English: Comprehension, Error Detection, Sentence Completion/Filling in of correct word, Synonyms, Antonyms and Testing of Vocabulary, Idioms and Phrases
General Awareness: History, Geography, Civics, Politics, Current Affairs, Environment, Basic Science, Defence, Art, Culture, Sports, etc
Numerical Ability: Decimal Fraction, Time and Work, Average, Profit & Loss, Percentage, Ratio & Proportion and Simple Interest, Time & Distance (Trains/Boats & Streams)
Reasoning and Military Aptitude Test: Verbal Skills and Spatial Ability
(a) General Awareness
History
Sports
Geography
Environment
Civics
Basic Science
Defence
Art
Culture
Current Affairs
Politics
(b) Verbal Ability in English
Comprehension
Error Detection
Sentence Completion
Synonyms
Antonyms
Testing of Vocabulary
(c) Numerical Ability
Decimal Fraction
Simplification
Average
Profit & loss
Percentage
Ratio & Proportion
Simple Interest
(d) Reasoning and Military Aptitude Test
Verbal Skills
Spatial Ability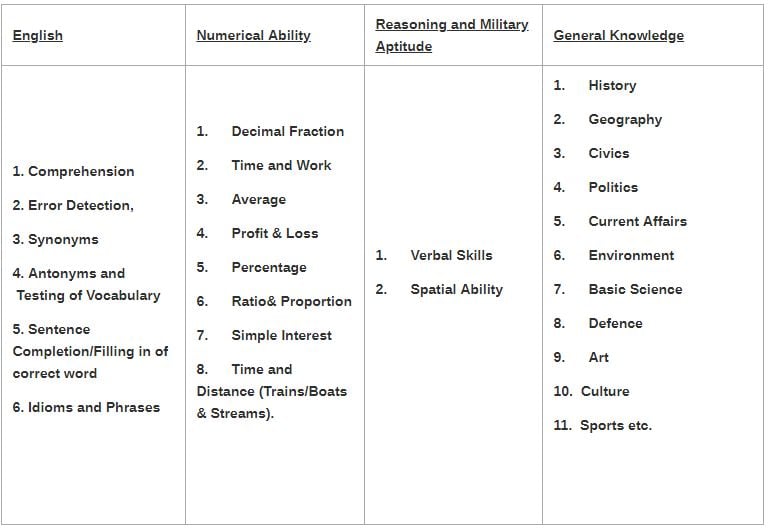 Standard of AFCAT 2020 Question Paper:
The standard of Numerical Ability Questions will be of Matriculation level. The standard of questions in other subjects will be of graduation level (Indian University).
The Online examination will consist of objective type questions and will be in English only for both AFCAT and EKT
AFCAT 2020 Marking Scheme
Three marks will be awarded for every correct answer.
One mark will be deducted for every incorrect answer.
No marks for unattempted questions.
Questions will be based on the metric system of Weights & Measures wherever applicable. Candidates must appear for the Online AFCAT in person. Under no circumstance will any scribe or another candidate be allowed to appear/ assist in the exam. Air Force has the discretion to fix qualifying marks in any or all the subjects of the examination.
Also Read:
AFCAT 2 2020 Official Cut Off Marks
AFCAT 2 2020 Paper Analysis