Indian Air Force is aiming to become the premier Air Force of the world. IAF has made it clear that it is going to focus on its complete modernization and indigenous sufficiency and to make it happen one of its perquisites is finding potential youth who can dedicate themselves on the line-of-progress. If you looking for life of adventure, healthy career, respectful social status, values and honor then Indian Armed Forces are your answer and one of its best parts or rather say its Air Arm is Indian Air Force.
There are few ways a candidate can apply for Indian Air Force say if you are an Intermediate pass out then you can apply for National Deference Academy or if you are a graduate then you can apply through CDS (combined defense services) exam or AFCAT.
This article is based on "What is AFCAT  " and " How to Prepare for AFCAT Exam 2015 ".
What is AFCAT
AFCAT is short for Air Force Common Admission Test, it is conducted twice in a year in the month of February and August, through AFCAT a candidate can apply for following commissions:
Flying branch – short service commission
Technical branch – permanent and short service commission
Ground duty – permanent and short service commission
How to Prepare for AFCAT Exam 2015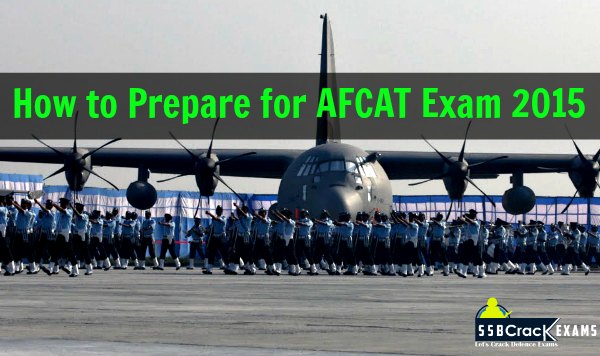 AFCAT 1 of 2015 is going to be conducted on February 22 as per notification released in December. Young candidates who have just completed their graduation or are in their graduation final year and applied for AFCAT 2015 are often curious regarding queries like – How to Prepare for AFCAT Exam 2015.
First a candidate should know about AFCAT syllabus and AFCAT exam pattern.
Syllabus:
General Awareness: History, Sports, Geography, Environment, Civics, Basic Science, Defense, Art Culture, Current affairs, Politics
Verbal Ability: Comprehension, Error Detection, Sentence Completion, Synonyms, Antonyms, Testing of Vocabulary
Numerical Ability: Decimal Fraction, Simplification, Average, Profit & loss, Percentage, Ratio & Proportion, Simple interest
Pattern
The AFCAT will be of two hours duration and will contain multiple choice questions on verbal ability, numerical ability, reasoning general awareness and military aptitude.
AFCAT 2015 Question Paper will have 100 questions. All questions will be of three marks each for every correct answer you will get three marks and for every wrong answer one mark will be deducted under negative marking.
Candidates who will be short-listed on the basis of AFCAT will be called for further testing at one of the Air Force Selection Boards (AFSCs) at Dehradun, Mysore, Gandhinagar or Varanasi.
Tips on How to Prepare for AFCAT Exam 2015
Develop basic knowledge in each areas specified in the syllabus.
Improve general awareness by reading newspapers and watching TV news.
Develop proper time management skill for answering maximum number of questions within the time frame, to do such search for practice test and mock test
Mental calculations are enough to clear the section of numerical ability, to do such search for practice test and mock test.
Reasoning section should also be cracked through constant practice of model questions.