What is Frontier Technologies Cloud Innovation Center?
The NITI Aayog and Amazon Web Services (AWS) have announced the establishment of a Frontier Technologies Cloud Innovation Center (CIC), the first of its kind in India.
CIC is part of the AWS CIC Global Program
CIC will enable government stakeholders, start-ups, and local organizations in India to innovate and create new approaches to solving problems
Mission: To identify and deploy leading-edge technologies to drive continuous innovation in delivering citizen services.
The center will identify and prioritize projects as well as collaborate with local leaders, including subject matter experts at the state and district levels, to solve critical challenges.
Local enterprises, start-ups, researchers, and universities in India can experiment and build prototypes on AWS Cloud.
With AWS Cloud, public sector organizations get the power of the broadest and deepest cloud services to accelerate their missions.
Aditi Urja Sanch
The Union Minister of Science and Technology and Earth Sciences recently inaugurated the Dimethyl ether (DME) fired "Aditi Urja Sanch" unit along with the DME-LPG blended fuel cylinders.
It is a newly designed Burner.
Dimethyl ether (DME) is an ultra-clean fuel.
CSIR-NCL has developed nation's first kind of DME pilot plant with 20-24Kg/day capacity.
Need: The conventional LPG burner is not suitable for DME combustion as DME density is different than LPG.
Salient features of newly designed Burner are:
The new design is efficient for both DME and the blend of DME and LPG.
Novel design and flexible air ingress.
The new nozzle design allows optimum oxygen ingress for combustion
The angles at which nozzles are placed maximize the heat transfer area across the utensils.
Optimum flame velocity can be obtained.
The length of the flame (high, low, and medium) can be adjusted by altering the oxygen ingress.
The experiment shows that it increases the heat transfer rate as well.
PM Modi to inaugurate three key projects in Gujarat
Prime Minister Narendra Modi will virtually inaugurate three key projects in Gujarat
He will also launch the Kisan Suryodaya Yojana for the farmers of Gujarat.
He will inaugurate the Paediatric Heart Hospital attached with UN Mehta Institute of Cardiology and Research Centre and a Mobile Application for tele-cardiology at the Ahmedabad Civil Hospital in Ahmedabad.
Mr Modi will also inaugurate the Ropeway at Girnar on the occasion.
e-Dharti Geo portal
The Union minister of Housing and Urban affairs Shri Hardeep Singh Puri launched the e-Dharti Geo Portal.
The portal will integrate map and lease plans in the Management Information System.
It will make the system Geographic Information System enabled; GIS enabled.
Aim: To provide Property Certificate by Land & Development Office (L&DO) through e-Dharti Geo Portal.
The certificate includes property details; viz. land type, property type, date of allotment, property status, sub-type, etc.
The Property Certificate will be available on nominal fee of ₹1,000/- and can be accessed by public by visiting website.
Through the Certificate, the lessee of the property will be able to get the basic details of his/her property along with map showing its location.
COVIRAP
The Indian Council of Medical Research (ICMR) has validated the efficacy of COVIRAP for the detection of COVID-19.
It is a diagnostic machine for COVID-19 detection.
Developed by researchers at the Indian Institute of Technology (IIT), Kharagpur.
This COVID-19 diagnostic testing method has been designed to be fairly easy to conduct and affordable as well and can produce results within one hour.
ICMR has successfully validated 'COVIRAP' for its efficacy in COVID-19 detection.
Current COVID19 Situation in India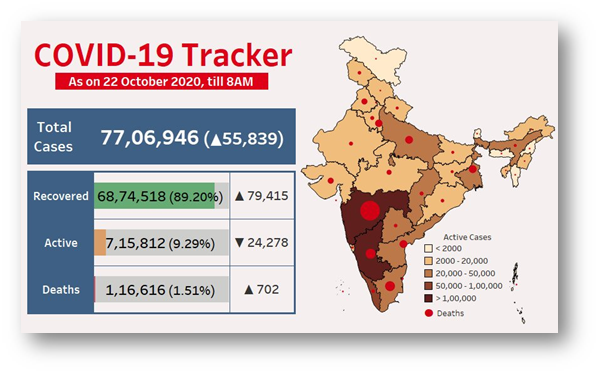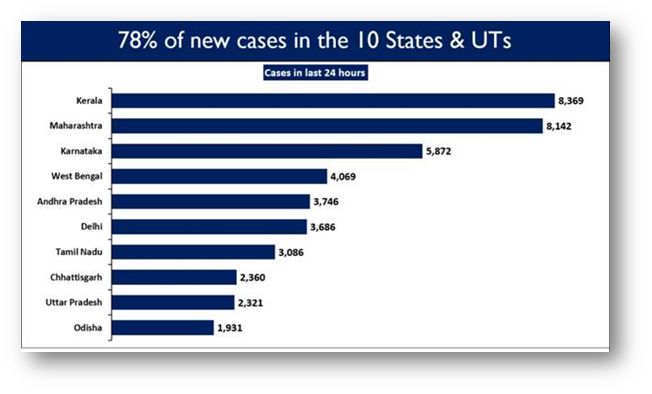 QUIZ TIME
Aditi Urja Sanch is an initiative of:
Ministry of Tribal Affairs
Ministry of Health
NITI Ayog
Ministry of science and technology
Answer – D
Which of the following is not a component of e-Dharti Geo portal?
It comes under Housing and Urban affairs
Provide Property Certificate
It is to provide loans to farmers
None of the above
Answer – C
COVIRAP is developed by:
IIT Delhi
IIT Kharagpur
CSIR
Ministry of Health
Answer – B
Question of the Day
What is Life in Miniature Project?
Answer in next session…