MISSION SAGAR – INS KESARI AT PORT LOUIS, MAURITIUS
As part of Mission Sagar, Indian Naval Ship Kesari entered Port Louis Mauritius on 23 May 2020. The GOI is aiding friendly foreign countries in dealing with the COVID-19 Pandemic, and towards this Indian Naval Ship Kesari is carrying COVID related essential medicines and a special consignment of Ayurvedic medicines for the people of Mauritius.
A 14-member Specialist Medical Team comprising Indian Navy doctors and paramedics is also embarked onboard this ship.
The assistance to Mauritius is a part of the Government of India outreach amidst the ongoing COVID-19 pandemic.
'Mission Sagar', is in consonance with the Prime Ministers vision of Security and Growth for All in the Region 'SAGAR'.
This mission highlights the importance accorded by India to relations with the countries of the IOR and builds on the excellent relations existing between the two countries to battle the COVID-19 pandemic.
The operation is being progressed in close coordination with the Ministry of External Affairs, and other agencies of the Government of India.
Kangra Tea could lower coronavirus activity better than HIV drugs
ICMR is likely to replace HCQ with anti-HIV drugs to improve immunity & possibly reduce viral replication, in the revised protocol.
However, the chemicals in Kangra tea could also be effective in boosting immunity as they can block coronavirus activity better than anti-HIV drugs, said Dr Sanjay Kumar, Director, Institute of Himalayan Bioresource Technology (IHBT), Palampur, H.P.
Using computer-based models, the scientists screened 65 bioactive chemicals or polyphenols that could bind to a specific viral protein more efficiently than commercially available anti-HIV drugs approved for treating COVID-19 patients. These chemicals might block the activity of the viral protein that helps the virus to thrive inside human cells.
Tea vinegar technology has been transferred to a company based in Dharmshala. Tea vinegar has anti-obesity properties.
Also, Herbal Green and Black Teas blended with AYUSH-recommended herbs were launched.
These products could be extremely useful for boosting immunity against COVID-19, say IHBT scientists.
HIL (INDIA) geared to provide locust control Pesticide to Iran
HIL (India) Limited a PSU under Department of Chemicals and Petrochemicals, Ministry of Chemicals and Fertilizers ensured timely production and supply of pesticides for farming community.
HIL is now in process of production and supply of 25 MT Malathion Technical for supply to locust control programme to Iran under Govt. to Govt. arrangement.
Union Ministry of External Affairs (MEA) has approached HIL for manufacturing and supply of said commodity to Iran.
The Company has exported 10 MT of fungicide – Mancozeb to Latin American country, Peru and another 12 MT will be exported in next one week.
Emission norms for L7 (Quadricycle) category for BS VI notified
The Ministry of Road Transport and Highways has issued notification GSR 308(E ) dated 22nd May 2020 regarding the emission norms for L7 (Quadricycle) category for BS VI.
These norms are applicable from the date of notification.
This notification completes the process of BS VI for all L, M and N category vehicles in India.
The emission norms are in line with EU with WMTC cycle. The procedure for testing is laid down in AIS 137-Part 9
CSIR Develops Electrostatic Disinfection Machine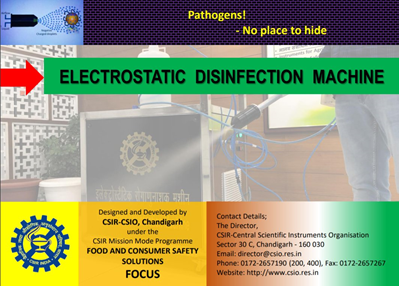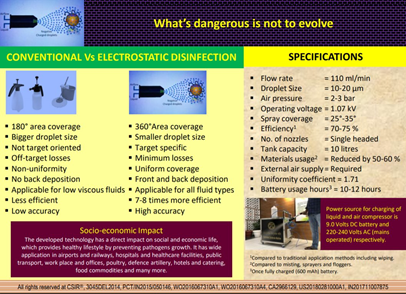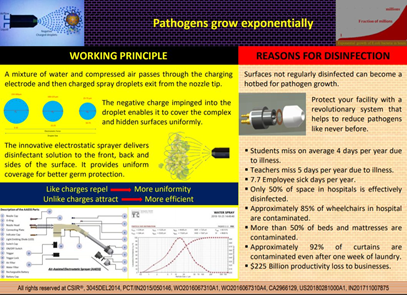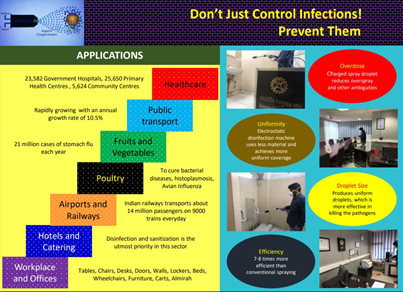 COVID19 current update in India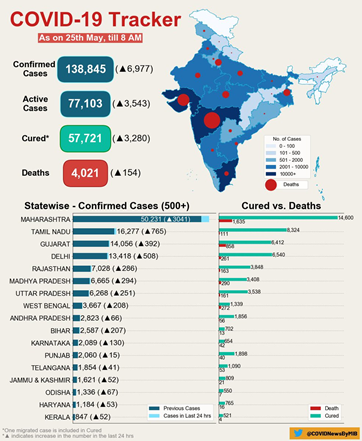 QUIZ TIME
In which of the following years was NAFED established?
1957
1968
1959
1958
Answer: D
Kangra Tea is grown and related to which of the following states?
Answer: D