EKT 1 2017 Exam was conducted by IAF in Feb 2017 for the candidates willing to join the technical branch of Indian air force. EKT cut off marks is declared by Indian air force. Candidates can check the EKT 1 2017 Exam and estimate their performance in the exam.
EKT 1 2017 Exam Cut Off Marks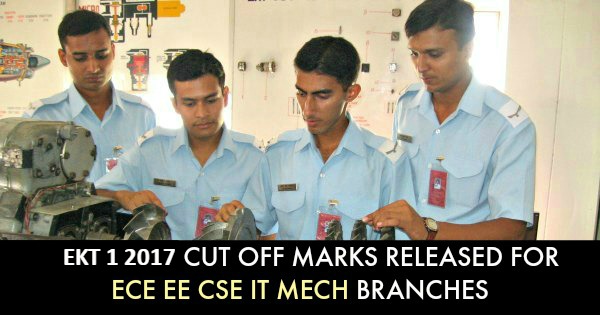 In February 2017 candidates who have opted for technical branch while applying for AFCAT 1 2017 wrote EKT. EKT exam is mainly conducted for EEE, ECE, CSE/IT and Mechanical branch. Though EEE and ECE have same EKT question paper. Candidates can find the expected EKT exam cut off marks 2017.
EKT 1 2015 Cut off marks
EKT Cut Off Marks 2015 EEE: 55 marks out of 150
EKT Cut Off Marks 2015 ECE: 55 marks out of 150
EKT Cut Off Marks 2015 CS/IT: 55 marks out of 150
EKT Cut Off Marks 2015 Mechanical: 55 marks out of 150
EKT 1 2016 Cut off marks
EKT Cut Off Marks 1 2016 EEE: 52 marks out of 150
EKT Cut Off Marks 1 2016 ECE: 52 marks out of 150
EKT Cut Off Marks 1 2016 CS/IT: 52 marks out of 150
EKT Cut Off Marks 1 2016 Mechanical: 52 marks out of 150
EKT 1 2017 Cut off marks
EKT Cut Off Marks 1 2017 EEE: 60 marks out of 150
EKT Cut Off Marks 1 2017 ECE: 60 marks out of 150
EKT Cut Off Marks 1 2017 CS/IT: 60 marks out of 150
EKT Cut Off Marks 1 2017 Mechanical: 60 marks out of 150