Jai Hind future warriors today we are going to look at how college students can prepare for SSB interviews. SSB is a task for you that you have to successfully achieve and you have to complete it anyhow. Understand the task, identify your resources or gather them in minimum time, get our clock running and set a deadline, fully comprehend the plan and if in doubt – ask, run through your action plan and chase the goal like a madman. You don't have any other option other than achieving your goal as failure will take you months behind.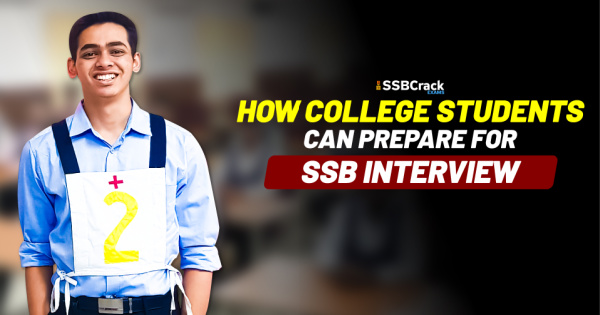 What is SSB?
We all know SSB is a test of personality. It is a 5 day test which consists of various tasks and tests in which the accessors find out if you are suitable to join the Indian Armed Forces.
Basically you are tested to bring out the 15 Officer Like Qualities (OLQ's). If you possess all these 15 qualities you will get recommended.
Now if have just started your college years and want to join the defence forces, you are having a ample amount of time so as to shape and develop your personality according to the needs of the SSB and the defence forces.
Candidates cannot think that they can get recommend in the SSB with a month preparation or so. See SSB is a holistic approach to test your personality and you need a holistic personality to crack it.
Also Read: All About Complete 5 Days SSB Interview Procedure
How to prepare for SSB while in college?
When you are in college or in some University, you have 3 to 4 years to pass-out as a graduate. So, within this span of 3 to 4 years, one can have a drastic change in the personality.
Now in these 3-4 years one can inhibit a number of qualities by practicing various hobbies and doing some stuffs. Also, after graduation, the boards look for a perfect gentleman as the personality and perception already gets shaped of a candidate after surviving the 4 years in college. The way of observing the world gets defined. So, it is quite hard but not impossible.
Also Read: Significance Of Hobbies, Interests, Extra-Curricular And Position Of Responsibilities In The SSB
What should you do when you are in college?
Look for good people and be friendly with them. Don't have a very large group. People who are career oriented as well as fun loving are the ones you should with. Find people with same interest that is one who is preparing for defence. This will make your preparation easier.
Join the National Cadet Corps in your college. Now most of the Colleges provide NCC to their students. Still incase their is no NCC, you can join the open recruitment conducted by the NCC through self finance system (SFS).
NCC will teach you a lot – leadership skills, public speaking,time management, initiative skills, ragda to make you fit, and most important is never quit attitude.
NCC after the end of 3 year training will confer you a C Certificate through which you will get a direct SSB call letter.
You should join a gym or should indulge in regular exercise to keep yourself fit and have a good stamina.
Develop some hobbies and interests. It can be any sport of any activity like painting, singing, jogging, photography,   cooking. Hobbies shapes your personality to be more organized and creative.
Do some internships with good companies and organisations. Meet new people and learn skills from them. This will also fetch you some money.
Always be aware of what is happening around you. Read newspapers on daily basis and discuss it with your friends. Listen to their points in it and put your points in it. This is how you can conduct small GD sessions and increase your knowledge and speaking skills.
Find any club or organisation which focuses on personality development. Join it and start taking part in GD's, Debate, etc. If you don't find one, then its time to contact the soft skills team of your college and start a new organisation and make it run as per your own need and help others as well.
If you follow all these, till the end of your graduation, you'll automatically develop many of the qualities which is required in the SSB.
I hope you liked the article. If you are preparing for SSB and other defence exams, SSBCrackExams is providing a number of courses and study material. Download SSBCrackExams App, Enroll today, and boost up your preparation.
Enroll Now: SSB Interview Master Class 2022
Online coaching of the SSB Interview by SSBCrackExams 
SSBCrackExams is India's most trusted online portal for Indian defence aspirants dedicated to defence exam-related preparations such as live classes, online courses and many more. It is trusted and followed by many defence aspirants across the country. There are many such sources provided by SSBCrackExams and online coaching at the SSB interview stage is one of them.
The SSB interview is the most difficult stage of defence exams. A lot of candidates are rejected in the SSB interview. So, it's very clear that SSB interviews require earlier practice, guidance and preparation. Candidates who have cleared defence written exams like NDA, AFCAT, and CDS can now start preparing for the five-day SSB interview process as it will be the deciding factor for their entry into the defence forces.
Candidates who will appear for the SSB interview can enroll themselves into the SSB Interview online coaching provided by SSBCrackExams.
The highly qualified tutors of SSBCrackExams will provide students with in-depth knowledge, a clear course framework, rich content, and constant supervision via advanced technology and simple learning approaches in order to help them prepare for the SSB interview.
You might ponder over the question of why you should choose to take online SSB interview coaching by the SSBCrackExams. And here are some more facts: why?
Student-friendly classes – SSBCrackexams online coaching classes are student friendly.. It means that the students and their doubts are given the utmost priority.
Digitally advanced video lectures – The quality of video lectures is extremely good. Students can watch videos as per their convenience.
Live classes – SSBCrackExams also conduct live classes to guide the students and clear their doubts. These live classes help to boost confidence in students prior to the SSB Interview.
Teaching by top-rated tutors – The students get taught from the top notch faculties having experience of many years in teaching and guiding the students.
Doubt clearing Sessions – SSBCrackExams conduct doubt clearing sessions which help in clearing the doubts of the students. This helps in the overall preparation of SSB interview of the students and fills even the slighest gap of doubt among them.
Pocket-friendly courses – The most important is the price of online SSB coaching provided by SSBCrackExams. It is pocket friendly and way too low compared to market prices.
What is inside the SSBCrackExams online SSB coaching course?
To crack the SSB Interview, You can join our SSB interview live classes batch and we recommend you to Enroll SSB INTERVIEW ONLINE COURSE. Trusted by thousands of defence aspirants.