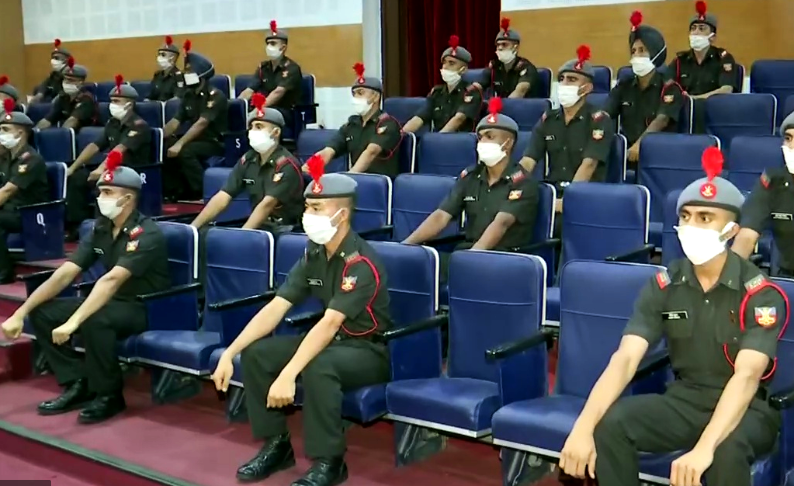 In the last article, we discussed the possible approaches you should keep while preparing for NDA Written exam during your 11th and 12th standard. In this article, we will focus on the examination point of view only that will enhance your knowledge regarding the 2 question papers of NDA Written Exam.
Questions that come in UPSC NDA are different in nature if compared to other exams. Subjects such as polity, history, physics, biology, chemistry consist of questions more or less directly approached and factual in nature while other subjects such as geography, history, current affairs, and economics pose questions of analytical in nature. It simply means that in the former part either you know or don't know the answer while in the later part you can simply gauge your memory or can correlate one thing with another to find out the correct answer or at least the most probable correct answer based on your 2-year study.
Aspirants lookout for books such as Laxmikant polity and Bipin Chandra history that are comprehensive in nature and need in-depth study and are used by Civil services aspirants. I believe that NDA doesn't require this kind of in-depth and time-consuming study as you already have a lot of syllabi to cover alongside your regular curriculum of the school. Of course, a few topics can be read from them if the situation demands much clarity but reading the entire book is a bit tedious and time-consuming task and not advisable for NDA. If you have extra time then you can always refer to NCERTs of all the relevant subjects from 8th class onwards, it will make your basics crystal clear.
If you have extra time then you can always refer to NCERTs of all the relevant subjects from 8th class onwards, it will make your basics crystal clear. What NDA needs is an approach where you must have an idea regarding the things and that can help you in correlating things and finding out answers, we can say not light and not in-depth – just the right balance.
How To Prepare For The NDA Written After 10th Standard -Part 1
I believe that you need to study the syllabus topic wise and along with it should attempt questions related to the studied topic as soon as a topic gets over. This helps in retaining the information as our mind tends to retain things this way much more than we can when we are studying in a chapter-wise whole format. With 2000+ video lectures & 6000+ practice sets, the Ssbcrack NDA Written Online Course aims to deliver to the student's strong content & detailed explanation on complex subjects from Maths, English, General Studies, General Sciences & Current Affairs. This all-inclusive course, therefore, prepares a student with all the necessary requirements for acing higher scores in the written test & pursues their dreams.
You can refer to SSBCrack YouTube channel for topic wise study and to keep yourself updated with current affairs. The internet has endless options to educate ourselves. So choose the platform which is user-friendly and where it is very easy to understand the concepts of the subjects that you are focusing on. Crack NDA with the complete NDA course package designed by the best tutors & get a chance to serve the nation
You can opt for mock tests online too. The aspirants can watch 2000+ detailed topic wise video lectures for NDA Written exam of Mathematics and General Ability Test. They will be able to read 2000+ detailed topic wise lesson plans which include MINDMAPS, shortcuts, tips & tricks, and detailed formulas & theories.
They can actually learn to solve 3000+ NDA Exam questions from previous years and 3000+ NDA Exam sample Q&A and will be able to take 4500+ quiz topic wise, with SMART analytics to improve their score in NDA exam. They can easily go for taking 1350+ Q&A in 5 MOCK tests, strictly designed as per latest exam syllabus and difficulty level of the NDA Exam.
The aspirants can take 2700+ Q&A in 10 NDA Test series that will give them real-time experience of the written NDA Examination. They can become proficient with NDA Maths/English/General Sciences/GK/Current Affairs topics and can easily crack NDA exam with greater ease, faster speed and with more accuracy. It will help them in developing new ways to think and improve overall IQ & intelligence. As a result, they can improve their NDA score by 90%.
Let's now talk about subject wise content and how to deal with them in the NDA Written exam.
Geography needs a different approach and you can't simply memorise the content as it is mostly based on cues from geographical as well as political features of world and India. You should be studying the main components such as major geographical features of the world in terms of oceans, mountains, climate, ecosystem, rivers, deserts etc. Indian geography needs a comprehensive study with a clear understanding and deep practice that can come up only with the help of an ATLAS. Please refer an Atlas while studying geography as the visible cues and maps will help you more in the retention of facts and figures and you will be lost in geography without an atlas.
Memorise the Atlas and read it like a storybook as questions are mostly direct in approach but you will have to associate things in order to get the answer of the most of the questions. I used certain techniques while studying geography as one geographical feature can be interlinked with another and on and on and on. For example, if you know the soil pattern of a place then you can easily speculate the rainfall pattern and the type of vegetation or crops in that particular region. Similarly, many other features can be deduced if you will study the maps and related features with fond interest.
Economics of India basically starts from 1947 onwards in NDA and that's why you should be focusing primarily from that time. The major policies, plans, revolutions, organisations, banks etc. should be studied in an in-depth manner. Frequent releases by PIB India and related agencies should be consulted in case of major policy releases or changes. The questions in both of these subjects are basically subjective but fact-based and direct in approach. If you are having trouble in clearing your basics then take the help of SSBCrack topnotch SMEs topic wise as they provide adequate support and information.
For Physics, Chemistry and Biology – the candidates who haven't taken Science will feel a great deal of difficulty level similar to those candidates who haven't taken Arts and Commerce and faces difficulty in Economics, Polity and History. For those who haven't taken those in their higher classes should refer to SSBCrack's quality high-end video lectures & conceptual clarity is guaranteed to the aspirants.
Coming down to Mathematics, it is necessary to know that the level of maths in NDA exam along with English in GAT as it is very moderate. Again, you don't have to focus on solving all the questions in maths but rather your focus should be on solving a considerable number of questions in an accurate manner. Among the 120 questions, even if you are able to solve more than 60-70 questions with a higher accuracy then you are good to go. In English and maths, most of the questions have a direct answer and there is no beating around the bush as either you know the answer or you don't.
In English various types of questions such as Spotting of Errors, Ordering of Sentences in a Paragraph Antonyms, Synonyms, Jumbled Words and Sentences will come to you with ease if you will practice the habit of reading. If you wish to score well in English as it is relatively easier then start practising with SSBCrack Exams for greater accuracy from the beginning. All this while, you should be keeping the negative marking in your mind in all the subjects.
To clear the written exam for NDA is a humongous task and the competition is fierce. Then what should you do to boost your performance in written exams? We all know that this is an excellent time to try new things that technology has brought at your steps such as Online Courses.
Taking NDA Written Online courses will not only give you access to full-length quality lectures but will also provide the facility to take standardized mock tests for comparative study and growth. You can take multiple quizzes after each lesson in order to ensure the full understanding of the subject along with creating your own customized lesson plans. You can check out the course content along with other important specifics at SSBCrack exams. You can also access them through the SSBCrackExams App available in the google play store.
Jai Hind