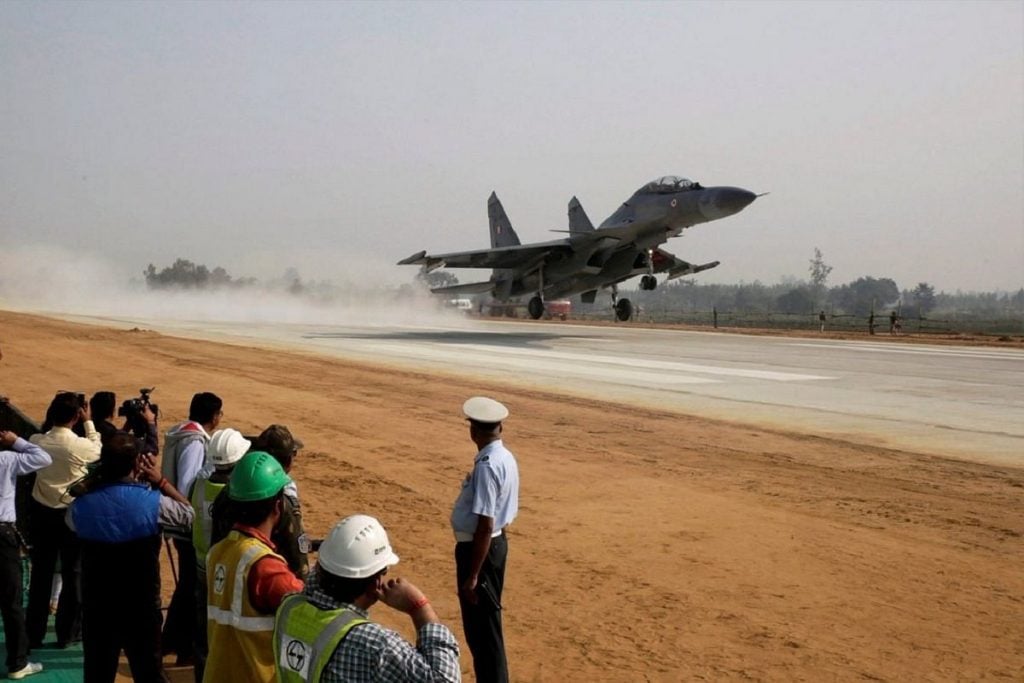 Showcasing the improved quality of road infrastructure in the country, an airstrip has been developed on the national highway in Barmer which will be activated on Wednesday with the landing of defence planes. "Road and Transport Minister Nitin Gadkari would be visiting Barmer along with Defence Minister Rajnath Singh for the activation of the first airstrip that has been developed on a national highway," Transport Ministry officials said.
The road strip prepared for the military aircraft is located in Barmer and the National Highways Authority of India officials have constructed each and every part of the infrastructure in close coordination with Air Force officials, they said.
LATEST: IAF SU30 Mki conducted Mock Drills of Emergency Landing at National Highway of Barmer, Rajastan. pic.twitter.com/oTPAd2hXsh

— SSBCrackExams (@SSBCrackExams) September 8, 2021
The airstrip in the Barmer district would be the first such facility on a national highway. A total of 12 national highways have been identified as emergency landing airstrips that will enable rescue operation teams to reach affected areas easily. The 12 highways that have been cleared are in different states of the country and would enable landing on military planes during any emergency.
Also Read: All Fighter Aircraft Of India – How To Identify Them
The fighter jets that would 'touch-and-go' on the Barmer highway would include Sukhoi-30MKI and Jaguars. Besides, the Hercules C-130J transport aircraft will also attempt to land on the highway
In October 2017, fighter jets and transport planes of the IAF had conducted mock landings on the Lucknow-Agra Expressway to show that such highways can be used by the IAF planes for landing in case of an emergency. The Agra-Lucknow expressway under the Uttar Pradesh government also has such an airstrip where fighter jets have already landed and taken off in military drills.
In a first, two Union ministers — Rajnath Singh and Nitin Gadkari — will board an Indian Air Force plane this week, which will use the national highway in Barmer in Rajasthan to make a mock emergency landing. The ministers will formally inaugurate the 3.5-km-long airstrip, which is the first one on any National Highway (NH) in the country.
Sources said two such airstrips on national highways have been completed in Andhra Pradesh and two more are under development, one each in West Bengal and J&K. Tenders have been floated for four other such trips on national highways.
Originally, 28 national highway stretches were identified for developing them as airstrips for emergency landing by fighter aircrafts. Several countries, including Germany, Sweden, South Korea, Taiwan, Finland, Switzerland and Singapore have dedicated stretches on their highways and expressways for aircraft to land and take off in emergencies.
ALSO READ: