Jai Hind future warriors today we are going to learn about the helicopters possessed by the Indian Navy.
They are:
MH-60 Romeo Seahawks
ALH Dhruv MK-III
HAL Dhruv
HAL Chetak
Sea King
Kamov Ka-25, Kamov Ka-28 and Kamov Ka-31
MH-60 Romeo Seahawks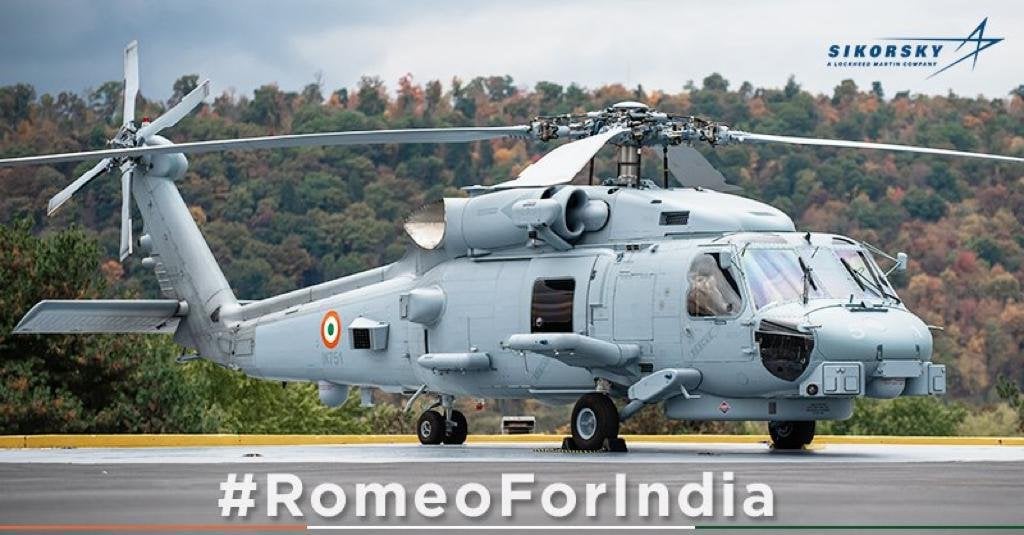 MH-60R helicopters manufactured by Lockheed Martin Corporation is an all-weather helicopter designed to support multiple missions with state of the art avionics and sensors.
India is procuring 24 of these helicopters from the U.S. government under the framework of foreign military sales. Out of which two MH-60R multi-role helicopters from the U.S have been delivered.
Facts about MH-60 R
The MH-60 Romeo Seahawk, made by defence giant Lockheed Martin, is one of the most advanced naval helicopters in the world, used by the US Navy among others.
It is the most capable and mature Anti-Submarine Warfare (ASW) Anti-Surface Warfare (ASuW) multi-mission helicopter available in the world today.
The MH-60 is designed to hunt down submarines and will add to the strategic depth and combat capability of the Indian Navy. It is capable of launching Hellfire missiles from the right and left extended pylons.
It also has an advanced system for passive detection, location, and identification of emitters. It can not only track and hunt ships, but is also used by the US Navy as an anti-submarine weapon.
MH-60 Romeo Seahawks have equipped with anti-submarine Mark 54 torpedoes and Hellfire air-to-surface missiles, along with precision-kill rockets.
The helicopters would also be modified with several India-unique equipment and weapons.
Also Read: Why Induction Of MH-60 ROMEO Helicopter Is A Game Changer For Indian Navy?
ALH Dhruv MKIII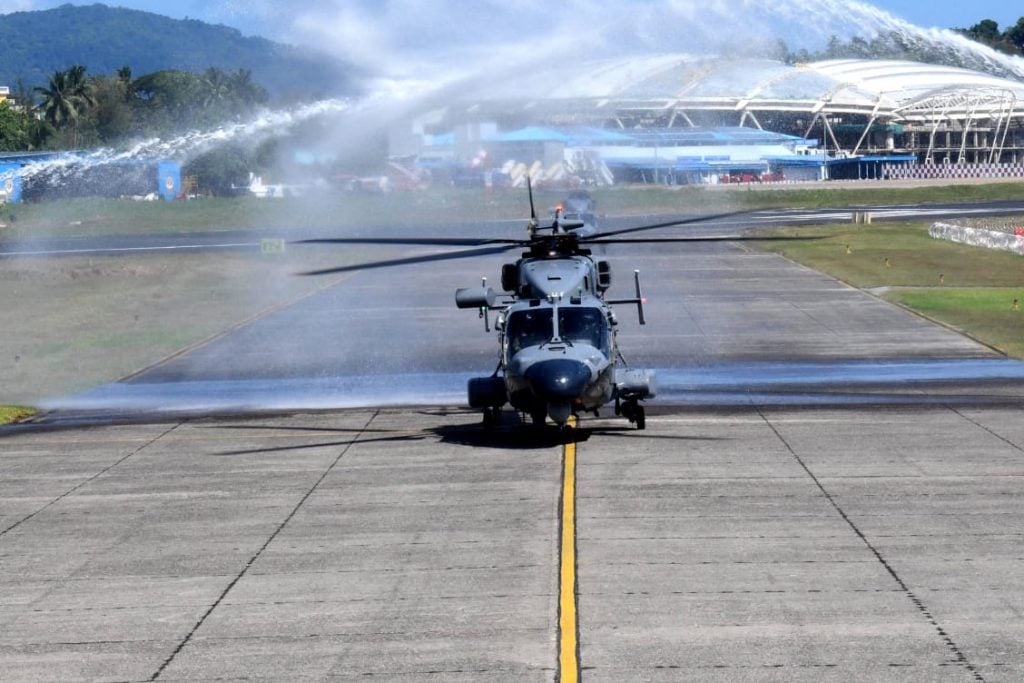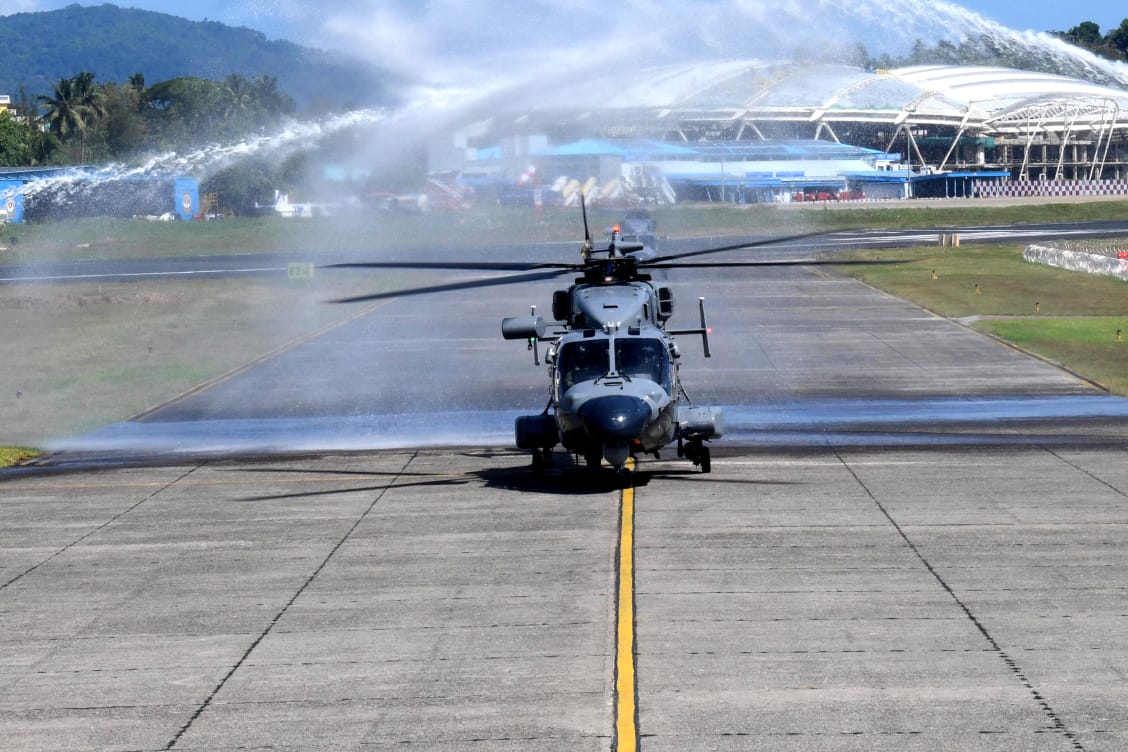 Indian Naval Air Squadron (INAS) 323, the first unit of the indigenously built ALH (Advanced Light Helicopter) Dhruv Mk III aircraft, was commissioned into the Indian Navy, in 2021.
Maritime Reconnaissance and Coastal Security (MRCS) helicopters, the ENC got a major boost towards enhancing the capabilities of the force, in pursuit of the maritime interests of the nation. These helicopters, built by Hindustan Aeronautics Ltd, are state-of-the-art flying machines and constitute a major step in our quest for "Atma Nirbhar Bharat".
ALH MK III helicopters feature an array of systems previously seen only on heavier, multi-role helicopters of the Indian Navy. These helicopters are fitted with modern surveillance radar and electro-optical equipment, which enable them to undertake the role of maritime reconnaissance in addition to providing long-range Search and Rescue, both by day and night.
In addition to special operations capabilities, ALH MK III is also fitted with a heavy machine gun to undertake constabulary missions. A removable Medical Intensive Care Unit (MICU) is also fitted on ALH MK III helicopters to airlift critically ill patients. The helicopter also has a host of advanced avionics, making it truly an all-weather aircraft.
It has a 0.7 mm gun, which will give a huge capability from a LIMO (low intensity maritime operations) standpoint.
The automatic flight control system is hugely superior to the previous one.
The Mk III version of the ALH has an all glass cockpit and will be used for search and rescue, special operations and coastal surveillance.
About HAL and Dhruv:
HAL is an Indian state-owned aerospace and defence company, headquartered in Bangalore, India. It is governed under the management of the Ministry of Defence.
HAL conceptualised the Advanced Light Helicopter programme in 1984. The major variants of Dhruv are classified as Dhruv Mk-I, Mk-II, Mk-III & Mk-IV.
HAL Dhruv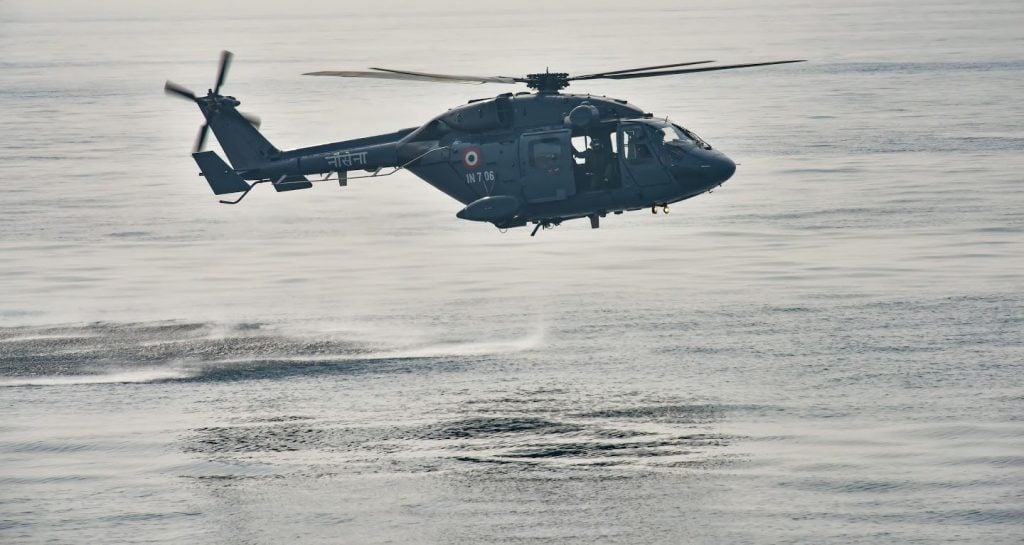 Developed by Hindustan Aeronautics Limited, the Navy received its first Dhruvs on 28 March 2002.
It is expected to receive a total of 120 units to replace the Chetak helicopters in service.
The naval variant is fitted with the Super Vision-2000 maritime radar, capable of detecting targets with low radar cross-section at a range of 200 km (120 mi).
The anti-submarine version of the helicopter is fitted with dunking sonar, torpedoes, depth charges.
The helicopter may also be fitted with the missiles for anti-ship roles.
However, in 2008, the Indian Navy pronounced Dhruv unsuitable for its role as an ASW(Anti-Submarine Warfare) platform.
Indian Navy will continue to procure Dhruv as a multi-role utility platform.
In the Navy, Dhruv helicopters have transformed into an advanced search and rescue (SAR) helicopter also used for missions like heliborne operations, and armed patrol with night vision devices. Such machines in the inventory have become imperative for the Navy given the scenario of low-intensity maritime operations (LIMO) and coastal security construct.
Dhruv's sensors were able to track ships and also read their names at ranges of 12 to 14 km (7.5 to 8.7 mi).
Naval variant of MKIII comes with 19 specific systems suited for maritime role.
HAL Chetak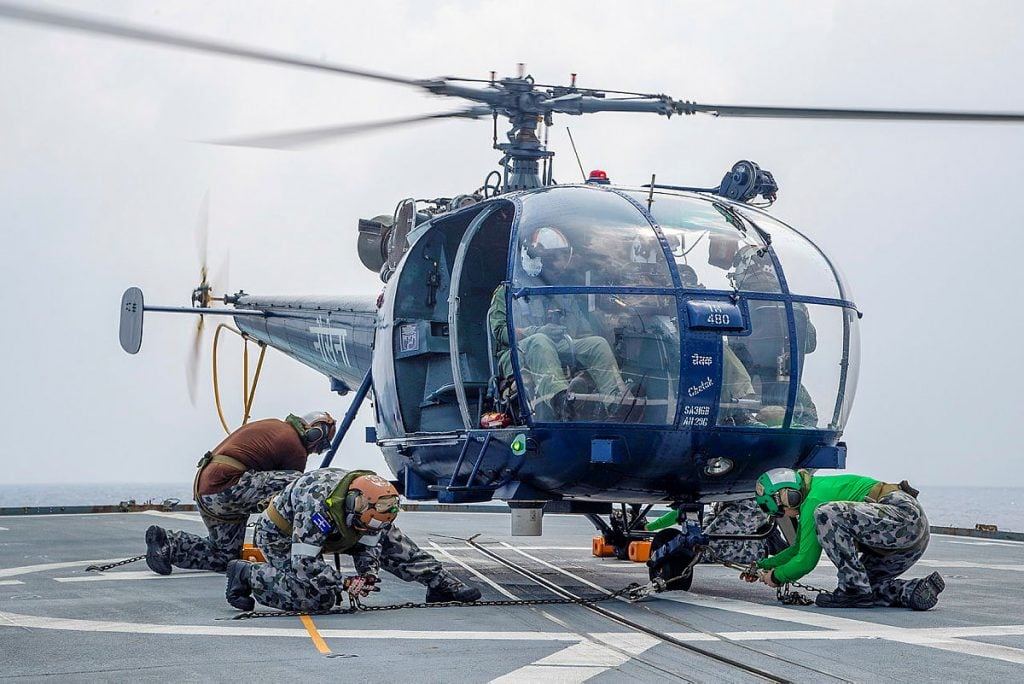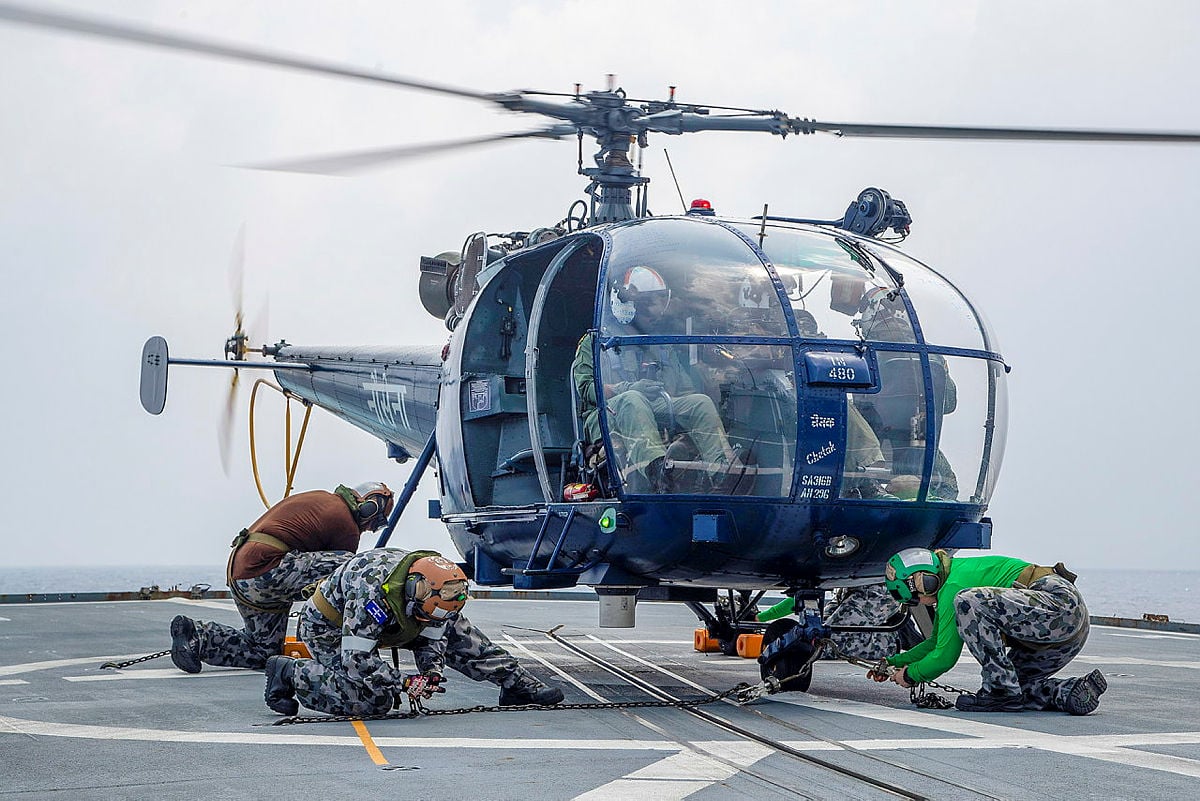 Maximum Speed: 113 knots (210 km/h)
Service Ceiling: 10,500 ft. (3200 metres)
Range: 290 nautical miles (540 km)
Avionics: Some have search radar.
Armament: ASW; Two Whitehead A244S torpedoes.
Role: Several helicopter roles are performed including embarked carrier-based search & rescue, utility & support to commando forces and more recently in ELINT (Electronic Intelligence) / ESM (Electronic Support Measures) roles.
Self Defence: A media report, dated 05 May 2007, stated that 15 KITE Electronic Support Measures (ESM) systems were fitted aboard the HAL Chetak and Kamov helicopters. Also, an additional 47 KITE systems are on order and in various stages of production & integration. The KITE ESM system is an indigenous development by the Defence Electronics Research Laboratory (DLRL).
HAL has been producing the Chetak Helicopters for last five decades under license from Eurocopter, France (now Airbus Helicopters) and the first Chetak helicopter to the Indian Navy was delivered way back in February 1966. These helicopters are used by the Indian Navy for communication duties (passenger transport), cargo/ material transport, casualty evacuation, search-and-rescue, aerial survey and patrolling, emergency medical services, electronic news gathering, anti-hijacking, offshore operations and under-slung operations.
HAL has so far produced more than 350 Chetak helicopters and delivered around 80 to the Indian Navy. Presently, 51 helicopters are flying with the Indian Navy and the serviceability has always remained high. HAL is supporting the Indian Navy for periodical servicing of these helicopters, clearance of spares, deputation of teams for defect rectification and any other requirement for maintainability of these helicopters.
Kamov Ka-25, Kamov Ka-28, and the Kamov Ka-31: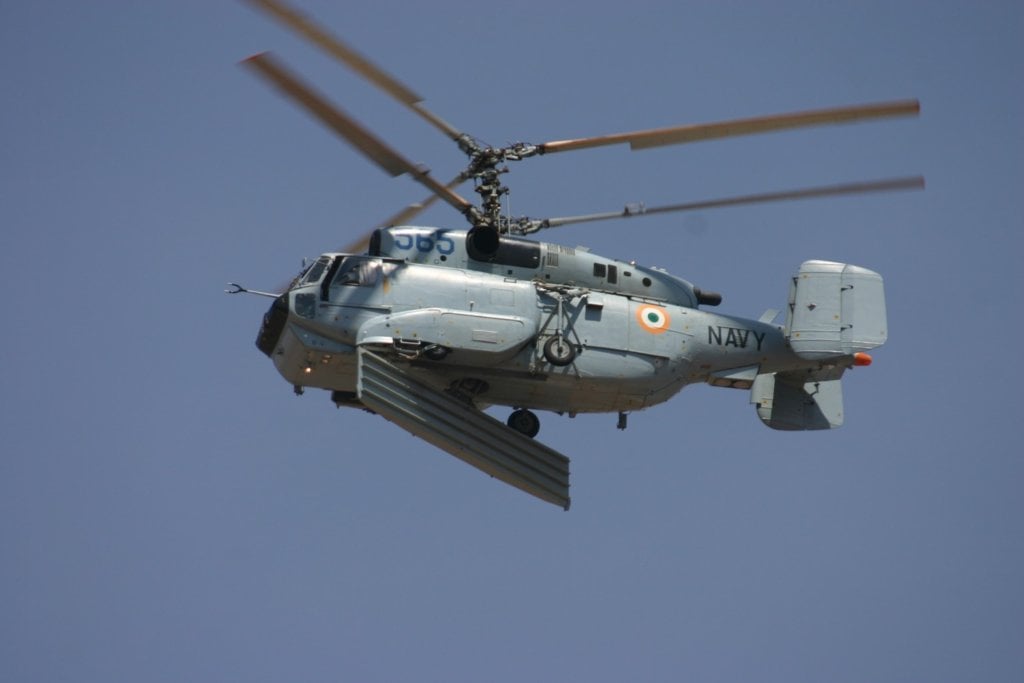 The Ka-25 was acquired by the Indian Navy in 1980 for anti-submarine warfare, but had severe technological limitations.
The Ka-28s were acquired in the mid-80s and were said to be a quantum leap over their predecessors from an ASW standpoint.
The Ka-31 takes the Kamov capabilities even further by enabling real-time network-centric warfare for the Indian Navy.
Performance of the latest version(Ka-31)
Maximum speed: 250 km/h (160 mph, 130 kn)
Cruise speed: 205 km/h (127 mph, 111 kn)
Range: 600 km (370 mi, 320 nmi) max. fuel with radar antenna stowed
Endurance: 2 hours 30 minutes on-station loiter at 3,500 m (11,483 ft)
The radar of the Ka-31 airborne early warning helicopter has a 360-degree coverage and can spot aircraft-size target from 150 km range. Surface ships are spotted from 100–200 km range. Radar can track 30–40 targets simultaneously. The helicopter has a datalink to transfer target tracking data to the command post (land base or mother ship). The Ka-31 is fitted with GPS and digital terrain mapping systems.
Ka-31 is the large antenna of the early-warning radar, which is either rotating or folded and stowed under the fuselage. The second is the reduction of the bulky electro-optical sensory suite beneath the cockpit. The landing gear retracts in order to prevent interference with the radar.
Westland Sea King and the Sikorsky SH-3 Sea King: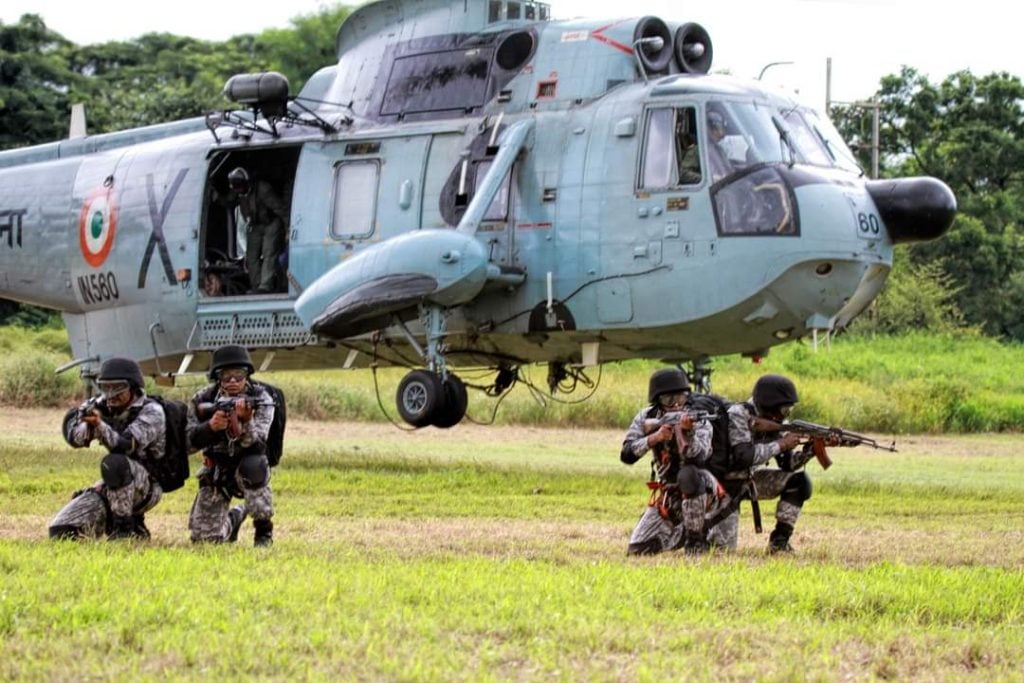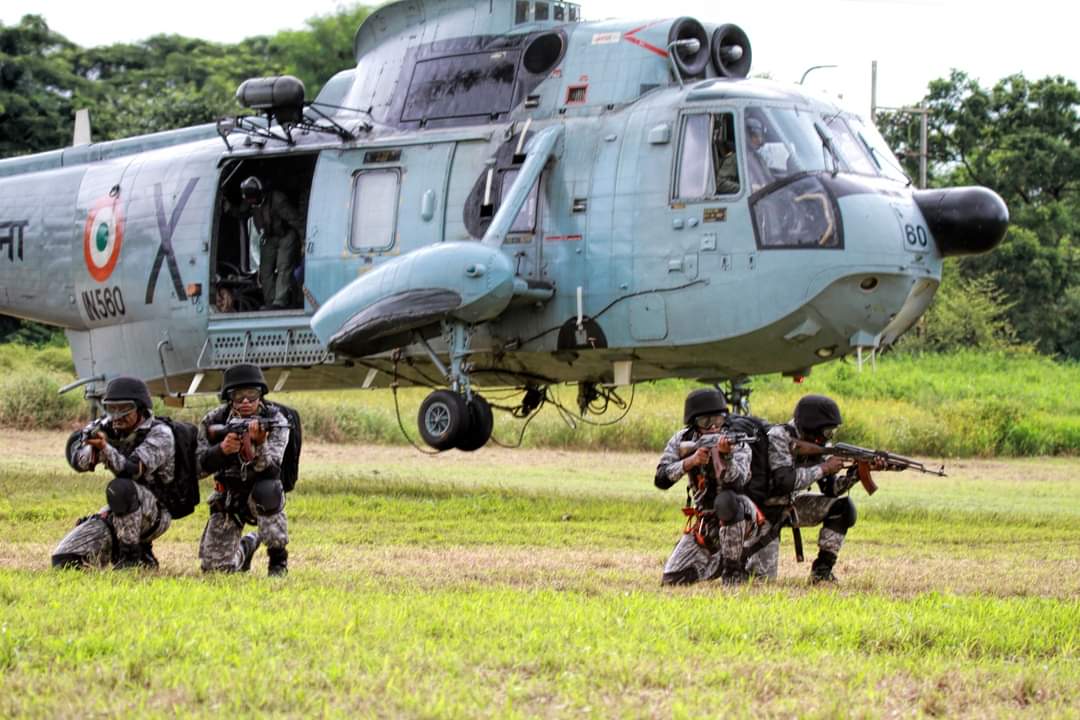 The Sea King can climb at the rate of 10.3m/s. The maximum speed is 208km/h. The range and service ceiling of the helicopter are 1,230km and 3,050m respectively. The aircraft weighs around 6,387kg and its maximum take-off weight is 9,707kg.
The helicopter can carry four torpedoes, either ATK (formerly Alliant Techsystems) mk46, Whitehead A244S or BAE Systems Stingray torpedoes. It can also be armed with four mk11 depth charges.
The helicopter can carry two anti-ship missiles, either Sea Eagle or Exocet. Sea Eagle from MBDA (formerly Matra BAe Dynamics, UK) is an all-weather, fire-and-forget, sea-skimming anti-ship missile, with a range of 100km. Guidance is by inertial navigation system with active radar homing.
Features:
Two turboshaft engines
Anti-Submarine Warfare
Search and Rescue
Airborne Surveillance and Rescue Control
Tactical Troop Transport and Logistic Transport
Conclusion
Hope this post was informative for you. For more such posts related to defence exams and SSB Interview stay tuned.
To crack the SSB Interview, You can join our SSB interview live classes batch and we recommend you to Enroll SSB INTERVIEW ONLINE COURSE. Trusted by thousands of defence aspirants.
Also Read: