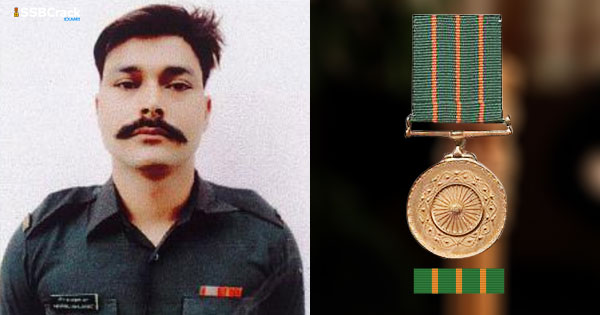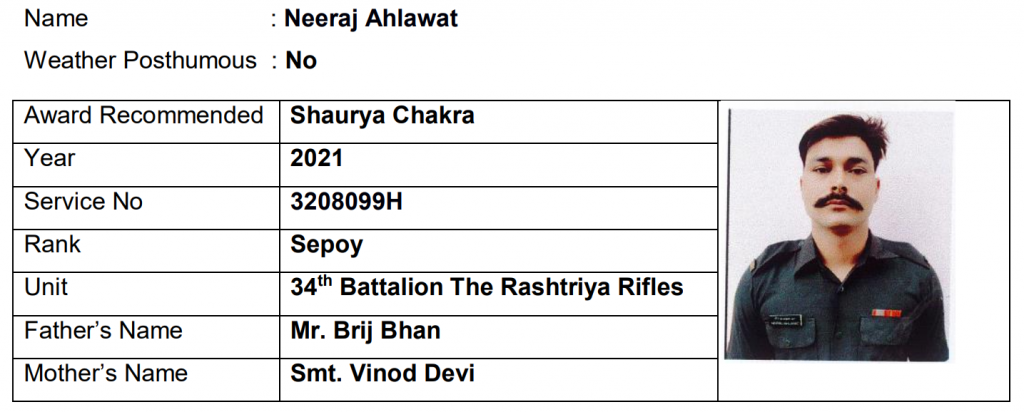 On 20 Jun 2020 Sepoy Neeraj Ahlawat was part of the initial cordon during an Operation in Jammu and Kashmir, in which one hardcore Pakistani terrorist was eliminated.

At approximately 1650 hours, a keen and alert Sepoy Neeraj observed terrorists firing indiscriminately towards the inner cordon in a bid to escape, taking cover behind civilians, using them as human shields. Exercising extreme restraint and displaying composure in the face of a rapidly escalating situation, Sepoy Neeraj waited for an
opportune moment and fired accurately on the fleeing terrorists. One of the terrorists was eliminated on the spot.
The second terrorist opened heavy fire towards Sepoy Neeraj at close range. Despite grave danger, Sepoy Neeraj showed indomitable courage to hold onto his position and continued engaging the second terrorist, injuring him and damaging his sophisticated M-4 Assault Rifle, which he was compelled to abandon. The gallant actions of Sepoy Neeraj led to elimination of a Pakistani terrorist. For displaying exceptional gallantry beyond call of duty and nerves of steel, Sepoy Neeraj Ahlawat is recommended for the award of "SHAURYA CHAKRA".
ALSO READ: