PIQ stands for Personal Information Questionnaire. PIQ is a paper or set of basic questions written which is a very important paper required during your SSB. It contains certain standards of questions which are very helpful for evaluators to judge you and find qualities of you in the whole SSB testing.
What does a PIQ form contain?
The questions related to
Place of residence
Demographic details
Details of your family members
Educational Details
Age, height & weight
Activities like NCC & Sports or Games played with Position Held if any
Participation in Extra-circular activities – Interests & Hobbies
Details of your previous SSB Attempts
Importance of PIQ in SSB Interview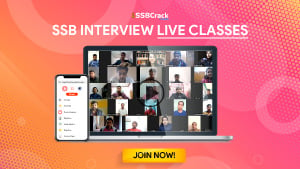 20 Sure Shot questions from PIQ
Where are you coming from and what stations had come in between?
Tell me about the city you are coming from?
Tell me the meaning of your name?
Who all are in your family, to whom you are closest, and why?
5 good points and 5 bad points about your city?
Why is there a fall in your marks?
Why didn't you join NDA if you were so motivated to join the forces?
Why didn't you join as a soldier if you were so motivated to join the forces?
If you have completed your graduation, why aren't you doing any job?
Why did you choose BSc/BCA over BTech?
Do you have any girlfriend/boyfriend?
How do you spend your pocket money?
In what sports you have participated and what was your position in them?
Why do you want to join the army?
Why didn't you join the NCC in your graduation?
How do you spend your free time?
What responsibilities you have shouldered in your life?
How will you be useful to this organization?
Why did you have a drop year?
In what ways you have helped your family members?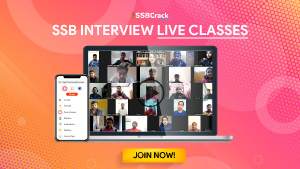 Questions related to your previous SSB
Why didn't you get through in your first attempt?
What were the reasons you were co/so in your last attempt?
What was the batch number of your last SSB?
Tell me about your previous SSB attempts?
Some extra Important Questions
How many best friends do you have? Why?
Which is the quality of your best friend you like the most? Which is one thing that you dislike about your friend?
Whom do you tell your secrets to? Friends, Parents, or Sister/Brother?
Who is your role model?
Tell me about your daily routine.
Tell me about your routine at the weekend.
Who is your favorite teacher and why?
Tell me the most mischievous thing that you have done.
How did you prepare for SSB?
What if you got rejected this time?
What are you afraid of?
Tell me the most embarrassing situation.
What are your future plans?
Where do you think you lacked in previous SSB attempts?
Rate your performance in all the tasks (GTO & Psych).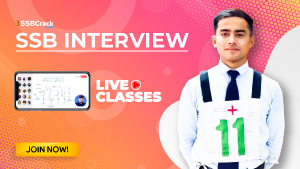 Some tips to tackle these types of questions.
See, most of the information which is coming out from these questions will be static. That is you can prepare the answers to these questions before going to the SSB. But you have to be genuine while answering them.
Always be assured of what you are speaking.
Only answer what has been asked. Don't say anything extra unnecessarily.
Provide limited reply to avoid confusion in sequence and answering.
Make a mind map of questions and follow it.
I hope this article will help you with your future SSBs. If you are preparing for SSB and other defence exams, SSBCrackExams is providing a number of courses and study materials. Enroll today and boost up your preparation
To crack the SSB interview, You can join our SSB interview live classes batch and we recommend you to Enroll SSB INTERVIEW ONLINE COURSE. Trusted by thousands of defence aspirants.
Also Read: