As they say, 'first impression is the last impression', body language is the first impression that is noticed by the assessor during the SSB interview. Your body language shapes who you are. It is a way to say about your personality without saying anything. Being a defence aspirant, you might have noticed that defence officers have dexterous and unique personalities, if you want to be like that you should act like that and consider all the points given below that will help you to improve your personality and boost your confidence at SSB.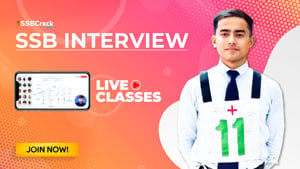 9 Ways To Gain Confidence For SSB Interview
Consider your Actions – Your body language might be considered even before you meet the assessor. So, act like an officer not only during the SSB but also in your life. Act like a mature person and think about your actions during SSB for sure because you never know who may be watching you. During the SSB tasks if you do any mistake admit that, and do not think that nobody is watching your actions. You are under observation even when you do not know, so take care of that.
Consider your Entrance – During your personal interview, take care of your entrance. Do not be jittery or slouched, enter with a light smile. Take some deep breaths and sit in a comfortable, upright position to convey calmness and confidence. A pleasant handshake with the assessor is suggested with a normal grip but only if offered by the assessor himself. Make eye contact with him, control your hands and feet, and wear a light smile to reflect your positive personality but do not over-smile or laugh when it is not required.
Speak eloquently – The way you communicate during SSB matters a lot and can be observed from a distance because the human body do gestures and make expressions depending upon the way he communicates. Whenever you speak, always speak for the effect and to make an impact on the minds of people. Always speak clearly with articulation. Your confidence and personality should be reflected in your way of talking during the SSB.
Don't Slouch, be straight – be cool but not cold, whenever you are asked to perform an action, do not slouch, stiff or under extreme pressure. Be cool and active as you are during your normal life. But there is a thin line between confident and overconfident, do not do anything beyond limits. Be confident carrying a slight general attitude but keeping in mind the purpose of SSB. Be calm and cool like a mature person, but do not be cold. If anything is not going the way it is supposed to be or your team is not responding or any other issue is there, be confident to ask and talk to them in a suitable manner, and do not overlook the situations.
Posture – Walk smartly, talk smartly and stand smartly. Never stand putting your weight on a single leg or so. Stand straight, your posture should be upright and active. To ensure this do practise it or do physical exercises to maintain your posture before going to SSB.
Be mature outside and cheerful inside – During the SSB, you will undergo many situations that will be stressful for you. The best way during these 5 days is to be mature during the tasks, when you do something do it with your full zeal and concentration but do not put yourself under extreme pressure and dilemma for 5 long days. Be lively and enjoy the little moments with your fellow candidates during free hours or after the completion of the tasks in a suitable way.
Do not overthink – Whenever you are heading towards the testing area or even before that do not overthink about that as it will add extra stress to your mind which will be observed by the assessors through your body language easily. So, prepare for the tasks well before SSB but once you are there do not overthink about it jut thinks that it is a personality test thinking will do no wonders, whatever you have practised in your life and whichever qualities you have inculcated in your personality will automatically come into play once you reflect your original self without overloaded stress because we might speak and do wrong things when we are undergoing extreme stress that is created by us only through overthinking, believe in yourselves – just take a deep breath and go for it.
Be ordinary yet extraordinary – Indian armed forces are not looking for extraordinary people but they want ordinary people who can do extraordinary things. Do not try to do something extraordinary during SSB that may lead to any miss- happening. You know yourself better than anyone else, know your limits and take only calculative risks in which you know you can succeed.
Keep exploring – SSB is all about personality, how lively, cheerful and happy you are even under stressful conditions. Do not study or think about the tasks all the time. You should go explore the campus, what are the tourist attractions of the city in which your SSB centre is, what all resources are present in the centre etc during your free time. This shows your inquiring and curious behaviour, questions can be asked out of this too. It can be asked to check your observational skills.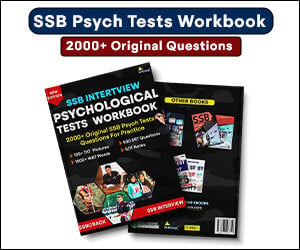 All these points mentioned above are very important as they directly impact your selection even without doing anything directly. If you will consider all these points before going to SSB you will surely make an impact not only in the eyes of the assessors but also you will leave an impact on the minds of your teammates which will again help you to show your group's influencing power. If you influence your group, they will always listen to what you speak and it will be highly beneficial for you. I hope this article was helpful for you and it will surely help you to achieve what you are aspiring for.
You can prepare for defence entrance exams such as NDA, AFCAT, INET, and CDS by taking Written Online courses as they will not only give you access to full-length quality lectures but will also provide the facility to take standardized mock tests for better study and strategic growth in the exam. You can take multiple quizzes after each lesson to ensure a full understanding of the subject along with creating your customized lesson plans. You can check out the course content along with other important specifics at SSBCrackExams.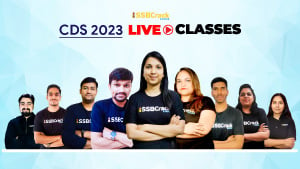 To crack the SSB Interview and join the Indian Army as an Officer, You can join our SSB interview live classes batch and we recommend you to Enroll SSB INTERVIEW ONLINE COURSE. Trusted by thousands of defence aspirants.
Also Read: