Hello Warriors, In this article, we are going to talk about The Territorial Army Service Benefits and cover all the incentives and service benefits. The Territorial Army amalgamates the best of skills gained in civil life with the professionalism, dedication, and discipline of military life. TA also provides a unique opportunity to tap the best of talent from society and use their services for the Nation. Presently the Territorial Army has a strength of approx fifty thousand personnel comprising 65 Departmental and Non Departmental units, having footprint through the length and breadth of the country.
Also Check: Territorial Army 2022 Notification And Exam Date – Territorial Army Recruitment For Civilians
INCENTIVES AND SERVICE BENEFITS
Following incentives and service benefits are available to Territorial Army:-
Promotion to higher ranks as per authorization.
Free rations, CSD facilities and medical facilities to self and dependents when embodied for training, military service or on Permanent Staff.
Facilities of leave, leave encashment, accommodation and leave travel concessions when embodied for training, military service or on Permanent Staff.
Entitlement to all medals and awards as applicable to the Regular Army.
Rank Pay as applicable to Regular Army.
DA as applicable during service embodiment.
Special increments on completion of 3 to 5 Annual Training Camps.
Entitlement of pension for officers with 20 years and JCOs and Other Ranks with 15 years aggregate embodied service (actual physical service).
Facilities of Army Welfare Housing Organisation after 10 years of embodied/ physical service.
Terminal gratuity at the time of discharge/ retirement (other than civil Govt employees).
Ex-servicemen status and free medical facilities to pensioners.
Certain State Govts and Departments give the following incentives to TA personnel:-
Cash awards varying from Rs 2500/- to Rs 5000/- by State Govts on award of TA Decoration/ TA Medal. • Mufti allowance and lump sum daily allowance by departments like ONGC and IOC.
SERVICE EMBODIMENT
All personnel of Infantry and Departmental TA will be called out for service embodiment by the Central Government or the authority empowered by it to do so, on the eve of National Emergency or for Internal Security duties and training exercises. Failure to report for service on such occasion is punishable under the Territorial Army Act 1948.
Territorial Army personnel are entitled to the following benefits from the Defence Estimates during embodiment for training and service embodiment:-
Pay and allowances and Service Benefits – When embodied as applicable to Regular Army.
A camp allowance is given per day when attending camps or courses of instruction (For Officers).
Increment On completion of 365 days of physical service.
Bounty Rs 450/- to Officers of infantry units, on completion of minimum 80% of annual training camp every year.
TA Group Insurance benefits to personnel of non-departmental TA units.
Terminal gratuity: After completing 5 years of physical service or 10 years of total service.
Pension: On completion of 20 years of physical service to officers and 15 years to JCOs/OR other than civil Govt. employees.
Family/disability Pension is also admissible as applicable to Regular Army.
Leave as admissible to Regular Army personnel during an embodiment of service and appointment on permanent instructional staff.
Accumulation and encashment of leave accrued during the above period, as per terms and conditions laid down from time to time.
Ex-servicemen status to pensioners and disability pension holders and Gallantry award winners.
Free Medical treatment to self and dependants in respect of all pension holders.
Outfit allowance: @Rs 6000/- at the time of commissioning and after every 7 years of physical service or 10 years of commissioned service to officers.
Medals and Awards as applicable to Regular Army. In addition, TA officers are entitled to TA Decoration on completion of 20 years.
Now it must be clear, so if you are preparing for the TA do check the given link: Territorial Army Full Online Course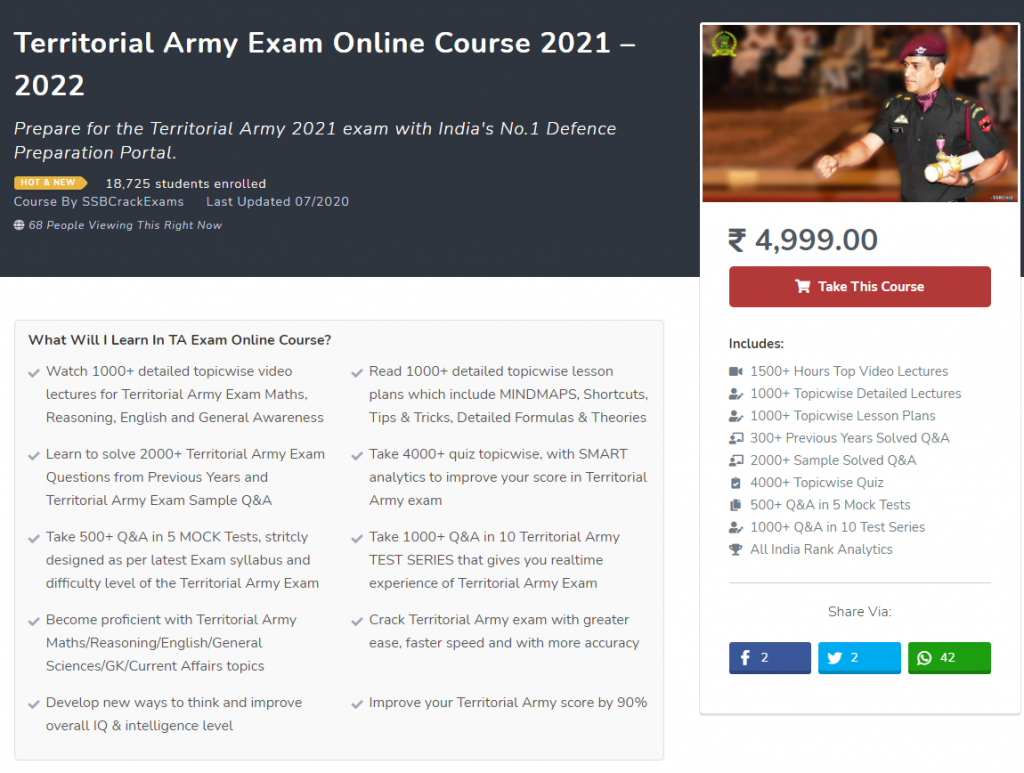 ALSO READ: