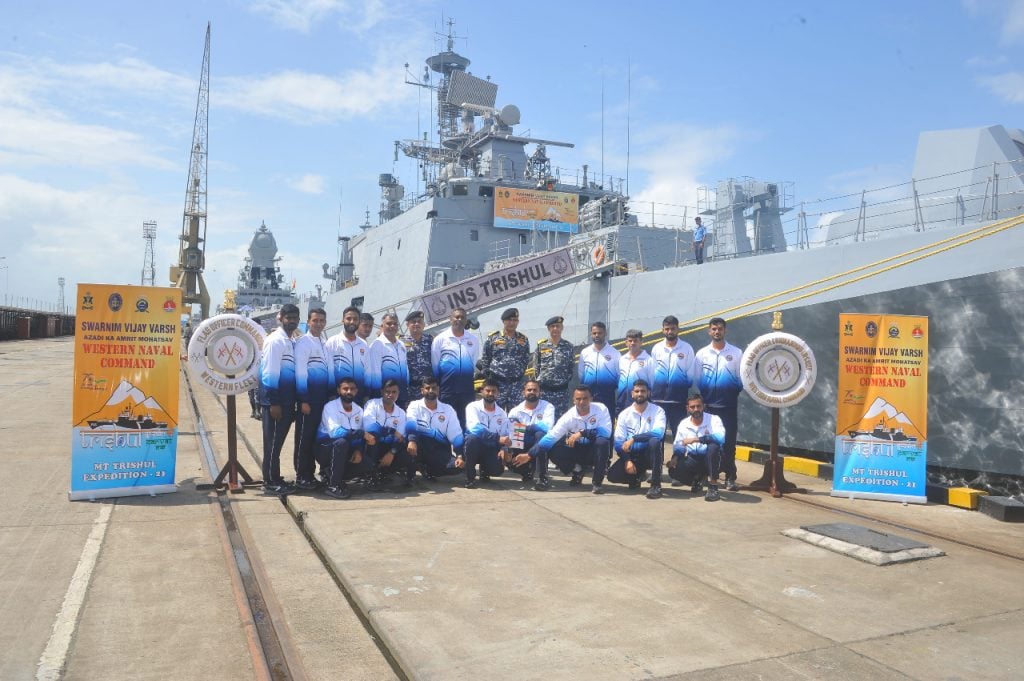 A mountaineering expedition to Mount Trishul-I (height 7120 m, located in Uttarakhand) was flagged off by VAdm R Hari Kumar,  Flag Officer Commanding-in-Chief, Western Naval Command on 03 Sep 21 from Indian Naval Ship Trishul. The Admiral handed over a ceremonial Ice Axe to the team leader and wished the team a successful summitting of Mount Trishul-I peak.
Must Read: First Indian Army Officer To Climb Mount Everest Without Artificial Oxygen
The event is being conducted as part of 'Swarnim Vijay Varsh' celebrations to commemorate 50 years of the victory in the 1971 war. The theme of the expedition is "Trishul Yudhpoat Se Trishul Parvat Tak". The expedition is being led by Cdr Vishnu Prasad and has19 other members drawn from various units of the Indian Navy. The team assembled at Mumbai on 15 Aug 2021 and underwent physical fitness sessions, endurance training, and trekking practice at Bhimashankar to hone its physical condition and technical skills.
The team will proceed to Delhi, and from there to Sutol (Chamoli, Uttarakhand), the nearest road head, and will commence trek to the Base Camp on 14 Sep 21 after acclimatization and logistics preparation.
All About Mount Trishul:
Trisul is a group of three Himalayan mountain peaks of western Kumaun, with the highest (Trisul I) reaching 7120m. The three peaks resemble a trident – in Hindi/Sanskrit, Trishula, trident, is the weapon of Shiva. The Trishul group forms the southwest corner of the ring of peaks enclosing the Nanda Devi Sanctuary, about 15 kilometers (9 mi) west-southwest of Nanda Devi itself. The main peak, Trisul I, was the first peak over 7,000 m (22,970 ft) to have ever been climbed, in 1907.
The three peaks are named Trisul I, Trisul II, and Trisul III. The massif is a north-south ridge, with Trisul I at the north end and Trisul III at the south. The massif runs roughly North-South, and hence appears compressed when viewed from the south (Ranikhet, Kausani), and more stretched out from the Southeast (Chamoli, Bedini Bugyal).
ALSO READ: