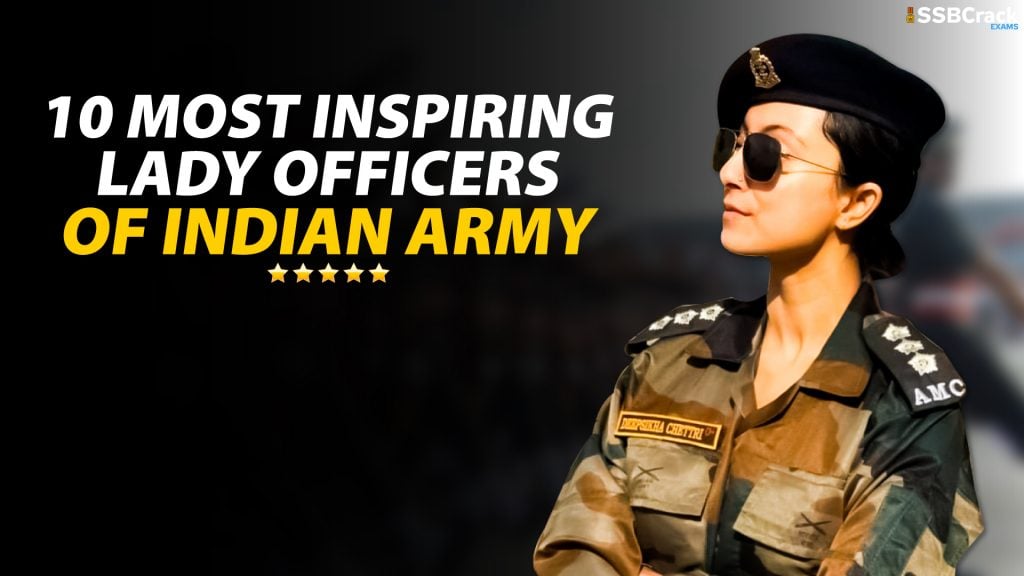 Hello Future Warriors, picking just 10 names out of a huge pool of lady officers who inspire us was really an arduous task. As girls are now allowed to write the UPSC NDA Exam and very soon to join the National Defence Academy this article will inspire young girls of how high standards their predecessors have set and they need to follow in their footmarks and further raise the bar. Starting on the article we have two officers who were also amongst the first batch of women cadets to enter an officers' training academy :
1. Maj Priya Jhingan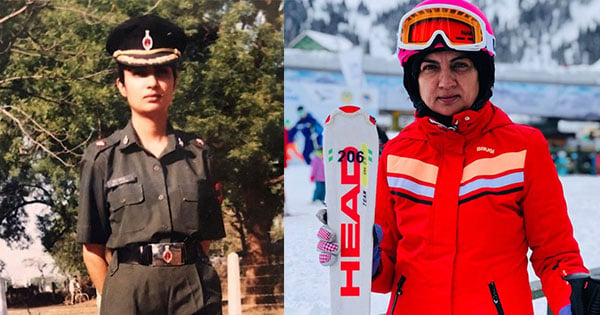 A police officer's daughter she always believed that donning the uniform and serving the country was far more rewarding than a fat salary. As women were not recruited for the posts of a commissioned officer at the time she wrote a letter directly to the Chief of Army Staff for allowing the same. Cadet number 001 at the OTA, Priya served for ten years in the army in the post of JAG and always came up strong for any of her cases. She inspires society to be gutsy for their demands and serve the nation. Read More: Meet Major Priya Jhingan, The First Lady Cadet To Join The Indian Army
2. Maj Anjana Bhaduria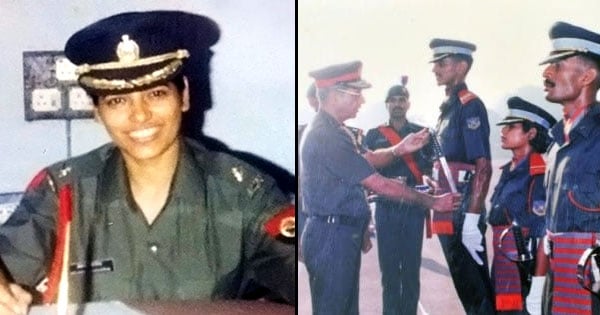 Batchmate of Maj Priya Jhingan of WSES-1 course at OTA she was the first female officer in the Indian Army to win the gold medal. Her brother was hesitant to allow her to go for training in Chennai but her determination threw all the obstacles away. She was instrumental in improving the training of woman cadets at OTA with her inputs. Read More: Meet Lt Col Anjana Bhaduria First Lady Cadet To Win Gold Medal At OTA Chennai
3. Lt Col Mitali Madhumita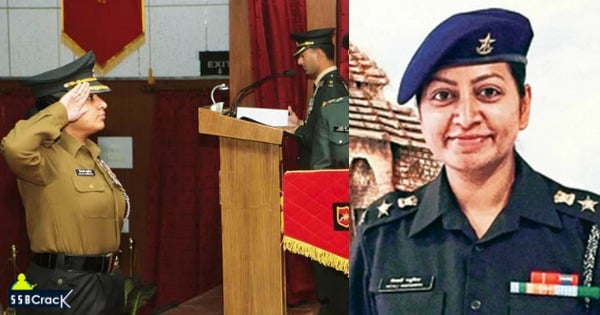 India's first female officer to receive the Sena Medal for gallantry, Madhumita, who was leading the Army's English Language Training Team in Kabul, was the first officer to reach the Indian Embassy in Kabul that came under attack by suicide bombers in February 2010. True to the motto of the Indian Army "Service Before Self", though unarmed, she ran close to 2 km to reach the spot, personally extricated nearly 19 Officers of the Army training team who were buried beneath the rubble and rushed them to hospital. Read More: Lt Col. Mitali Madhumita, The Only Woman Army Officer To Win A Gallantry Award
4. Captain Divya Ajith Kumar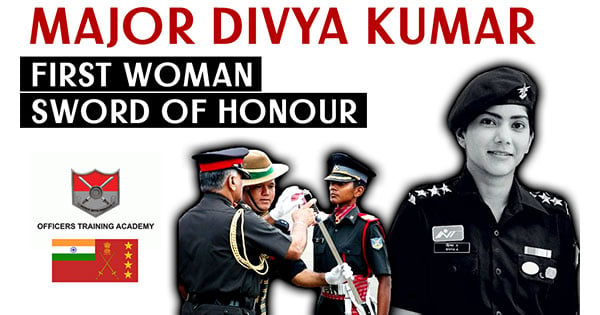 A young lady of 21 years receiving the "Sword Of Honour" and the Best All-Round Cadet Award in a combined course of men and women was something unforeseen or unimaginable but for one Divya. She outshone her batchmates in every test including cross country, swimming, field training, service subjects, drill tests etc. Along with creating history here, she led an all-women contingent of 154 women officers during Republic Day in 2015. Speaking of records this officer just loved being the best. Read More: Meet Major Divya Ajith Kumar – First Woman To Receive Sword Of Honour In The History Of The Indian Army
5. Captain Ruchi Sharma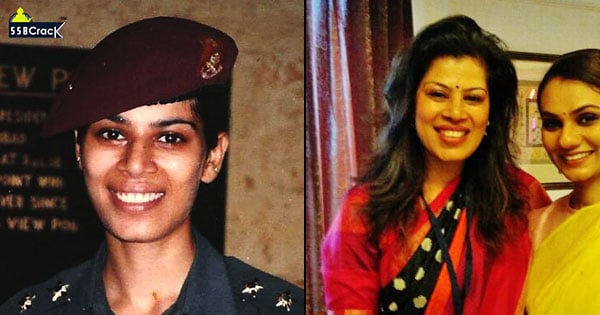 Commissioned in 1996 in the Army Ordinance Course after completion of training at OTA, Chennai the same institution her father received his training from, she created the history by qualifying as the first woman paratrooper, a dream every defence aspirant sees. The challenges of becoming an operational paratrooper are many which include running 40 km with a load of 10 kg on back during training. But an indomitable spirit like her is ready for any challenge !. And her maroon beret, something which every child, teenager dreams of on his head, will motivate everyone to achieve their dreams no matter what the obstacles are. Read More: Meet Captain Ruchi Sharma, The First Operational Woman Paratrooper Of Indian Army
6. Captain Tanya Shergill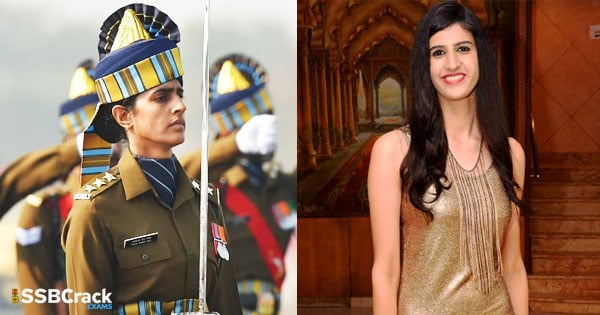 An engineer by education, a fourth-generation officer, Capt Shergill became the first lady officer to lead the whole parade on Army Day and then became the first female commander to lead a contingent as she lead the Corps of Signals(her parent regiment) on Rajpath during Republic Day Parade. Her command and confidence raised praise from all parts of society and inspired young girls to dream big. Rea More: 50 Inspiring Indian Armed Forces Women Role Models Of Empowerment
7. Captain Preeti Chaudhary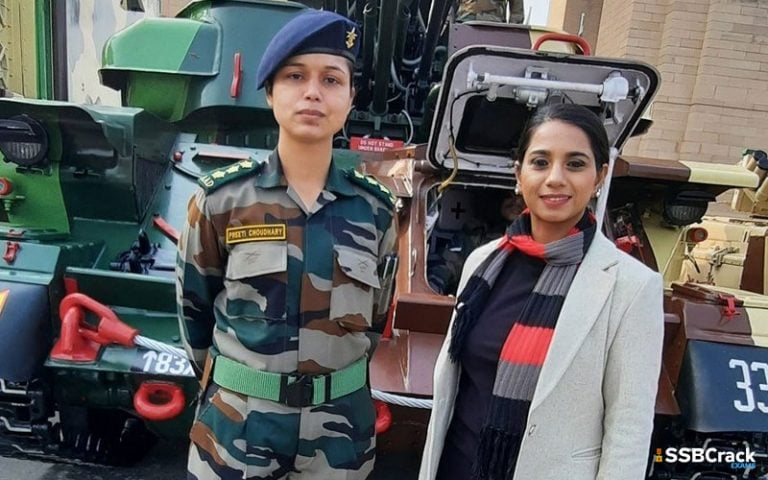 A Sword Of Honour Winner at OTA, Chennai she walked twice on Rajpath during Republic Day Parade, once while she was a part of NCC Contingent and other being the only lady commander in 72nd Republic Day Parade as she led the Army Air Defence regiment's Schilka air defence gun contingent. In an interview, she humbly stated that it was because of her regiment that she stood there not because of her gender and thanked the weapon system for providing her with this unique opportunity. Read More: Meet Captain Preeti Choudhary Only Woman Contingent Commander From The Indian Army Republic Day 2021
8. Major K Renuka
If there are two things/fields where girls are underestimated are the forces and bikes, but Maj Renuka of ASC became both an Army Officer and now has become the first woman biker from the Indian Army to scale 18,176 feet Karakoram Pass. Just days before this expedition she underwent a surgical emergency and doctors strictly advised her a week-long bed rest after a laparoscopic surgery but true to the ideals of the Indian Army with determination she rode the bike four times her weight and created the record. Read More: Inspiring Women In Indian Armed Forces
9. Captain Shereya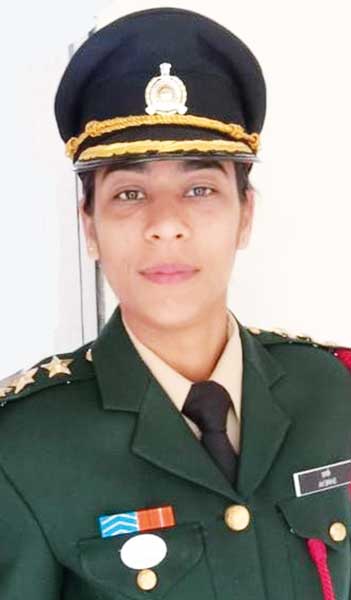 Officer in the ASC her achievements include Haryana Olympic Games 2009-10 – Silver (Individual), Haryana Olympic Games 2010-11 – Silver & Bronze (Individual), Haryana Olympic Games 2011-12 – Gold (Individual) & Gold (Team), Haryana Olympic Games 2012-13 – Gold (Individual) & Gold (Team), Haryana State Fencing Championship 2014- Gold (Individual) & Gold (Team) and many others. This long haul of medals surely goes a long way as they will motivate young girls to seek their dreams in the platform provided by the forces. Read More: Inspiring Women In Indian Armed Forces
10. Maj Raj Chaudhary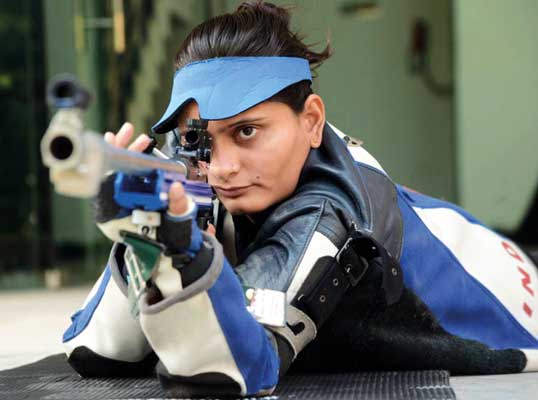 Commissioned in 2008 in 19 Engineer Regiment, selected for shooting from OTA, Gaya. She also joined the elite Army Marksmanship Unit in 2009 to improve her rifle shooting skills and was ranked fourth worldwide in 2010 in the World Military Games in Brazil. She has 28 national medals and three international medals in the field, having participated in the World Military Games, World championship, Asian games, World cups and National games since 2010. Read More: Inspiring Women In Indian Armed Forces
Conclusion:
There are numerous examples of women-in-uniform who have raised the bar continuously and with recent schemes to induct more girls into the forces it would always raise the morale.
Jai Hind