On 26th Oct 2021 Indian Army's official website has published the cutoff marks for TGC 134 Technical Graduate Course – 134 Cut Off Marks. Engineering Defence aspirants who have applied for TGC 134 can check the cut off for their respective branches. Only candidates who have cleared the TGC 134 cut off will be called for the TGC 134 SSB Interview. TGC 134 Vacancies and Cut off – Technical Graduate Course 2022. Applications are invited from unmarried Male Engineering Graduates for 134th Technical Graduates Course (commencing in Jan 2022 at Indian Military Academy (IMA), Dehradun) for permanent commission in the Indian Army.
TGC 133 Cut Off Marks
As always, Mechanical has the highest cut off marks i.e. 85%
Lowest cut off for many branches is 60%
Total notified TGC 134 vacancies are 40.
TGC-134 (JAN 2022) COURSE : CUT OFF PERCENTAGE FOR SSB SHORTLISTING (UPTO FINAL SEM/YEAR CUMULATIVE FOR PASSED CANDIDATE AND UPTO 8TH SEM CUMULATIVE FOR ARCHITECTURE/ UPTO 6TH SEM CUMULATIVE FOR ENGG DEGREE COURSE/ 2ND SEM CUMULATIVE FOR M.Sc IN NOTIFIED STREAM FOR FINAL YEAR/SEM APPEARING CANDIDATE)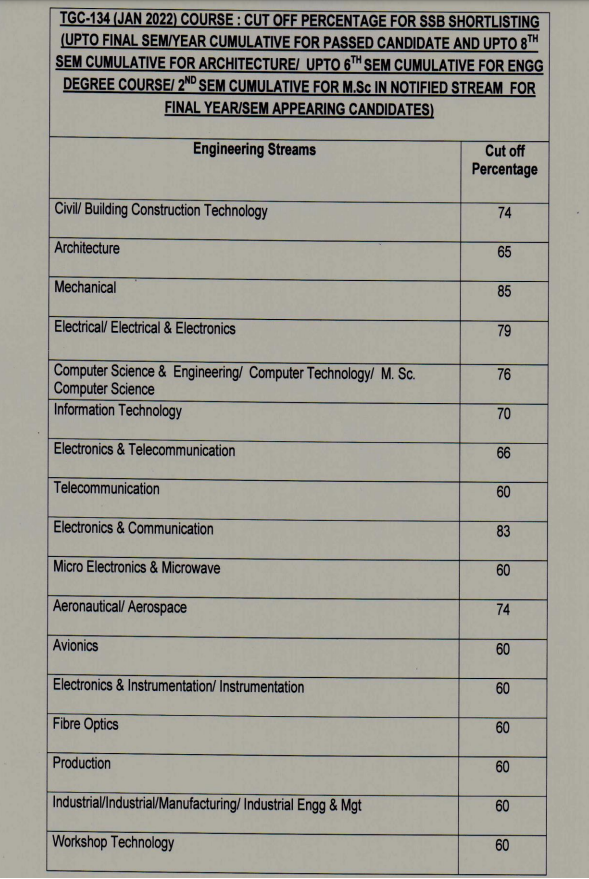 TGC 134 SSB Interview Date
Candidates who are shortlisted can check their TGC 134 SSB interview date and venue on the official website now.
Only candidates who meet the TGC 134 cut off marks will be called for the SSB interview.
Shortlisted candidates will get the option to select the TGC 134 SSB date online at join Indian army website.
TGC 134 SSB Interviews will start from Nov-Dec 2021.
TGC 134 SSB interview will be conducted at SSB Allahabad, Bhopal, Bangalore and Kapurthala.
To crack the SSB interview, we recommend you to Enroll SSB INTERVIEW ONLINE COURSE. Trusted by thousands of defence aspirants