The G20 or Group of Twenty is an intergovernmental forum comprising 19 countries and the European Union (EU). It works to address major issues related to the global economy, such as international financial stability, climate change mitigation, and sustainable development.
Establishment Of G20:
Post-WWII: Requirement Was Felt Of World Class Institutions & initiatives aimed at international coordination of economic policy, which include institutions such as the "Bretton Woods twins", i.e., IMF & WB. G20 Is Latest in Such Pursuit.
1999: G7 Cologne Summit Amid Global Financial Crisis, Paved The Way For Formal Establishment Of G20. Canadian Finance Minister Paul Martin Was Chosen As The First Chairman Of The Inaugural Session.
2008: Amid Global Financial Crisis the world saw the need for a new consensus-building at the highest political level. It was decided that the G20 leaders would meet annually. To help prepare these summits, the G20 finance ministers and central bank governors continue to meet on their own twice a year.
Members Of G20: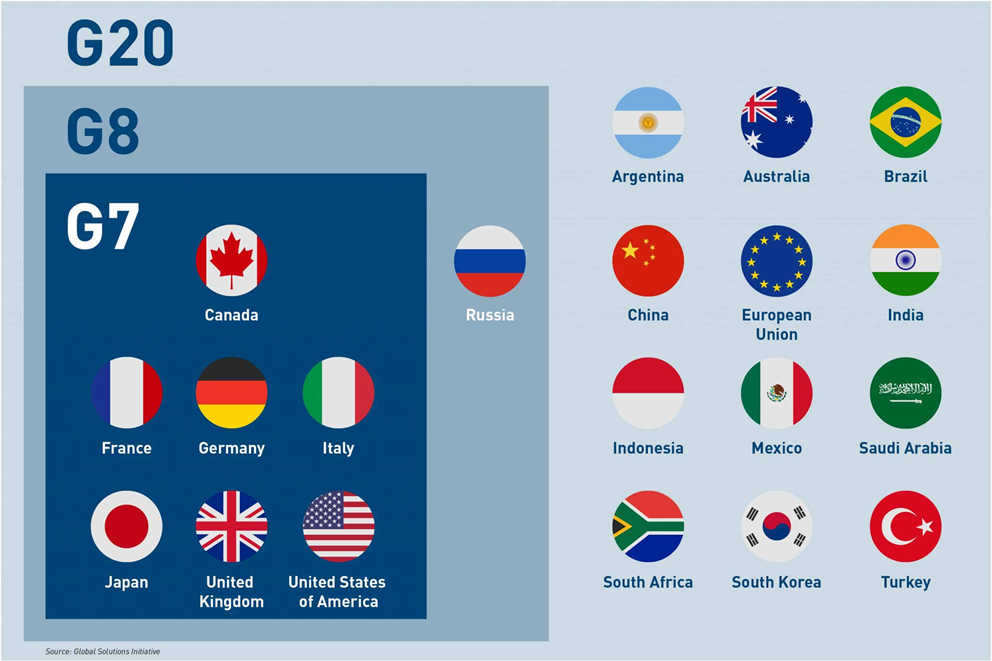 Permanent Guest Invitees Of G20: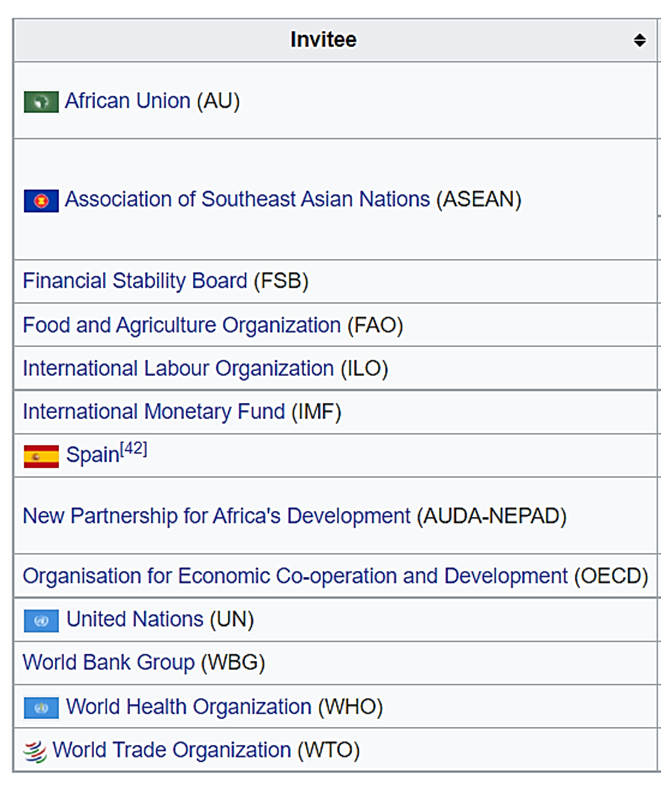 Why G20 Is Crucial:
The G20 Holds A Strategic Role In Securing Future Global Economic Growth And Prosperity. Together, The G20 Members Represent More Than 80 Percent Of World GDP, 75 Percent Of International Trade, And 60 Percent Of The World Population.

How The G20 Works:
The Presidency Of The G20 Rotates Every Year Among Its Members, With The Country That Holds The Presidency Working Together With Its Predecessor And Successor, Also Known As Troika, To Ensure The Continuity Of The Agenda. Currently, Italy, Indonesia, And India Are The Troika Countries.
The G20 Has No Permanent Secretariat. Agenda And The Work Coordination Is Completed By G20 Leaders' Personal Representatives, Known As Sherpas Together With Finance Ministers And Central Bank Governors.
Selection Of Presidency:
The 19 Countries Are Divided Into 5 Groups, Each Having No More Than 4 Countries. The Presidency Rotates Between Each Group. Every Year The G20 Selects A Country From Another Group To Be President.

G20 Summits: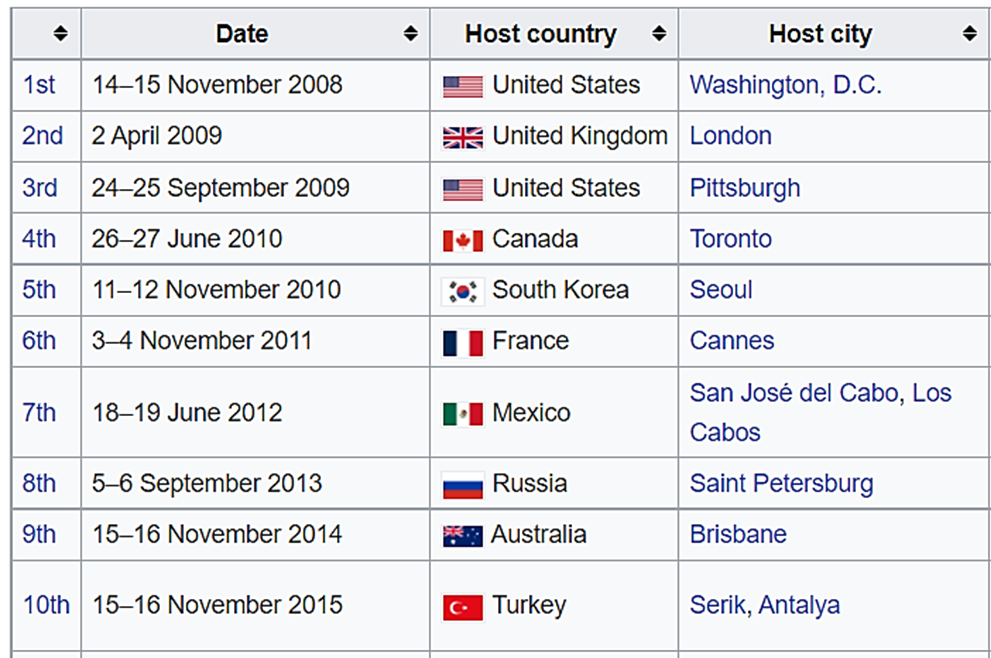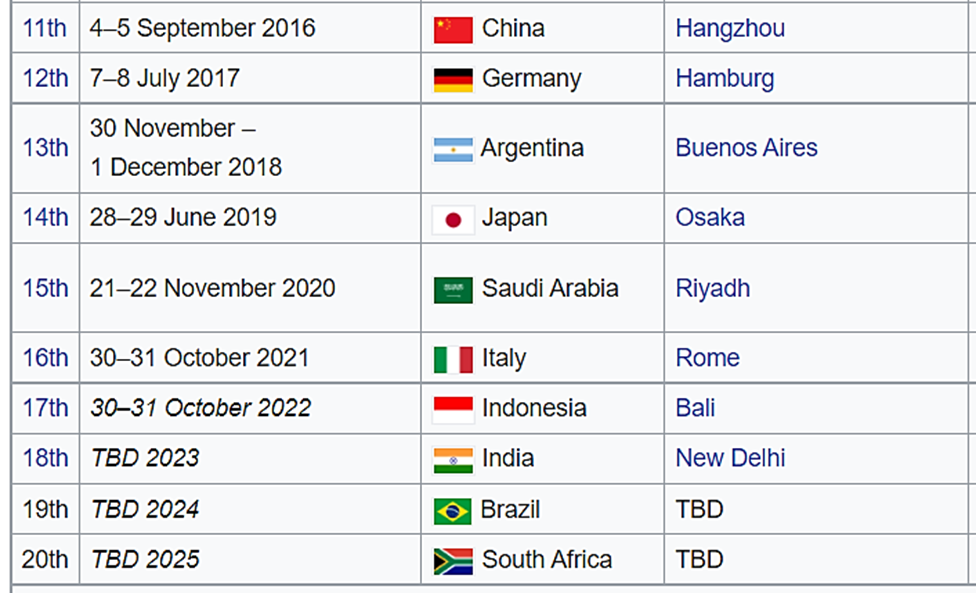 G20 Ministerial-level Meetings:
1999 – Finance Ministers And Central Bank Governors
2010 – Labor And Employment Ministers
2017 – Foreign Ministers
2012 – Trade Ministers
G20 Engagement Groups: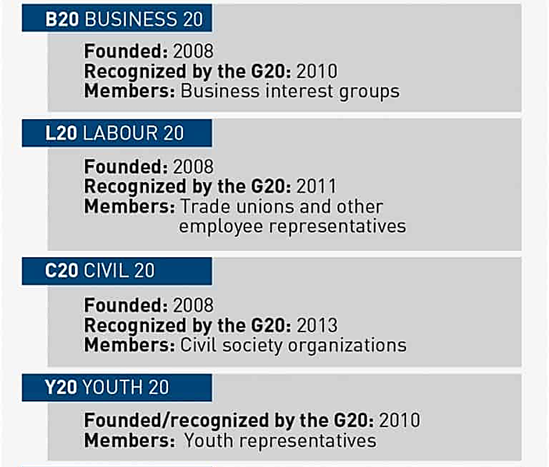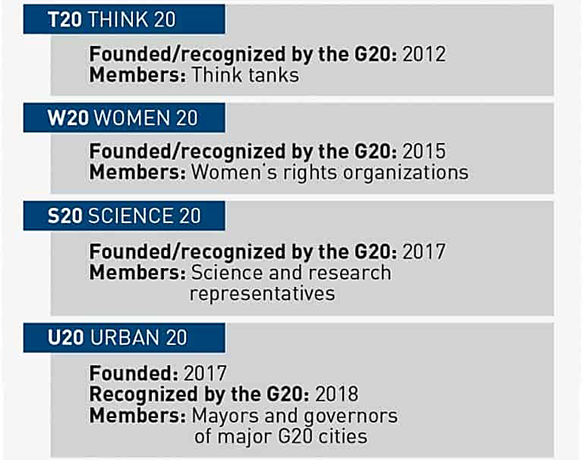 Significance Of G20:
Strengthening Financial Regulation
Coordinated Fiscal And Monetary Stimulus
Flexible & Inclusive
Increase In Lending
Reforms In International Financial Institutions
Trade Facilitation Agreements
Too Big To Fail
Issues Addressed By G20:
Financial markets
Tax and fiscal policy
Trade
Agriculture
Employment
Energy
Corruption
Women Empowerment
Agenda 2030
Climate Change
Global Health
Anti-terrorism
India To Host G20 2023 – Priority Areas:
Issues Of Tax Evasion
Fight Against Corruption
Terror Funding & State Sponsor Terrorism
Cutting The Cost Of Remittances
Market Access For Key Drugs
Reforms In The International Institutions
Real Action On Climate Change
Challenges:
No Enforcement Mechanism
Not Legally Binding
Securing Global Health
Fueling Economic Recovery
Digital Revolution
Climate Change Risk
Global Framework For Tax Reform
Way Forward:
Till Now Going On a Right Track
study of the changing demand for skills
Focus technological innovation
Policies For Innovation In Industry
Redefining the Arenas Of Cooperation
Less Talk More Action
REVIEW QUESTIONS
G20 Was Established In
1973
1999
2002
2008
ANSWER: B
G20 Was Established By Initiative Of
G6
G7
G8
G10
ANSWER: B
The First G20 Summit Was Hosted By
USA
UK
France
Germany
ANSWER: A
Who Is The Host For G20 Summit 2022
Thailand
Indonesia
Malaysia
Vietnam
ANSWER: B
When Will India Host G20 Summit
2023
2024
2025
2026
ANSWER: A
Till Now How Many G20 Summit Have Taken Place
15
16
17
18
ANSWER: B
G20 Nations Together Represent
80% Of World GDP
75% Of International Trade
60% Of World Population
All The Above
ANSWER: D
For Presidency, Member Countries Are Divided Into
3 Groups
4 Groups
5 Groups
6 Groups
ANSWER: C
India Belongs To Which Group Among G20 Groupings
Group 1
Group 2
Group 3
Group 4
ANSWER: B
Only Country To Attend As Permanent Guest Invitees
Japan
Spain
Czech
Ukraine
ANSWER: B
You can prepare for defence entrance exams such as NDA, AFCAT, INET, and CDS by taking Written Online courses as they will not only give you access to full-length quality lectures but will also provide the facility to take standardized mock tests for better study and strategic growth in the exam. You can take multiple quizzes after each lesson to ensure the full understanding of the subject along with creating your customized lesson plans. You can check out the course content along with other important specifics at SSBCrackExams.
To crack the SSB Interview, You can join our SSB interview live classes batch and we recommend you to Enroll SSB INTERVIEW ONLINE COURSE. Trusted by thousands of defence aspirants.
Also Read: