The Chinese military has announced joint air-sea exercises in waters near Taiwan and a test launch of conventional missiles in waters east of Taiwan. According to Chinese state media, three of the six live-fire exercises overlap waters claimed by Taiwan.
Taiwan said 27 Chinese fighter jets had penetrated its air defense area and stated that Taiwan is not part of the People's Republic of China and is a sovereign state that does not need to declare independence. She wants to keep her status quo safe and she doesn't want conflict, but she says she will protect herself.
Taiwan's Ministry of Defense said, "This is a big deal given a blockade is a legal act of war," said Indo-Pacific defence policy expert Blake Herzinger. "I think it needs to be signalled to Taiwan that this is not the time to inflame things further."
Why In News?
US House Speaker Nancy Pelosi Landed In Taipei With Her Congressional Delegation Late On Tuesday, Defying China's Repeated Warnings Against The Visit. Pelosi Pledged Solidarity Hailed Taiwan's Democracy And Said That The US Will Not Abandon Its Commitment To The Self-Governing Island.
Understanding The China – Taiwan Conflict:
Historically The Island First Came Under Full Chinese Control In The 17th Century When The Qing Dynasty Began Administering It. Then, In 1895, They Gave Up The Island To Japan After Losing The First Sino-Japanese War. China Took The Island Again In 1945 After Japan Lost World War Two.
But A Civil War Erupted In Mainland China Between Nationalist Government Forces Led By Chiang Kai-shek And Mao Zedong's Communist Party. The Communists Won In 1949 And Took Control Of Beijing.
Chiang Kai-shek And What Was Left Of The Nationalist Party – Known As The Kuomintang – Fled To Taiwan, Where They Ruled For The Next Several Decades. China Points To This History To Say That Taiwan Was Originally A Chinese Province.
But The Taiwanese Point To The Same History To Argue That They Were Never Part Of The Modern Chinese State That Was First Formed After The Revolution In 1911 – Or The People's Republic Of China That Was Established Under Mao In 1949.
The Kuomintang Has Been One Of Taiwan's Most Prominent Political Parties Ever Since – Ruling The Island For A Significant Part Of Its History. Currently, Only 13 Countries (Australia, Canada, EU Nations, Japan and New Zealand Plus The Vatican) Recognize Taiwan As A Sovereign Country.
Besides, Taiwan Has Full Membership In 38 Intergovernmental Organizations And Their Subsidiary Bodies, Including The World Trade Organization, Asia-pacific Economic Cooperation, Asian Development Bank And Central American Bank For Economic Integration.
China Exerts Considerable Diplomatic Pressure On Other Countries Not To Recognize Taiwan, Or To Do Anything Which Implies Recognition. Taiwan's Defense Minister Has Said Relations With China Are The Worst They Have Been For 40 Years.
USA & China Relations:
The US And China Reconciled In The 1970s Due To The Cold War's Shifting Geopolitics, So That The Growing Influence Of The USSR Could Be Countered. This Was Followed By The Visit Of The Then US President To The PRC In 1972.
Subsequently, ROC Was Displaced By The PRC As The Official Representative At The UN. Then, the "One-China Principle" Came Into the Picture. The Shanghai Communique (1972), The Normalization Communique (1979), And The 1982 Communique Are The Three Documents Outlining The US-China Mutual Understanding On The Taiwan Question.
As Per The 1979 Communique, The US Accepts The 'One China Principle' Considering Taiwan, A Part Of China. However, The US Started Maintaining Unofficial Relations With Taiwan In The Name Of People Of Both The Nations.
In The 1982 Communique, China Expressed Its Concerns Over The Likelihood Of Continued Supply Of Arms By The US To Taiwan As Per The Provisions Of Taiwan Relations Act (TRA),1979. In This Way, The US Has Balanced Its Recognition Of The PRC Along With The Concerns Of Taiwan.
Taiwan – The Bone Of Contention:
In Taiwan, The Democratic People's Party (DPP) Has Become The Most Powerful Political Force In Taiwan Catering To The Pro-Independence Constituency In Taiwan. The DPP Wants To Expand Its Economic Relations Away From China.
China Considers Taiwan As A Territory With High Geopolitical Significance As It Is Centrally Located In The First Island Chain Between Japan And The South China Sea.
Throughout This Region, Military Outposts Of The US Are Scattered. Therefore, It Would Be A Significant Breakthrough For China In Case It Takes Taiwan's Control. Similarly, The USA Also Wants To Dominate The Indo-Pacific Region and Keep A Check Over The Growing Influence Of China In the Region Across.
Taiwan's Economy Is Hugely Important. Much Of The World's Everyday Electronic Equipment – From Phones To Laptops, Watches, And Games Consoles – Is Powered By Computer Chips Made In Taiwan.
By One Measure, A Single Taiwanese Company – The Taiwan Semiconductor Manufacturing Company Or TSMC – Has Over Half Of The World's Market.
A Company That Makes Chips Designed By Consumer And Military Customers. It Is A Vast Industry, Worth Almost $100 B (£73bn) In 2021.
India's Stand On The Issue:
Since 1949, India Has Accepted The "One China" Policy That Accepts Taiwan And Tibet As Part Of China. However, India Uses The Policy To Make A Diplomatic Point, i.e., If India Believes In "One China" Policy, China Should Also Believe In A "One India" Policy.
Even Though India Has Stopped Mentioning Its Adherence To One China Policy In Joint Statements And Official Documents Since 2010, Its Engagement With Taiwan Is Still Restricted Due To The Framework Of Ties With China.
India And Taiwan Do Not Have Formal Diplomatic Relations But Since 1995, Both Sides Have Maintained Representative Offices In Each Other's Capitals That Function As De Facto Embassies.
Can Taiwan Defend Itself?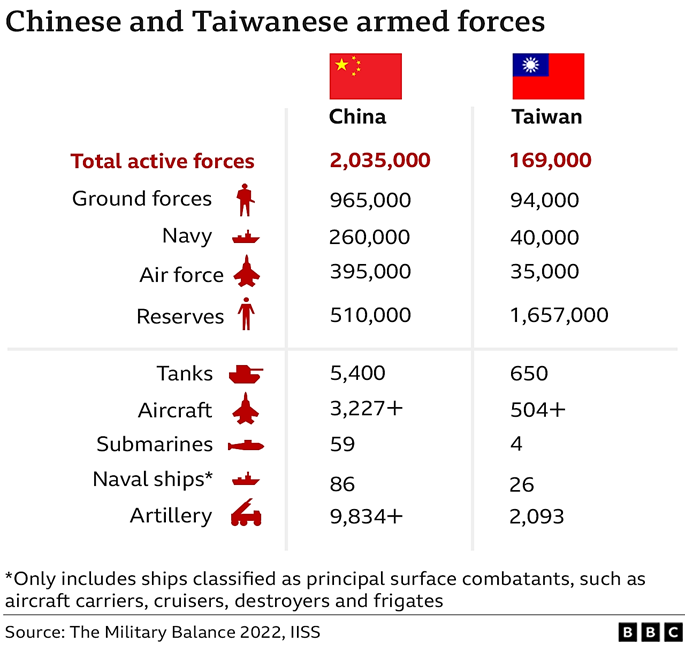 Are The Taiwanese People Worried?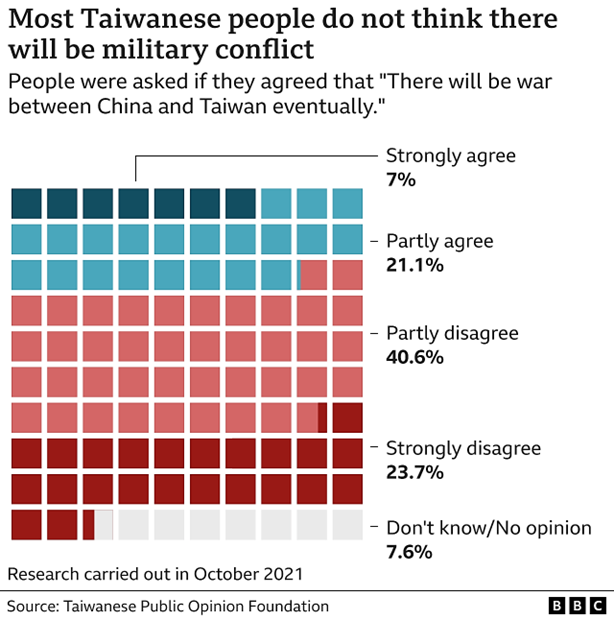 People In Taiwan Identify As Taiwanese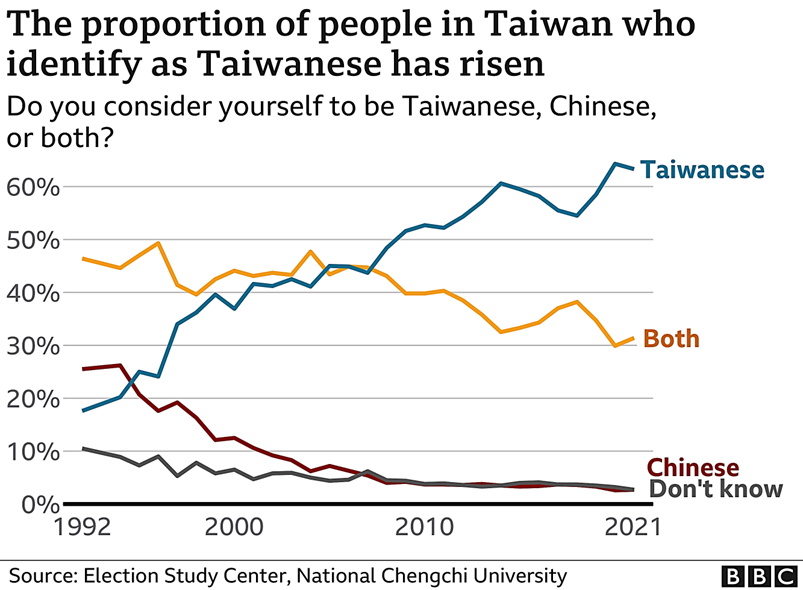 Will USA Intervene In Case Of Military Conflict?
In An Open Conflict, Some Western Experts Predict That Taiwan Could At Best Aim To Slow A Chinese Attack, Try To Prevent A Shore Landing By Chinese Amphibious Forces, And Mount Guerrilla Strikes Whilst Waiting For Outside Help. That Help Could Come From The US Which Sells Arms To Taiwan.
Until Now, Washington's Policy Of "Strategic Ambiguity" Has Meant The US Has Been Deliberately Unclear About Whether Or How It Would Defend Taiwan In The Event Of An Attack.
Diplomatically, The US Currently Sticks To The "One-China" Policy, Which Recognizes Only One Chinese Government – In Beijing – And Has Formal Ties With China Rather Than Taiwan.
But In May, US President Joe Biden Appeared To Harden Washington's Position. Asked Whether The US Would Defend Taiwan Militarily, Mr. Biden Replied: "Yes". The White House Insisted That Washington Had Not Changed Its Position.
REVIEW QUESTIONS
When Did The Manchu Dynasty Fall?
1910
1911
1912
1913
ANSWER: B
Who Was The Hero Of The Chinese Revolution In 1911 AD?
Mao Ze Dong
Sun Yat Sen
Deng Xiaoping
Vladimir Lenin
ANSWER: B
Who Founded The Kuomintang Party In 1912 AD
Zheng Xi
Sun Yat Sen
Mao Ze Dong
Sun Chung Shan
ANSWER: B
People's Republic Of China Was Established In
1947
1948
1949
1950
ANSWER: C
The Great Proletarian Cultural Revolution Of China
1966
1972
1981
1991
ANSWER: A
The Great Leap Forward Movement Of China
1948
1952
1958
1963
ANSWER: C
Not A Part Of 'AUKUS', A Trilateral Security Pact
Australia
United Kingdom
United States
Japan
ANSWER: D
Malabar Naval Exercise Is Conducted By
ASEAN
QUAD
NAFTA
OIC
ANSWER: B
Capital Of Taiwan
Kaohsiung
Taipei
Hsinchu
Taichung
ANSWER: B
President Of The Republic Of China
Tsai Ing-wen
Xi Jinping
Hu Jintao
Wang Qishan
ANSWER: A
To crack the SSB Interview, You can join our SSB interview live classes batch and we recommend you to Enroll SSB INTERVIEW ONLINE COURSE. Trusted by thousands of defence aspirants.
Also Read: