The notification for the Combined Defence Services Examination (II) 2023 has been published on 17th May 2023 according to the Union Public Service Commission calendar. The exam is a national-level examination for the recruitment of candidates into the Indian Military Academy, the Officers' Training Academy, the Indian Naval Academy and the Indian Air Force Academy.
Prepare for the CDS Exam 2023:
UPSC has released the CDS 2 2023 Examination notification today on 17th May 2023. Candidates can apply for CDS 2 2023 Examination by going to the UPSC Website and the Last Date to apply is 06th June 2023. Notification for the Combined Defence Services Examination (II) 2023 has been released according to the Union Public Service Commission calendar. The exam is a national-level examination for the recruitment of candidates into the Indian Military Academy, the Officers' Training Academy, the Indian Naval Academy, and the Indian Air Force Academy.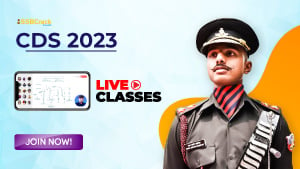 How Can An Average Student Prepare For CDS Written Exam?
CDSE is a task for you that you have to successfully achieve and you have to complete it anyhow. Understand the task, identify your resources or gather them in minimum time, get your clock running and set a deadline, fully comprehend the plan and if in doubt – ask, run through your action plan and chase the goal like a madman. You don't have any other option other than achieving your goal as failure will take you 6 months behind. I will be blunt: SSB is a long process that takes up to an entire year starting from filling out the form, preparing for the written exam, declaring results, SSB, Medicals, merit and finally joining letter.
Remember, starting from the written exam – if you aren't in your full JOSH then you can get out of this race at any of the following steps. If you aren't able to clear the written exam then you are losing a clear-cut chance of attempting SSB which can be your golden chance of getting recommended and if not then at least a learning lesson. What I mean to say here is that – clearing CDSE is the primary goal here and if you won't be achieving this then all other subsequent goals will fall apart. I have seen very good potential candidates with extremely enhanced personality traits and they are sure to get recommended if attend SSB but as they don't take the CDSE seriously, they fail to even attend SSB.
Now we should discuss what should be the approach of an average candidate for the CDSE. By Average, I mean to say a candidate who maintains between 60-80 percentages in his/her exams, belongs to a middle-class family with a fair amount of resources in studies and else, and may or may not be fluent in English due to his/her schooling, is active in some type of sports or physical activities and is fairly social in nature, may or may not be from a defence background.
The average candidate needs to work quite a lot in a few areas while being fairly good in some areas as a result of his/her schooling over the years. For example, I'm quite good at tackling English and GK but need to put in quite some serious effort while practising mathematics. I will move ahead and will cover the basic aspects of the exam that are required to be paid attention to by the aspirants in order to get to know what they are facing in real. I will state a few ordinary things that you might know but failed to pay attention to them. These small things play an important role at every step of your preparation from filling out the form to attending the SSB and then to medicals and merit.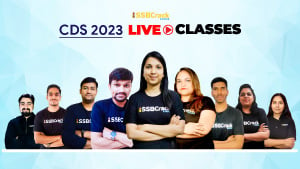 The term here is "research" If you aren't mentally prepared to research on your own behalf and expect other people to solve your queries for you through a readymade solution then it's not feasible. I have stated earlier that each candidate has a different profile in terms of age, education, academic level, environment and availability of resources. A single thing and routine and methodology may or may not work for everyone. You will have to step up and take responsibility for yourself for extracting information that is required by you. The Internet provides nearly all the information and you can seek the help of CDS Online Written Courses by SSBCrack Exams. The bottom line is that you will have to research by yourself but with the help of written exam online courses, you can make it a bit easier for you.
The next thing that any candidate should do even after taking a prominent course is to download the notification of the exam and read it, read it with your entire concentration and like a story. The notification of CDSE by UPSC consists of all the details related to the exam such as important dates, required documents and qualifications, eligibility criteria, cut-off, negative marking, medical conditions etc. You don't have to linger here and there if you would read the notification fully as more than 90% of your doubts will be solved. Develop the mindset to explore by yourself and with the help of SSBCrack Written Online Courses, you may very well execute your preparation in an optimal manner.
Now, you need to concentrate the circle a bit smaller and narrow down the specific information for immediate as well as long-term use. You need to be perfectly aware of what are the components of the exam such as subjects, duration, city-wise exam centres, subject-wise syllabus, the number of exams (IMA, AFA and INA have 3 while OTA has 2), previous overall cut-offs of the exam and that too academy wise, subject wise mandatory cut-off; if validated by the UPSC etc. Some of the information you will get in the notification while the rest of it along with the main information will be on SSBCrack Exams, explore it comprehensively. You can have a free trial as well.
You can find resources such as previous year cut-offs, question papers with answer keys, mock tests etc. on SSBCrackExams. This particular information is very important from an exam point of view and I can't emphasize much but a major reason for the failure of many aspirants is that they aren't aware of these basic things.
The last thing this relevance will be analysis. Aspirants rarely analyse the question papers of the past years but you should be doing that and you can find the in-depth analysis on the SSBCrack Exams CDS Written Online course. UPSC changes trends over the years and that's why it is very crucial to keep an eye on the level of the exam. You cannot ride the bandwagon of preparing for the exam without analysing the past trends of the exam. By reading a complete subject and topic-wise analysis on SSBCrack Exams, you will be able to answer a lot of questions by yourself such as – Major topics and their portion in the exam, type and pattern of questions, topics inconsistency, irregular topics etc.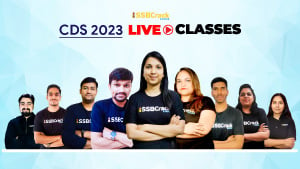 This way you can deal with your strengths and weaknesses in subjects and can combine them with the topics in trend. Aspirants put more than usual efforts in trying to know about things which don't concern them such as intricate details of the SSB marking scheme, after-commission life, life and culture in academies and as an officer etc. While I believe that they are sometimes necessary to keep yourself motivated but aspirants focus on them much more than the basic steps that they should be working on. Till now you must have got a fair idea about how the preparation for written exams such as CDSE, NDA, and AFCAT should be commenced in a methodological manner with the help of SSBCrackExams and self.
You can prepare for defence entrance exams such as NDA, AFCAT, and CDS by taking Written Online courses as they will not only give you access to full-length quality lectures but will also provide the facility to take standardized mock tests for better study and strategic growth in the exam. You can take multiple quizzes after each lesson to ensure a full understanding of the subject along with creating your customized lesson plans. You can check out the course content along with other important specifics at SSBCrack Exams.
You can also access them through the SSBCrack Exams app available in the google play store.
ALSO READ: