Situation Reaction Test (SRT) in the SSB Interview is one of the four psychological tests which is conducted at the SSB on the second day or at the AFSB on the first day.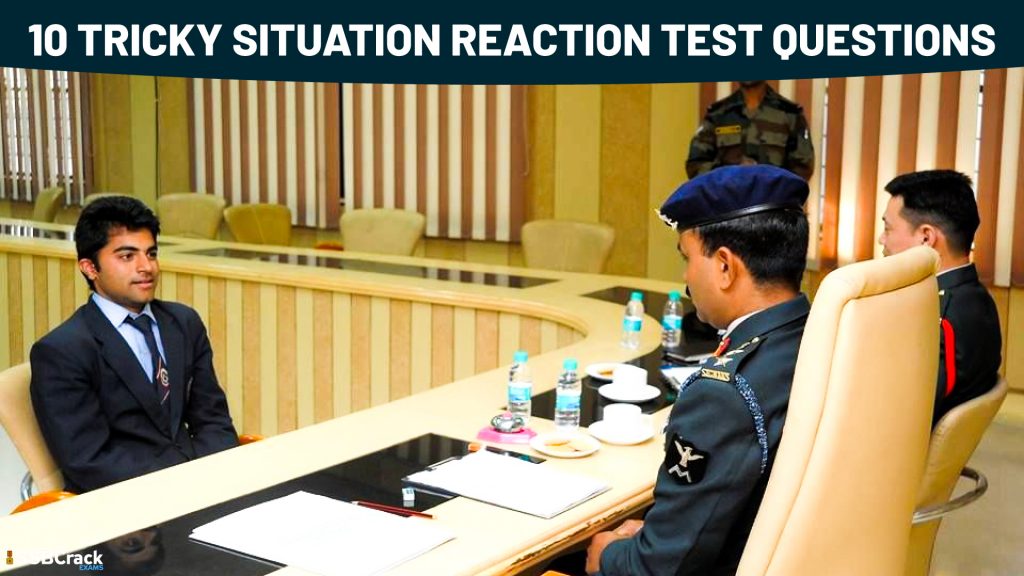 Reason for conducting the Situation Reaction Test (SRT).
Situation Reaction Test or SRT is a psychological test that is specifically designed to test your responses to these day-to-day situations. By the responses, your personality is judged on how you react to similar situations in the real life. All of your responses somewhere stay in your subconscious mind and due to the time and pressure which is building upon you, automatically the original responses are written by you.
These responses bring out the qualities of clear and logical thinking and quick decision-making. These qualities are very much required for being an Officer in the Indian defense forces.
Procedure in SRT.
You are provided 60 real-life situations in the sheet and you have to give a response to them within 30 mins. However, if the candidate does not understand any particular situation, they may leave that particular situation and proceed to the next situation without wasting any time. A candidate is required to write only 2 or 3 lines in response to each situation.
Some golden tips for SRT.
1. Be original, no matter what the situation is, just write down what comes in your mind first.
2. Never fabricate your responses, the psychologist will catch you very easily.
3 Keep your responses as short as possible but do not compromise with quality.
4. Prioritize your actions, if there is a person and animal, choose the person and not the animal.
5. Don't write mugged up responses from the books. Build your own original responses.
Prepare for SSB Interview: Join India's Best SSB Interview Online Course [Must Enroll]
10 of the trickiest SRT are :
1. You saw a clerk who is asking for bribe to pass his pension papers as your father got retired, you will….
2. You and your girlfriend were going in a lone Street and few goons showed up and started teasing her, you will…
3. It was your last ssb attempt and before attending the ssb you met with an accident, you will…
4. Your sister got the addiction of drug, you came to know this by her friend. You will…
5. Your hostel inmate has a habit of stealing things. You..
6. He wanted to marry his girlfriend but parents were not allowing, he…
7. While returning from college he was attacked by goons who even pointed a knife at him asking for his bag…
8. His dream was to become a pilot and after his medicals he came to know that he is unfit for flying. He…
9. He had his first exam the other day and his grandmother had a sudden heart attack, He..
10. You are passing by a lake, you notice a boy drowning in the water and you don't know swimming. You will…
If you are preparing for defence examinations, SSBCrackExams is providing a number of courses on written exams as well on SSB. Enroll in the courses and boost up your preparation.
Also Read: 10 Sample SRTs And How To Answer Them
To crack the SSB Interview, You can join our SSB interview live classes batch and we recommend you to Enroll SSB INTERVIEW ONLINE COURSE. Trusted by thousands of defence aspirants.